Marie-Veronique Nadeau and her eponymous skincare line have been on our radar for some time. But it wasn't until someone described her as a "mad scientist with a heart of gold who forages for mushrooms in her spare time" that we really sat up and paid attention to this wonderful little brand from Berkeley. (Is there anything more intriguing than all of those things put together?)
One of the things that makes Marie really "get skin," as in-demand facialist Kristina Holey — a big fan — puts it, is that she combines a degree in Chemistry with training as an aesthetician. But of course we had to pump this brilliant woman for more information about how she works her magic. Read on for her answers.
***
Ayla: What makes your products unique?
MARIE: Firstly, it's good formulation—we develop products designed to heal real skin issues and achieve optimal skin health, without using toxic ingredients. And the best way to do that, we are finding, is to use the approach more and more formulators are coming to rely on—it's called biomimicry. Basically, you take some ingenious solution nature has already invented and adapt it to solve a problem you are working on. Nature is our best teacher, and the more you can imitate her, the more rigorous your science winds up being. 
Ayla: Tell us about the way you work with your daughter to develop your formulas.
MARIE: My background is in chemistry. I read the latest research and come up with wacky ideas. Jay is a biomedical physicist who, in the true scientific tradition, questions and researches the validity of these ideas. 95% of the time she shoots me down, so when I get a "Hmm, not bad," from her, I am really thrilled. I just got a nod of approval about a month ago from her about something pretty revolutionary, and now I am hot on the trail. She also provides C of As (Certificates of Analysis, which describe the characteristics of a particular batch of an ingredient) and does testing where appropriate—so we know, at the end of the day, if we have something worthwhile. It's a long, hard slog from idea to finished product, and the path is strewn with lots of little corpse-products that didn't make it.
Ayla: What do you love about having your HQ in Berkeley? 
MARIE: There are more PhDs in Berkeley than any other town in the US. So the conversations I have with customers are often interesting—and not necessarily skin-related. 
Ayla: Why oils instead of creams? 
MARIE: Creams are made with a water-wax emulsion that can clog pores and impede penetration of active ingredients. The only useful part of a cream is how much oil it contains, so using only oils puts you way ahead of the game. Oils penetrate well, and carry other micronutrients and active ingredients with them, in addition to providing EFAs.
Ayla: For those who are new to your line of products, what would you recommend as the first two products they should try? 
MARIE: The number one thing you can do to help your skin from aging is use a sunscreen every day! And most people just don't have one they really like until they find ours. Use our Protective Day Oil with Everyday Coverage Tinted Sunscreen SPF 30 and you will see the benefits of increased lubrication with the oil, and the coverage evening out skin tones and hiding flaws immediately.
Ayla: Your Everyday Coverage SPF 30 seems to magically erase pores. How does it do that?
MARIE: Abracadabra, as Hermione would say. It is pretty good, isn't it? I like the way it evens out my skin tones. You notice I don't answer your question—because the answer is, damned if I know.
Ayla: Tell us about the key differences between the Protective Day Oil and Rejuvenating Night Oil.
MARIE: Protective Day Oil is high in carotenoids like lycopene and astaxanthin to give extra UVA protection. Rejuvenating Night Oil features gamma-linoleic acids like evening primrose to improve elasticity—what mature skin needs to keep it looking youthful.
Ayla: We're particularly intrigued by your Gentle Retinol Serum. That high a percentage of retinol in a product seems almost unheard of. How do you get so much in that product without risk of irritation?
MARIE: There are a few things we do that help reduce possibility of irritation. One is to use an encapsulated retinol; another is to add a stabilized Vitamin C (an anti-inflammatory). And we also use sodium salicylate (another powerful anti-inflammatory). Another thing to remember is that the conversion rate of retinol to retinoic acid in the skin is about 10%, so the most you'll ever get from our retinol, at its peak, is 0.7%, which is about the equivalent of a 0.5 to 1% Retin-A product. Our goal was to be as effective as a prescription, but without the irritation. You should get the same effects as with a prescription product, but it generally takes longer to see results because we are using a weaker retinoid. We make up for that by using more of it than the standard.
Ayla: In your Pre+Probiotic Daily Mist, how do the probiotics stay active without refrigeration? And how did you choose which probiotics to include?
MARIE: The dear little microbes like warm temperatures, so non-refrigeration encourages them to grow and multiply, plus we give them food (prebiotics) to do the same thing. There are many commensal microbes that live in the gut and on the skin, like Staphylococcus epidermidis, and some that studies show are good for moisturizing aging skin, like Streptococcus thermophilus, so we look for those microbes to be represented. But our rule of thumb is that if it's good for the gut it's good for the skin, so a good mix of gut residents will do well on the skin. 
Ayla: People will naturally want to compare your Vitamin C+E+Ferulic to the ones they might have used before from brands like Skinceuticals, for example. What, aside from being non-toxic, do you think makes yours better? And how have you ensured that the vitamin C in your formula won't degrade?
MARIE: What I am most surprised about is that these other products' ascorbic acid is in water. Degradation of Vitamin C in water happens in a matter of days, so a 15% solution ascorbic acid after say, 3 months, delivers just about 0 ascorbic acid. They have things in there besides water, like propylene glycol, that will slow down degradation, but it would be interesting to do a test on how much C exists in these brands' bottles after certain periods of time, say after one week, after a month, after two months and so on.
Our ascorbic acid is stabilized in an anhydrous solution, so it doesn't start working as an antioxidant until it reacts with the moisture on your skin. Pretty cool invention. Not mine, unfortunately. 
 ***
Isn't she great? Shop the collection of Marie's bestsellers that we've added to our shelves at Ayla before they all fly off of them (these products are favorites of beauty industry luminaries for good reason). And, if matching products give you a sense of comfort, which is completely understandable, this is one of those brands whose products work beautifully together — and the ones we've selected work flexibly across most skin types. They're available in fun 1/8 oz mini sizes, too, so you can act like a mad scientist yourself and experiment with all of them.
About Marie: Marie-Veronique Nadeau founded Marie Veronique over 10 years ago and is a nationally recognized formulator and beauty expert. She collaborates with her daughter, Jay Nadeau, physicist and bio-medical engineer, to carefully choose each ingredient in her products to address the causes of aging at the source. Marie holds a BS in Math and Chemistry as well as an esthetics license from Paris Beauty College. She is a mother of two and a grandmother of one. When she is not developing cutting-edge skincare products, she can be found reading at her local library or foraging for mushrooms with her granddaughter.
You May Also like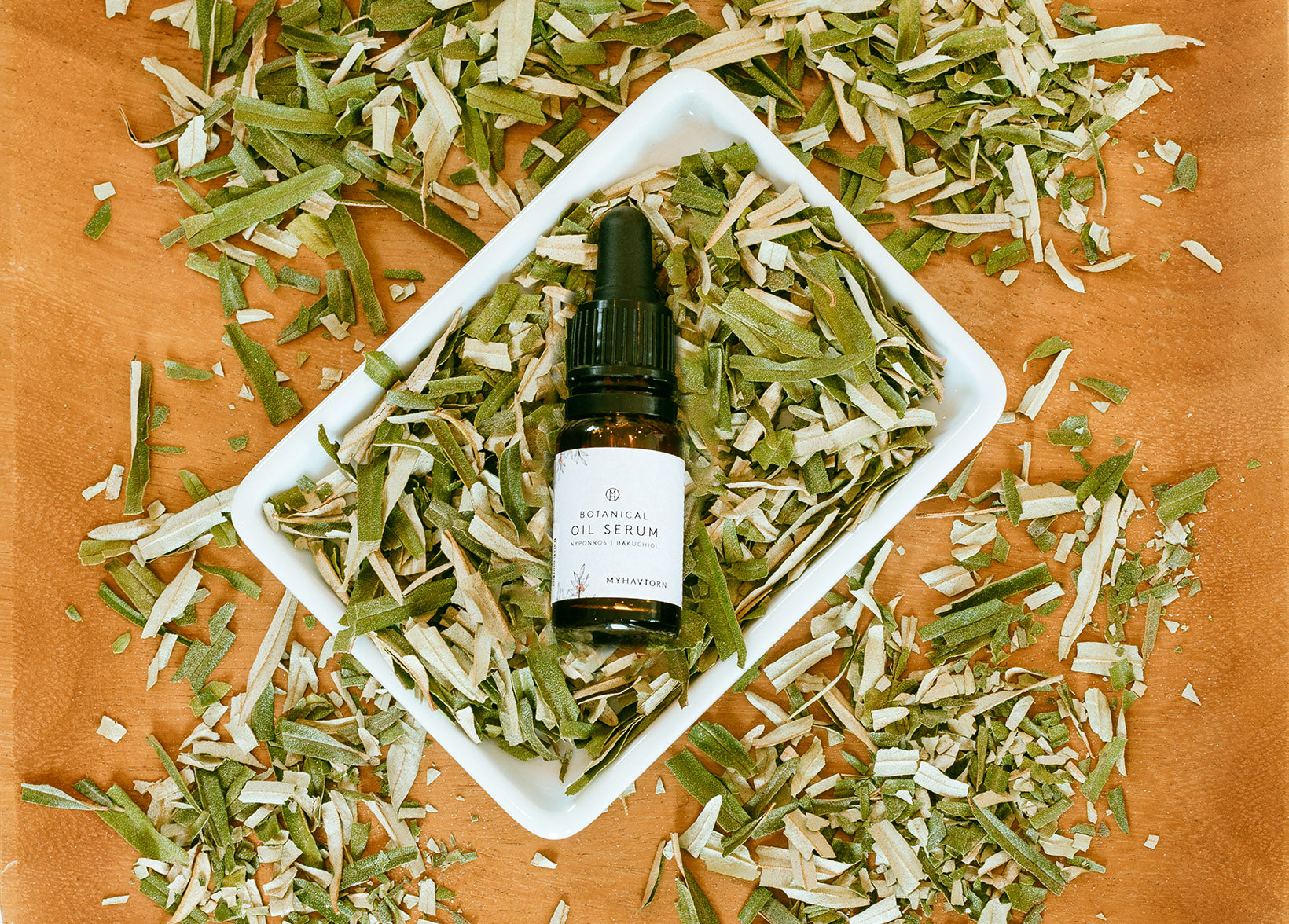 MyHavtorn is a brand that's been very close to our hearts since we became their first US retail partners ten years ago. While "farm to face" had a brief, trendy moment, what we love about MyHavtorn is that they...