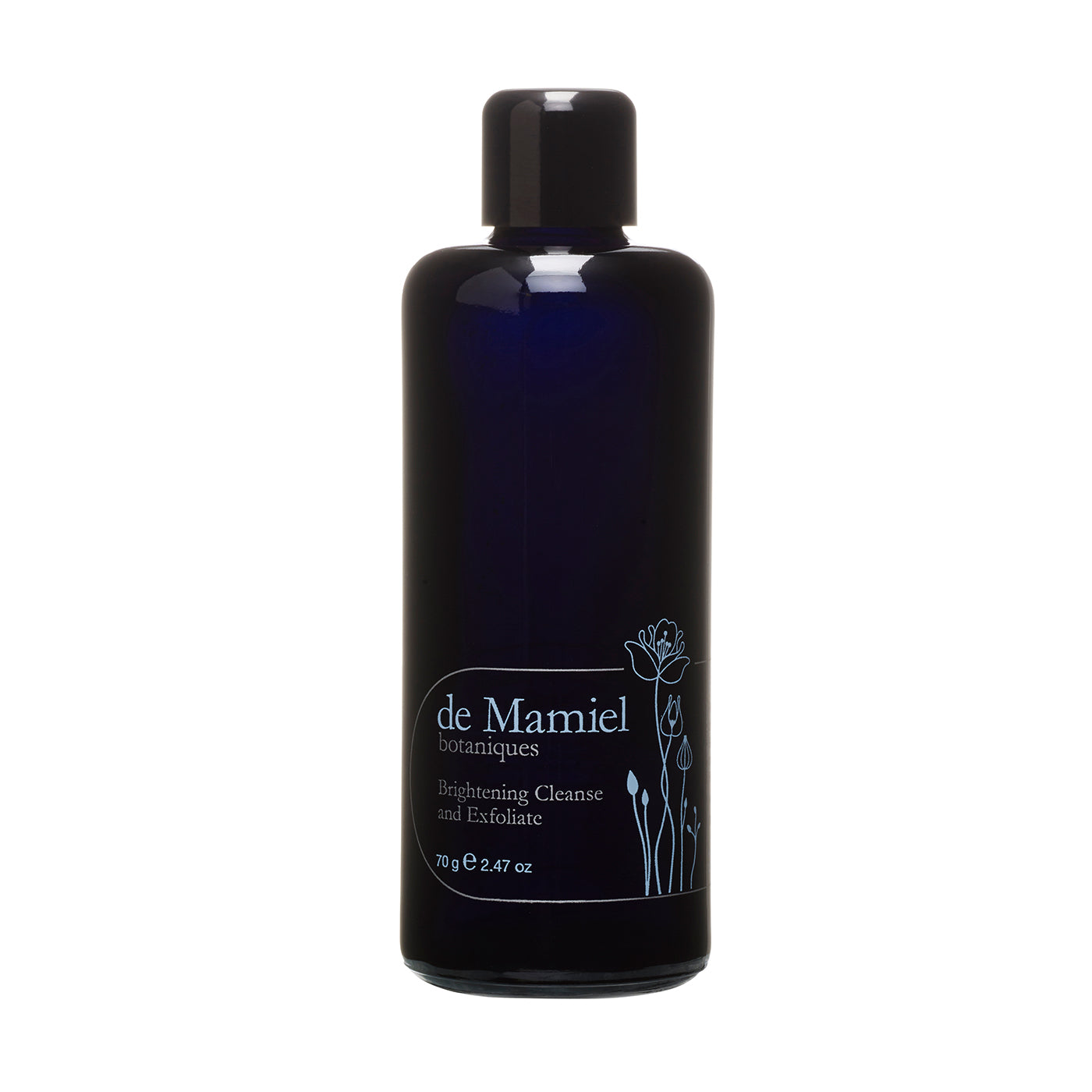 Description
Powder exfoliant for a bright, fresh glow  /  2.47 oz 
de Mamiel Brightening Cleanse and Exfoliate is a powder-to-paste blend that gently exfoliates and nourishes, leaving skin looking and feeling fresh, bright, and incredibly smooth in mere moments. It's the perfect partner to de Mamiel's Restorative Cleansing Balm, but also a star in its own right.
Three different types of clay — rhassoul, white, and rose — form its decongesting base, exfoliating along with finely ground gemstones (red jasper) and Hawaiian sea salt. Blended into that is a host of nourishing goodies that bring more than 86 different minerals to the table. Raw cacao boosts circulation; vitamin C powder brightens; colloidal oatmeal, calendula, cucumber, feverfew, and rose petals soothe; and adaptogens gotu kola, ginseng, and centella asiatica bring de-stressing properties to the experience.
Annee uses this "little powerhouse powder" in clinic to inject some glow into her patients' skin; after first wondering if it might be too messy for home use, she decided to keep it in a powder form to avoid preservatives. And while it isn't exactly mess-free, exfoliants like this never are — and this one is so beautifully brightening that it won't bother you one bit.
Brightening Cleanse & Exfoliate moonlights as a brightening mask with its bestie, too: massage on a nugget of Cleansing Balm, then add this powder on top and leave it on for 10-15 minutes.
Suitable for all skin types; please avoid during rosacea, eczema, or acne flare-ups.
To learn more about de Mamiel, check out our Brand Spotlight interview with Annee.
How to Use
Pour a teaspoon of powder into the palm of your wet hand. Add water, drop by drop, blending until you have a soft mousse consistency. Gently massage into skin with small circular movements, avoiding the delicate eye area. Rinse, and follow with your serum.

Use once a week. For an added boost, mix with Restorative Cleansing Balm.
Ingredients
- Beta glucan and lipids of colloidal oat reduce redness
- Centella asiatica, gotu kola and panax ginseng feed and destress the skin
- Raw cacao increase circulation and suppleness

---
All Ingredients
Moroccan lava (rhassoul) clay, Kaolinite (rose clay), Sodium bicarbonate, Montmorillonite (white clay), Avena sativa (collodial oat) kernel flour*, Ascorbic acid (vitamin C) powder, Theobroma cacao (cocoa) seed powder, Butyris lac/buttermilk/babeurre en poudre powder*, Rosa damascena (rose) flower powder, Cedrus deodara (Himalayan cedarwood) powder, Santalum album (sandalwood) powder, Boswellia serrata (frankincense) resin powder, Vanilla planifolia (vanilla) bean powder*, Silica (rose quartz and red jasper) powder, Sambucus nigra (elderflower) flower powder, Althaea officinalis (marshmallow) root powder*, Vitis vinifera (grape) skin powder, Sodium chloride (Hawaiian alaea sea salt/maris sal/sel marin), Cucumis sativus (cucumber) fruit extract powder*, Calendula officinalis (calendula) flower powder*, Matricaria recutita (german chamomile) flower powder*, Centella asiatica (gotu kola) extract powder*, Panax ginseng (ginseng) root powder*, Feverfew (chrysanthemum) flower powder*, Equisetum arvense (horsetail) stem powder.

Bespokely botaniques, created from flower and environmental essences. LightBringer Essences Alpine Meadow (Self heal, Le jardin des alpes, Campanula rotundifolia (harebell)**, Aster alpinus (alpine aster)**, Parnassia palustris (grass of parnassus)**)

*Certified organic
**Wild harvested
Moroccan lava (rhassoul) clay, Kaolinite (rose clay), Sodium bicarbonate, Montmorillonite (white ...
See All