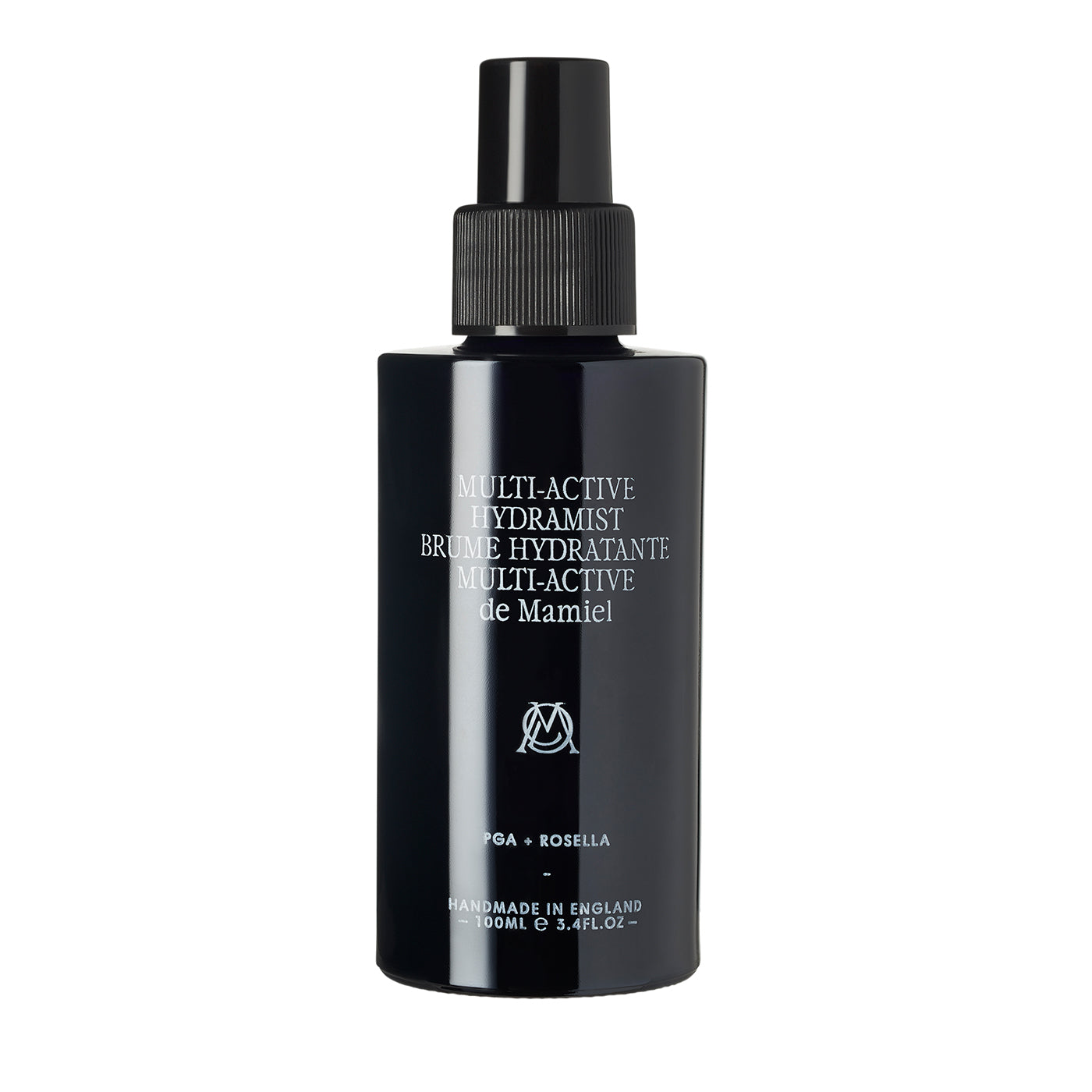 Description
Super-hydrating, power-packed serum that looks like a mist / 3.4 fl oz
de Mamiel Multi-Active Hydramist (the newest evolution of her popular Dewy Facial Mist) is one of those products that you might at first overlook; mists, too frequently, seem to be the most superfluous products in skincare routines. But from the first time you try it, we think you'll agree that this one might not only be the hardest-working mist on the market, but also one of the heaviest hitters in your regimen.

As creator Annee de Mamiel noted, "This mist came out of a need to reawaken and strengthen dehydrated skin quickly. I see in my patients that lack of hydration is a problem whatever the skin type, through daily lifestyle stress and harsh environmental elements." Since this product needed to act quickly (and effectively), she added all kinds of goodies to this formula — so many that it is essentially a hydrating serum in a mist form. And her new, upgraded version, as she says, "deeply quenches the skin, bringing it a real sense of relief."

The new version is also less rose-forward, with a softer, more universal blended scent of neroli, jasmine, and rose — designed to help calm a racing mind, quelling stress hormones that can upset skin while encouraging mental resolve.
But the goodies don't end there. Multi-Active Hydramist also contains skin-plumping peptides; super-hydrating polyglucuronic and hyaluronic acids; barrier-protective ectoin and rosella; moisturizing glycerides from linseed, olive, almond, and borage; free-radical-fighting superoxide dismutase; nurturing magnesium and manganese; and a blend of microbiome-conscious probiotics and prebiotics to further address stressed skin. 
Our team has found it to be the most hydrating mist we've ever tried by far, with glow-boosting benefits that go far beyond simple hydration — yet with no stickiness or heaviness. It just feels like your skin, but better. (We were so curious about the story behind this sleeper hit and its upgrade that Dara interviewed creator Annee de Mamiel about it; check out the inside story here.)

Use it after cleansing to tone, refresh, and treat your skin to all these benefits before you apply your moisturizer; for best results, Annee recommends spraying it into your hands and then pressing it into your skin.
Learn more about Annee de Mamiel and her unusual background as a skincare therapist, healer, and product creator in our Brand Spotlight interview; every de Mamiel product at Ayla passes through Annee's hands, and you can tell.
How to Use
Shake before use. For optimum effect, spray into your palm and press the mist into your skin. Alternatively, close your eyes and spray directly onto your face. Follow with your serum and/or moisturizer (we love this mist with de Mamiel's Skin Recovery Concentrate). To refresh and revive skin, apply at any time throughout the day.
Ingredients
- Multi-molecular hyaluronic and polygluconic acids are next-generation hydrators known to significantly improve the quality and resilience of skin
- Copper Peptides help boost the skin's collagen production
- Ectoin helps with skin barrier repair and protection from daily stressors
- Superoxide dismutase protects the skin's cellular membranes from UV damage and reduces redness
---
All Ingredients
Water/Aqua/Eau, Citrus aurantium amara flower water, Almond/borage/linseed/olive acids/glycerides, Hydrolyzed yeast extract, Ectoin, Glycerin, polyglyceryl-4 caprate Superoxide dismutase, Cistus incanus flower/leaf/stem extract, Hibiscus sabdariffa fruit extract, D-Panthenol, Citrus aurantium var amara flower oil, Jasminum officinale flower extract, Cetyl hydroxyethylcellulose, Rosa damascena flower oil, Boswellia sacra resin oil, Erythritol, Anthemis nobilis flower oil, Polyglucuronic acid, Santalum album wood oil, Tilia cordata flower extract, Sodium hydroxide, Tocopherol, Potassium sorbate, Sodium benzoate, Benzyl alcohol, Lecithin, Sodium hyaluronate, Saccharomyces/Zinc ferment, Saccharomyces/ Copper ferment, Saccharomyces/ Magnesium ferment, Saccharomyces/ Iron ferment Saccharomyces/Silica ferment, Hydrolyzed rice protein, Leuconostoc/radish root ferment filtrate, Salicylic acid, Sorbic acid, Pectinase
Water/Aqua/Eau, Citrus aurantium amara flower water, Almond/borage/linseed/olive acids/glycerides...
See All