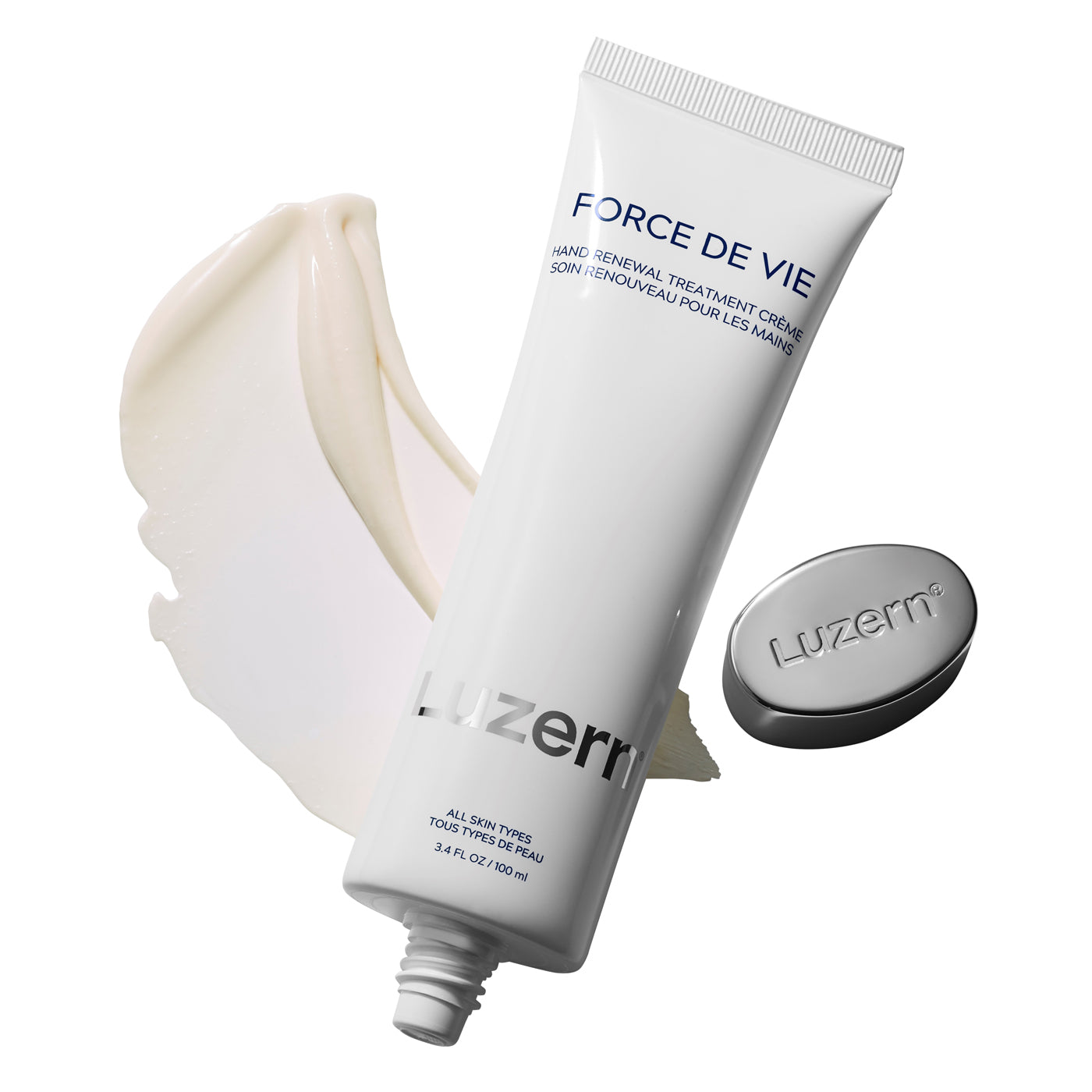 Description
Utterly non-greasy hand cream with age-defying actives / 3.4 fl. oz. 
Luzern Force de Vie Hand Renewal Treatment Crème is as luxe and perfect as you'd expect a hand cream from Luzern to be. When our team first got our tester, we thought to ourselves, "Luzern hand cream? Ooh, it's got to be good." But no. This hand cream is not just good. It is, for sure, one of the more luxurious hand creams we carry. And it is, for sure, worth every penny. 
This hydrating cream somehow drenches skin in moisture without making it greasy, thanks to a smart blend of humectants like glycerin and propanediol, supplemented with light yet nourishing oils, ceramides, and organic shea butter. It sinks right in, making it the ideal hand treatment if you don't want to waste a second waiting for your hands to stop feeling hand-creamy. (It's packaged in a lightweight tube, too, making it just the thing to pop into your handbag or the glove compartment of your car.)
Even more exciting is that Luzern has packed plenty of age-defying actives (oxygen, Vitamin C, licorice) into the mix to keep hands looking youthful. Every member of our team has a tube of this marvelous hand cream — and a new habit of stroking our own hands every once in awhile because we just can't believe how soft they are.  
How to Use
Apply to hands and forearms daily and whenever hands feel dry. Reapply as needed.
Ingredients
- Pure Oxygen, Vitamin C, and Licorice Root work as age-defying actives to brighten and diminish the look of uneven tone and dark spots. These ingredients provide protection from environmental stressors which can age the delicate skin on the hands.
- Co-Enzyme Q10 is a super antioxidant essential for cellular activity.
- Vitamins C works to limit chronic UV damage.
- Swiss Edelweiss, Organic Buddleja davidii, and Thymus vulgaris extracts fight against pollution and ozone-generated free radicals.
---
All Ingredients
Water Aqua‐ *, Aloe Barbadensis Leaf Juice**, Cetearyl Alcohol*, Isopropyl Myristate*, Glyceryl Stearate*, Glycerin**, Glyceryl Stearate Citrate*, Propanediol*, Hydrogenated Ethylhexyl Olivate*, Decyl Oleate*, C10C18 Triglycerides*, Butyrospermum Parkii Shea Butter‐ **, Saccharomyces Lysate Extract**, Tetra‐ Hexyldecyl Ascorbate*, Ubiquinone*, Alpha Lipoic AcidL*, Glycyrrhiza Glabra Licorice‐ Root Extract*, Sodium Hyaluronate*, Phospholipids*, Sphingolipids*, Leontopodium Alpinum Edelweiss‐ Flower/Leaf Extract**, Hydrogenated Olive Oil Unsaponifiables*, Helianthus Annuus Sunflower- Seed Oil**, Panthenol*, Buddleja Davi-DII Leaf Extract**, Camellia Sinensis Green Tea- Leaf Extract**, Thymus Vulgaris Thyme‐ Flower/Leaf Extract*, Rosmarinus Officinalis Rosemary- Leaf Extract*, Glyceryl Caprylate*, Calcium Gluconate*, Xanthan Gum*, Fragrance Parfum‐*, Gluconolactone*, Tetrasodium Glutamate Diacetate*, Sodium Benzoate*, Potassium Sorbate*, Citric Acid*.

* Natural Derived
** Certified Organic
Water Aqua‐ *, Aloe Barbadensis Leaf Juice**, Cetearyl Alcohol*, Isopropyl Myristate*, Glyceryl S...
See All