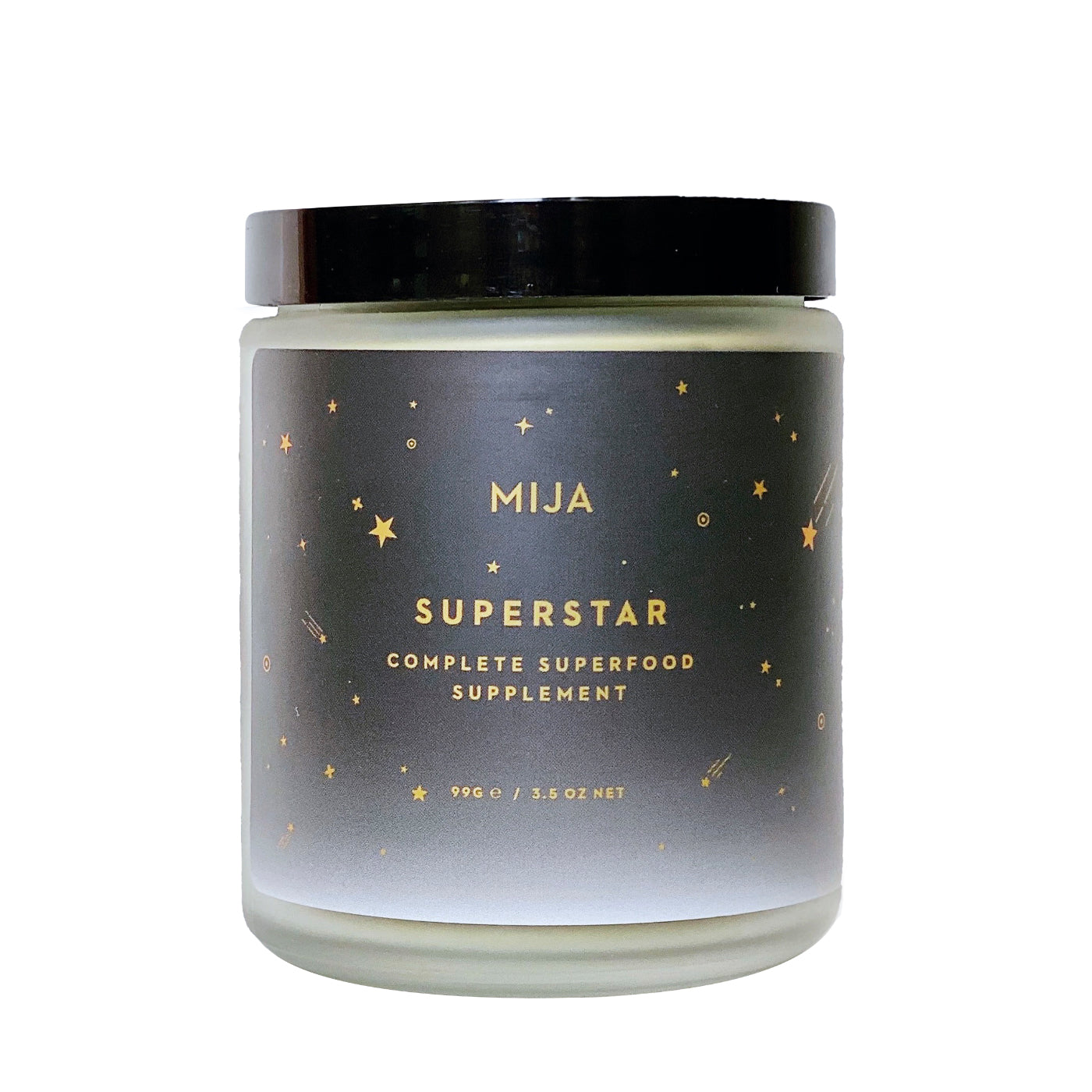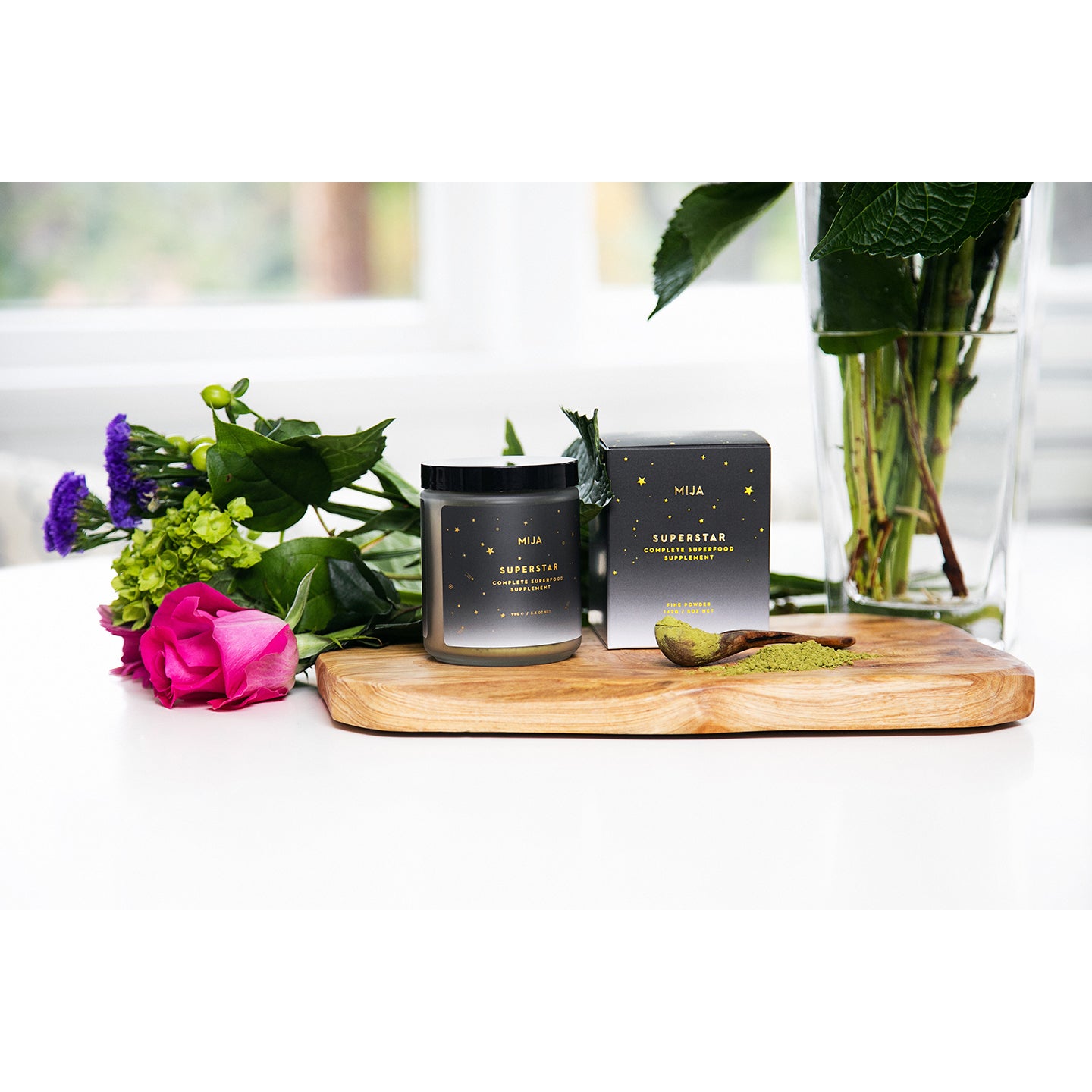 Description
Matcha-based, energizing superfood supplement with a detoxifying boost / 3.5 oz
Mija Superstar is the only superfood multivitamin supplement we carry — because we think it's the only one you need. Here's what we love about it:

1. It's like an approachable matcha…that's even better for you.
Yes, Superstar is a phytonutrient-packed, anti-inflammatory supplement that helps fill nutritional gaps. But its base is ceremonial grade, energizing, antioxidant-packed matcha, so if you've thought about making the switch from coffee to green tea, or you just want to experience matcha's longer-lasting, better-for-your-teeth buzz, this makes it as easy as can be. It's less caffeine-packed than straight matcha (each serving contains 24mg of caffeine, less than a cup of straight matcha or coffee). And Superstar dissolves easily, so there's none of the endless whisking or graininess you often find with straight-up matcha. And it has a delicious fruity taste — like fresh lychees — making it easy to blend into your morning smoothie.
2. It's also an excellent way to get moringa into your diet.
Moringa leaf is a nutrient-dense leafy green that's revered for its vitamin-packed, hormone-balancing, detoxifying qualities. It's also known to help protect liver and brain health, and it's even been linked to increased "happy hormones" (dopamine and serotonin) — making it the perfect partner for theanine-rich, mood-lifting matcha. 
3. It was developed by leading registered dietitian who's the real deal.
Sarah Koszyk, MA, RDN has both a bachelor's and a master's degree in nutrition; she's written four books, serves as the resident nutrition correspondent for the Bay Area's KRON-4 News, and has an impressive roster of local clients ranging from Silicon Valley CEOs to professional athletes. Obviously, Sarah knows what she's doing, and she created Mija Superstar to address the most frequent nutritional gaps she's seen in her work with private clients.
And if you don't want to hang your hat on just moringa and matcha, never fear: Superstar combines them with a host of other safe, proven superfoods like goji, goldenberry, camu camu, lucuma, chaga, avocado, hemp, chlorella, ginger, and turmeric. And it's vegan, entirely organic, gluten free, dairy free, corn free, soy free, refined sugar free, artificial sweetener free, synthetic additive free, and artificial coloring/flavoring free. (We're pretty sure you're covered.)
The icing on the cake: Mija Superstar is incredibly easy to use. Drink it cold, hot  (our favorite, with a twist of lemon), or in smoothies — you'll find some special recipes Sarah shared with us on our blog. 
How to Use
2 teaspoons daily at any time.

Add 2 teaspoons of powder to a glass of water, juice, smoothie, tea, or your favorite refreshment. Mix well.
Ingredients
- Organic Moringa Leaf: Decreases inflammation and assists with improving gastrointestinal disorders. Neutralizes heavy metal toxicity in the bloodstream while also reducing blood sugar and cholesterol levels.
- Organic Goldenberry: Full of Vitamin C, carotenoids, and polyphenols to decrease cellular aging and reduce oxidative stress.
- Organic Goji Berry: Promotes healthy, glowing skin, detoxify the liver, improve mood, and increase energy.
- Organic Camu Camu: Boosts the immune system, enhances mood, and promotes anti-aging benefits. Stimulates collagen production.
- Organic Lucuma: Lowers blood pressure, alleviates stress, promotes skin health, and reduces inflammation.
---
All Ingredients
Organic Matcha Green Tea Powder, Organic Moringa Leaf Powder, Organic Goldenberry Powder, Organic Goji Berry Powder, Organic Camu Camu Powder, Organic Lucuma Powder, Organic Chaga Mushroom Powder, Organic Avocado Powder, Organic Hemp Seeds Ground Powder, Organic Chlorella (Cracked Cell) Powder, Organic Cacao Powder, Organic Nutritional Yeast Flakes, Organic Lychee Flavor Powder, Organic Ginger Root Powder, Organic Turmeric Root Powder, Organic Honeydew Melon Flavor Powder, Organic Stevia Leaf.

Nutrition Facts: Serving Size 2 tsp
18 servings per container

Calories 20 | Calories from fat 0
Trans fat 0g | Sodium 0mg
Total carbs 4g | Dietary fiber 1g
Sugar <1g (0g of Added Sugars)| Protein 1g
4% Iron | 25% Vitamin C | 4% Vitamin B12
4% Magnesium |4% Copper | 6% Vitamin E | 10% Vitamin B6
8% Niacin | 8% Riboflavin | 8% Thiamin
Organic Matcha Green Tea Powder, Organic Moringa Leaf Powder, Organic Goldenberry Powder, Organic...
See All