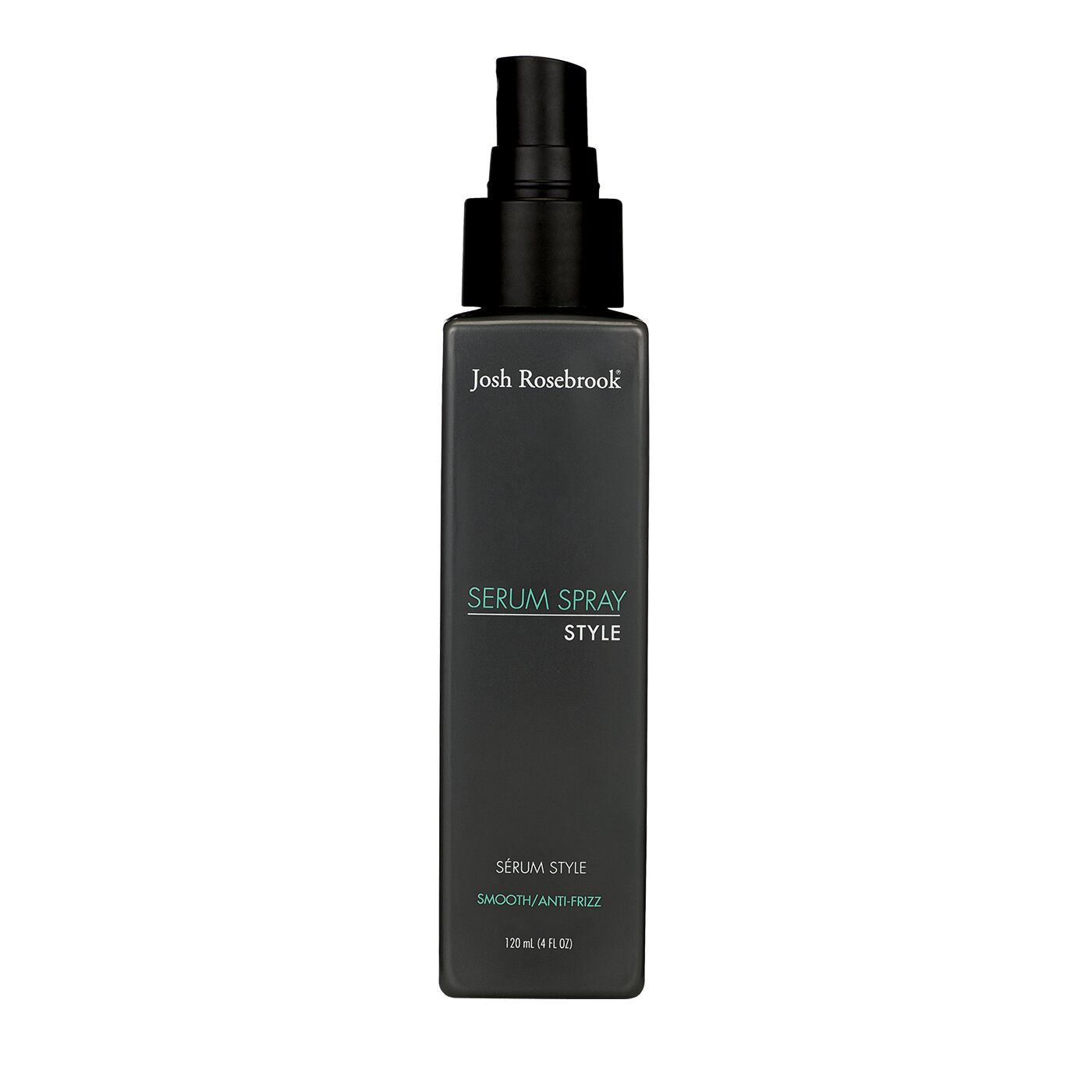 Description
Weightless anti-frizz spray for all hair types and styling methods / 4 oz
Josh Rosebrook's Serum Spray is one of those products that we never knew we needed because it's not quite like anything else. And now that we've tried it, we think everyone should use it, too: Josh describes it as "the one product you won't want to leave the house without having in your hair," and we entirely agree.
Serum Spray is an anti-frizz, smoothing and defining styling product that has been formulated for all hair types, textures, and conditions — from fine to coarse textures and wavy to extra curly shapes.
We first fell in love with it as a heat protectant: it improves manageability with a weightless finish. But, as Josh points out, it might be even better as an air-drying fluid that creates a soft, smooth, relaxed, blissfully frizz-free finish. And it's a nourishing scalp treatment, too. It's like that kid in school who did everything well, effortlessly, and no one can figure out how or why.
OK, so there is a bit of a how and why here: Josh uses an aloe base infused with extracts of oregano, calendula, chamomile, thyme, neem, and bhringraj — we love an esoteric plant in the mix — to stimulate hair growth and restore scalp health. A tiny touch of organic marula, tamanu, hemp, and argan added to the aloe base quells frizz without giving you that dreaded "why yes, my hair has oil in it, thanks for asking" stringiness. (Like your skin, your hair likes a mix of water and oil, too, especially if you give it funny looks when it gets frizzy and puffy — but too much oil on its own is not going to do you favors unless you have dense, coarse hair.)
How to Use
Spray onto towel-dried hair and disperse evenly to reduce frizz, smooth texture, soften and enhance your natural style. Whether using a blow dryer, a blow dryer with a round brush or air drying, the product will enhance all hairstyles by adding natural definition, taming frizz, softening, and restoring shine.
Ingredients
- Oregano, Calendula, Chamomile, Thyme, Neem, and Bhringraj stimulate follicles, encourage hair growth, and help restore scalp health
- Nutrient-dense, organic plant oils of Marula, Tamanu, Hemp Seed, and Argan nourish, moisturize, and condition with rich fatty acids that penetrate the hair shaft
- Aloe Vera phytonutrients help smooth and soften hair and support scalp health
---
All Ingredients
*Aloe Vera Leaf Juice, Water, †Marula Seed Oil, Hemp Seed Oil, *Camelina Seed Oil, *Baobab Oil, *Tahitian Tamanu Seed Oil, *Argan Kernel Oil, *Olive Fruit Oil, *Sea Buckthorn Oil, *Oregano Extract, *Calendula Extract, *Chamomile Extract, *Thyme Extract, *Neem Leaf Extract, *Bhringraj Extract, §Xanthan Gum, *Guar Gum, Potassium Sorbate, †Orange Peel Oil Expressed, †Lavender Extract, †Rosemary Leaf Oil, †Litsea Cubeba Fruit Oil, †Ylang Ylang Flower Oil.

*CERTIFIED ORGANIC
†ORGANIC
§ NON-GMO PLANT SOURCED

*Aloe Vera Leaf Juice, Water, †Marula Seed Oil, Hemp Seed Oil, *Camelina Seed Oil, *Baobab Oil, *...
See All