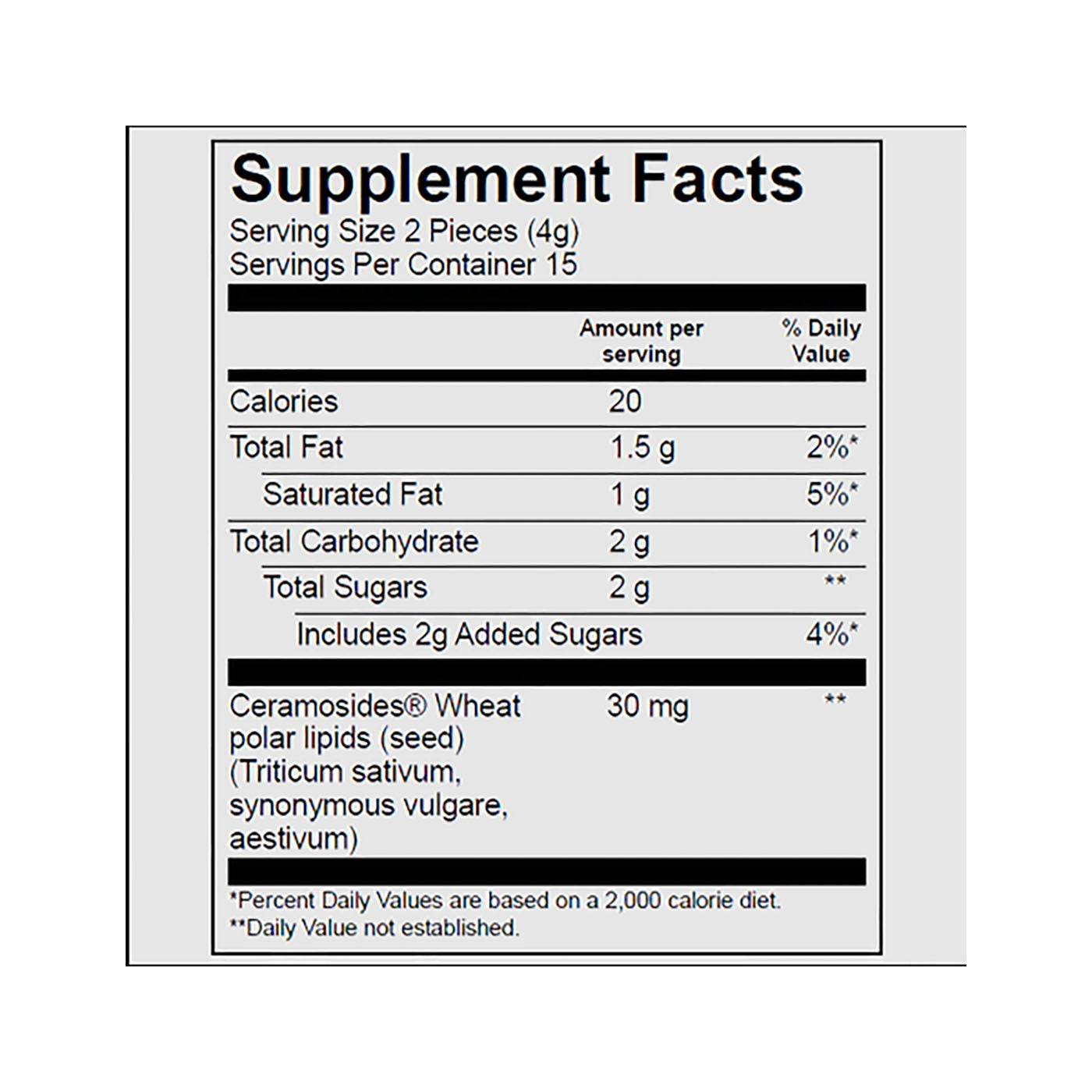 Description
Chocolate-based supplement for skin with improved moisture, elasticity, and smoothness / 30 pieces (15 servings)
Sourse Glow Bites are chocolate-based supplements featuring phytoceramides: gluten-free, plant-based lipids that have been clinically shown to boost skin's moisture levels, elasticity, and smoothness in just 15 days.
A quick refresh, in case it's helpful: ceramides are lipids that are naturally found in the skin to help it lock in moisture; like many things (sigh), they diminish with age, which can lead to dry skin, itchiness, and wrinkling. You'll often see ceramides in the ingredient listings of various moisturizing products we carry — they're excellent ingredients — and supplementation with phytoceramides is a helpful way to improve skin's ceramide levels even further.
If you're a chocolate fan, you'll be even more excited to learn that these certified-organic chocolate bites help improve the absorption of these seemingly magical phytoceramides beyond what you'd typically get from a pill, while also providing prebiotic benefits for your digestive system and being utterly delicious.
Too good to be true? We wondered, too. But our resident chocolate fiend (Dara) started testing Glow Bites during the coldest, driest winter weeks and noticed a clear improvement in her skin's moisture levels: she didn't even need to use hand cream anymore.
Glow Bites are downright delectable — they're like big, chocolate-truffle-flavored M&Ms — and you are truly supposed to limit yourself to two per day. (If that's not quite enough chocolate for you, heart connection. And the good news is that if you've had your quota of Glow Bites on a given day, you can still enjoy a piece of Esthechoc. Your body, with its lofty levels of both ceramides and antioxidants, will be as happy as your soul.) 
How to Use
Treat yourself to two bites each day. (Just two!) Eat just like chocolate.
In between treats, please seal the storage pouch and store in a cool, dry place that is below 75 degrees. Refrigeration is optional.

Formulated for non-pregnant/breastfeeding adults; consult with your healthcare practitioner.
Ingredients
- Phytoceramides are plant-based ceramides that help boost skin's moisture, elasticity, and smoothness
- Glow Bites' premium cocoa is sourced from fair-trade farms in Brazil.

Glow bites are vegan, Kosher, and made in California with non-GMO ingredients.
---
All Ingredients
Chocolate liquor, sugar, cocoa butter, vanilla extract, Ceramosides™ wheat seed extract, tapioca, gum arabic, coloring (spirulina), carnauba wax
Chocolate liquor, sugar, cocoa butter, vanilla extract, Ceramosides™ wheat seed extract, tapioca,...
See All