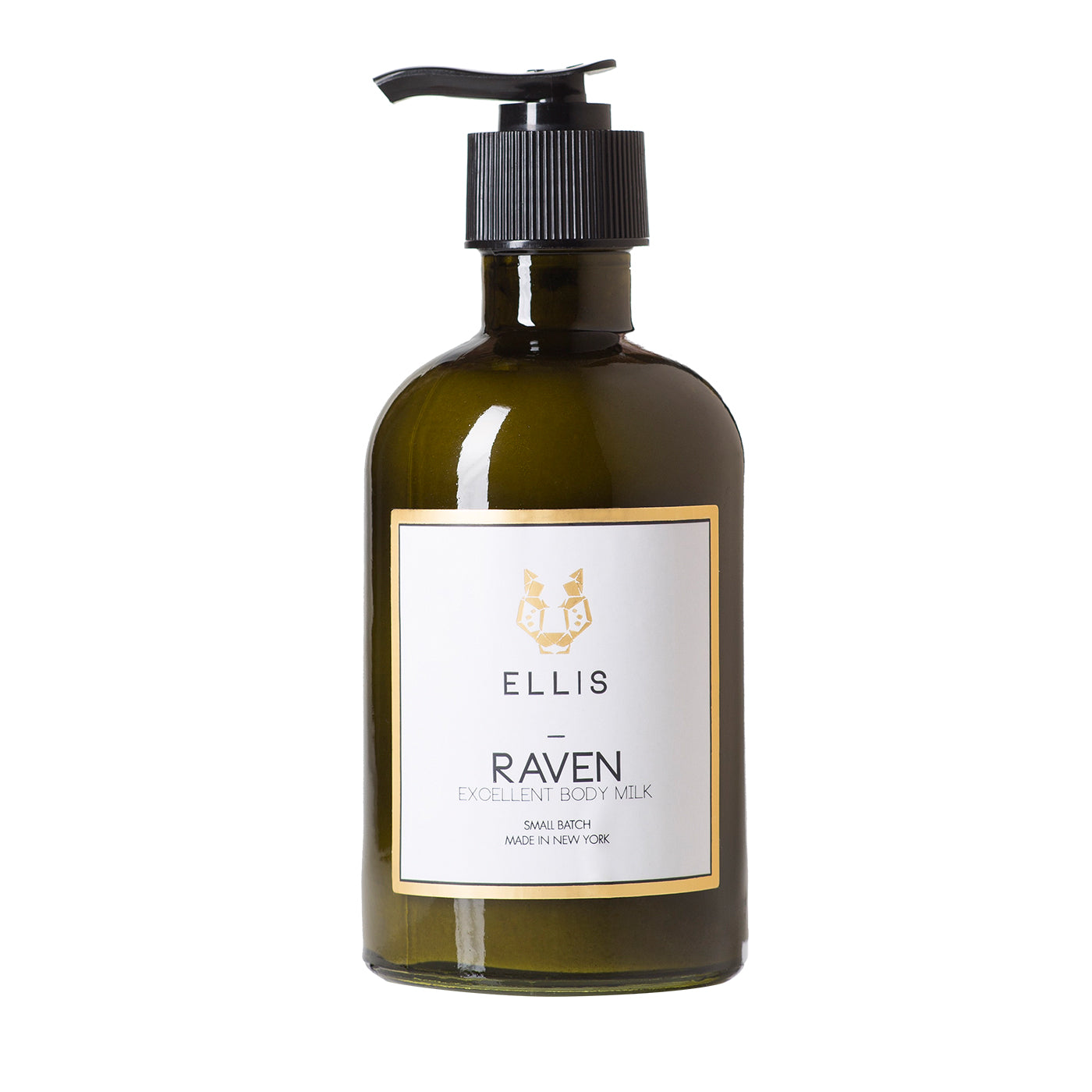 Description
Fragranced body lotion with a scent that's captivating, mysterious, and witty / 8 oz 
We are entirely in love with Ellis Brooklyn's Body Milks. They're free of endocrine-disrupting phthalates and parabens, simplify your body care routine by combining hydration with fragrance, and look gorgeous on your dresser. And it's no wonder they're so excellent: they've been created by Bee Shapiro, a beauty and style writer for The New York Times, Vogue, and others, and Jerome Epinette, the genius behind Byredo and other chic fragrances.
Bee writes of this scent, "The Raven has held a mythic status in a variety of literature from the dark leanings of Edgar Allan Poe to the clever depictions atop Native American totem poles. This stunning peony-patchouli vies for the same complexity of character—the seduction lasts long before the first notes of mandarin and rhubarb, developing into a heady olfactive brew underlined by blond woods and liquid musks." Could we put it any better than a Times Style writer? No. No, we could not.
The phthalate-free fragrance has been expertly blended into a custom-created, light but nourishing body lotion. Enriched with rosehip, meadowfoam, and camellia oils, this body milk soaks into skin immediately for a velvety finish.
If you're not sure which Ellis Brooklyn scent to try, order our Custom Sample Service and request the two you find most intriguing.
How to Use
Apply after bath or shower. Revel in the compliments. Feel captivating and witty.
Ingredients
- Organic aloe is a powerful skin soother
- Organic sunflower oil, a great moisturizer, is rich in vitamins A and E as well as essential fatty acids
- Rose hip oil, rich in essential fatty acids, is clinically proven to reduce scarring and minimize the appearance of wrinkles

- Fragrance top notes: mandarin, rhubarb
Mid: peony, pink lotus
Base: patchouli, blond woods, liquid musks
---
All Ingredients
Purified water (aqua), aloe (aloe barbadensis) leaf juice*, sunflower (helianthus annuus) oil*, glyceryl stearate, glycerin, octyl palmitate, coconut (cocos nucifera) oil*, cocoa (theobroma cacao) butter, myristyl myristate, potassium stearate, beeswax*, jojoba (simmondsia chinensis) oil*, panthenol, macadamia (macadamia integrifolia) oil, shea (butyrospermum parkii) butter, meadowfoam (limnanthes alba) oil, camellia (camellia oleifera) oil, rosehip (rosa canina) oil, sodium carbomer, phenoxyethanol, ethyl hexyl glycerin and proprietary blend of essential oils and fragrances. *Certified organicFormula is 98% natural, 52% organic, and 100% phthalate-free.
Purified water (aqua), aloe (aloe barbadensis) leaf juice*, sunflower (helianthus annuus) oil*, g...
See All