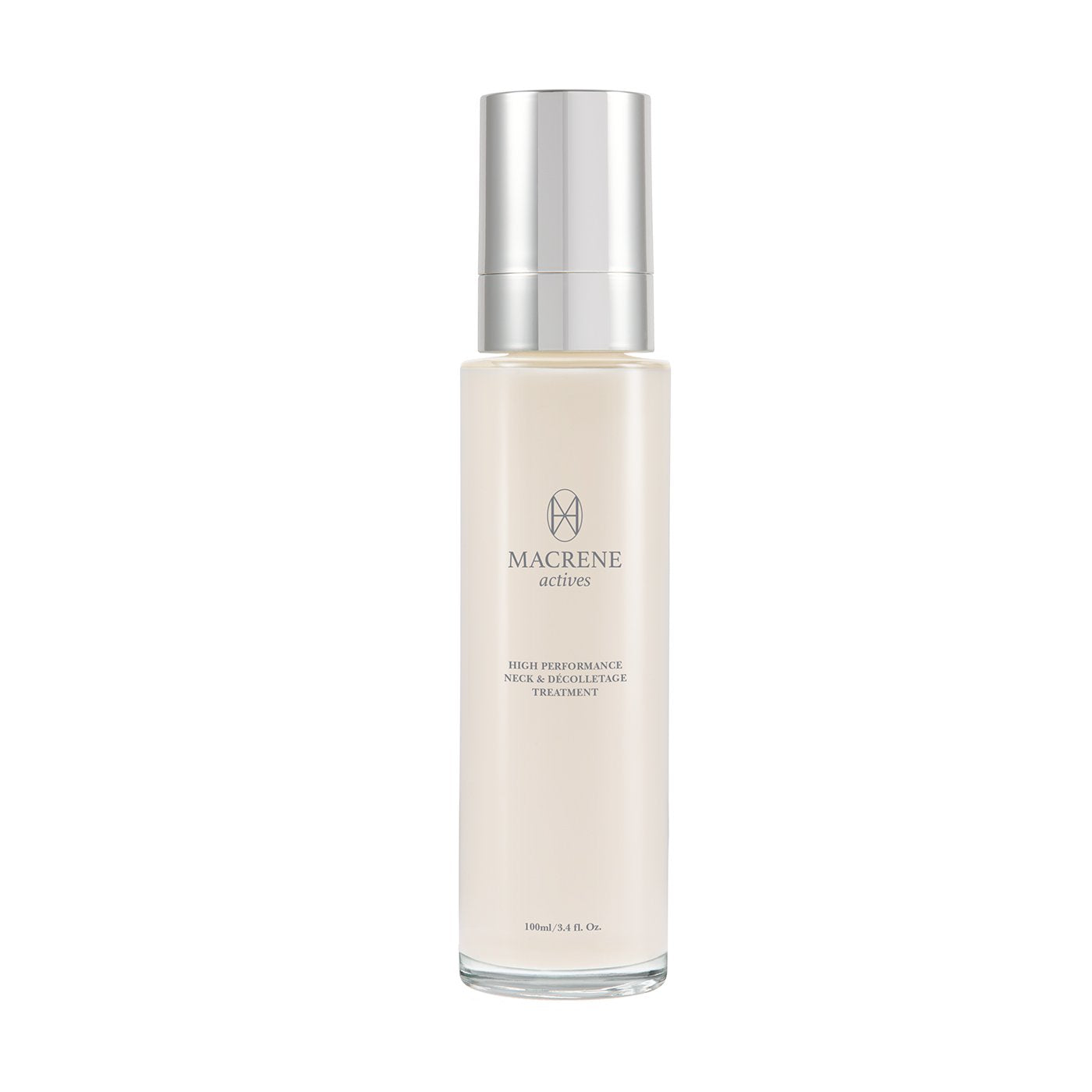 Description
High performance anti-aging treatment for neck & chest / 3.4oz
*Formerly 37 Actives Neck & Decolletage Treatment*
Macrene Actives High Performance Neck & Decolletage Treatment is an improved silicone-free and more powerful version of the best selling 37 Actives Neck & Decolletage High Performance Anti-Aging Treatment.
The winner of Allure's 2019 "Best of Beauty" award, this new and updated Neck & Decolletage Treatment is a marvelous addition to the Macrene Actives family. It features the same anti-aging ingredients found in the updated cream, plus several additional actives including unique red algae and watermelon extracts that reverse sun damage and specifically target the aspects of aging that are most common in the neck and chest area, like firmness and elasticity. And it's a good thing it has that extra oomph: The skin below your jawline is thin, and without extra care, it can age at a much faster rate than your face.
The fantastically effective Neck & Dec treatment, as it's known in inner circles, has a lotion-like consistency that makes it easy to cover larger surface areas. You may actually find yourself slathering it all over your body in an attempt to encase yourself in a reverse-aging bubble. (That would not be crazy at all...but you can also use the Skyros Body Lotion for that. And while Neck & Dec wasn't designed specifically for the face, it's also great as a facial lotion.)
USDA Certified Organic Ingredients | Plant-Based | Vegan | Gluten-Free | Paraben-Free | Phthalate-Free | Sulfate-Free | Fragrance-Free | Acrylate-Free | Glycol-Free | Mineral Oil-Free | Petrolatum-Free | Animal Byproduct-Free | Mica-Free | Talc-Free | Silicone-Free | Packaged in Glass | Made in USA
How to Use
Apply twice daily to neck and chest after cleansing.
Ingredients
- Kappaphycus alvarezii (Red Algae) extract: addresses the aging effects of telomerase, an enzyme that causes skin aging
- Hyaluronic Acid Mix, Peptides, Proline: decrease fine lines and improve sagging skin in the neck and chest
- Plant Cholesterol and Phosphatidylcholine, non-GMO Lecithin: close the skin barrier to help repair it and improve skin texture
---
All Ingredients
Water, Hydrogenated Ethylhexyl Olivate1,3, Hydrogenated Olive Oil Unsaponifiables1,3, Glycerin1, Helianthus annuus (Sunflower) Seed Oil Unsaponifiables1, Jojoba Esters1,3, Dipalmitoyl Hydroxyproline1,3, Cetyl alcohol1, Sorbitan Stearate, Sodium Hyaluronate, Camellia sinensis (Green Tea) Leaf Extract1,2,3, Punica granatum (Pomegranate) Extract1,2,3, Chyrsanthemum parthenium (Feverfew) Extract1,2,3, Ilex paraguariensis (Yerba Mate) Leaf Extract1,2,3, Coffea arabica (Coffee) Seed Extract1,2,3, Theobroma cacao (Cocoa) Seed Butter1,2,3, Tremella fuciformis sporocarp (Silver Ear Mushroom) Extract1, Citrullus lanatus (Watermelon) Fruit Extract1, Kappaphycus alvarezii (Red Algae) Extract1, Scenedesmus rubescens (Microalgae) Extract1, Resveratrol1, Bisabolol1, Tocopherol1, Tetrahexyldecyl Ascorbate, Sodium Acetylated Hyaluronate, Hydrolyzed Sodium Hyaluronate, Sodium Hyaluronate Crosspolymer, Disodium Acetyl Glucosamine Phosphate, Citrulline1, Sodium Lactate, Arginine1, Aspartic Acid1, PCA1, Glycine, Alanine, Serine, Valine1, Proline1, Threonine1, Isoleucine1, Histidine1, Phenylalanine1, Sodium PCA1, Hydrogenated Lecithin1,3, Glyceryl Caprylate1, Hydroxypropylmethylcellulose Stearoxy Ether, Sodium Phytate1, Caprylhydroxyamic Acid1, Sodium Benzoate, Sodium Methyl Stearoyl Taurate, Potassium Sorbate, Ethylhexylglycerin1, Alcohol1, Hydrogenated Phospatidylcholine1,3, Cholesterol1, Tocopheryl Acetate

1Plant-Derived
2USDA-Certified Organic
3Third Party-Certified
Water, Hydrogenated Ethylhexyl Olivate1,3, Hydrogenated Olive Oil Unsaponifiables1,3, Glycerin1, ...
See All