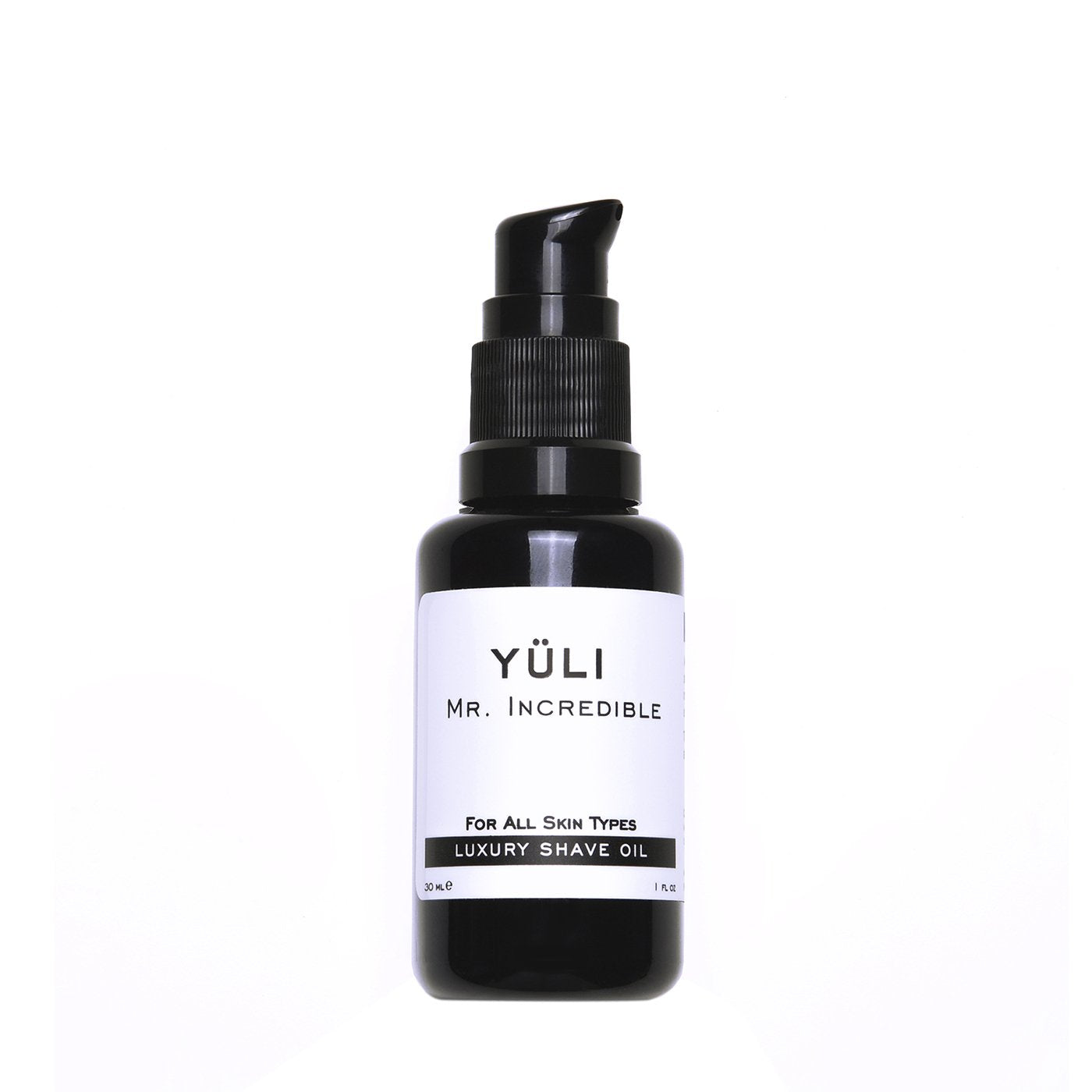 Description
Impossibly perfect beard oil, face serum and shaving oil in one / .3oz & 1oz 
YULI Mr. Incredible is a beautifully multipurpose shave oil, beard oil, and face serum in one bottle. Like all of YULI's formulas, it's been thoughtfully constructed from start to finish, as though someone sat down and thought, "Hmm. How could we make one hardworking product that would somehow handle a variety of seemingly disparate things…but also seem effortless, weightless, and luxurious?"
Part of its secret is a perfectly chosen blend of base oils. Jojoba is beloved for its ability to mimic skin's natural oils; argan, rich in natural vitamin E, is a go-to for its ability to soothe and protect; and grapeseed boasts heaps of antioxidants along with essential fatty acids. Together, they make for a silky, lightweight texture that moisturizes and protects without clogging — or feeling like you have a layer of oil sitting on your skin.
Great: jojoba, argan, grapeseed. Simple, basic, solid. "So…is that it?" you may wonder. Oh, no. Oh, no no no. YULI then worked with a perfumer in Grasse to add a blend of skin-friendly, performance-focused essential oils that sneakily provide it with a heavenly scent while delivering anti-inflammatory relief, sweeping away dull skin, and invigorating the complexion: Black Calla Lily, Lavender, Vetiver, and Sandalwood.
The result is simple, luxurious, and perfect. It makes a fabulous gift, too.
How to Use
As a shave serum: use 1-2 pumps to spread a thin layer to freshly cleansed skin.

Post-shave: smooth 1-2 pumps over rinsed skin for soothing and healing benefits.

As a beard oil: dispense the desired amount and rub into palms. Apply evenly throughout beard and massage remaining product into the skin.
Ingredients
- Argan Oil: This lightweight oil is also called "liquid gold", due to its high levels of Vitamin E, antioxidants and a comprehensive lipid profile. Argan oil is hydrating and nourishing, with reparative and replenishing qualities. Argan has been shown to calm irritation, protect again environmental stress, and rejuvenate skin.
- Jojoba Oil: A balancing, multitasking, silky oil rich in skin-nourishing lipids, peptides, and natural antioxidant Vitamin E with unique bio-identical properties to the healthy sebum profile in our own natural skin barrier.
- Grapeseed Oil: Derived from antioxidant-rich wine grapes, this emollient oil is rich in skin-supporting compounds including linoleic acid, oleic acid, lauric acid, and other key essential fatty acids. Its fluid silky texture is non-pore clogging and protects skin from dryness and irritation.
---
All Ingredients
S. chinensis (Jojoba) oil*, A. spinosa (Argan) oil*, V. vinifera (Grape) seed oil, Proprietary blend of organic & wildcrafted supercritical & essential oils

* Organic
S. chinensis (Jojoba) oil*, A. spinosa (Argan) oil*, V. vinifera (Grape) seed oil, Proprietary bl...
See All