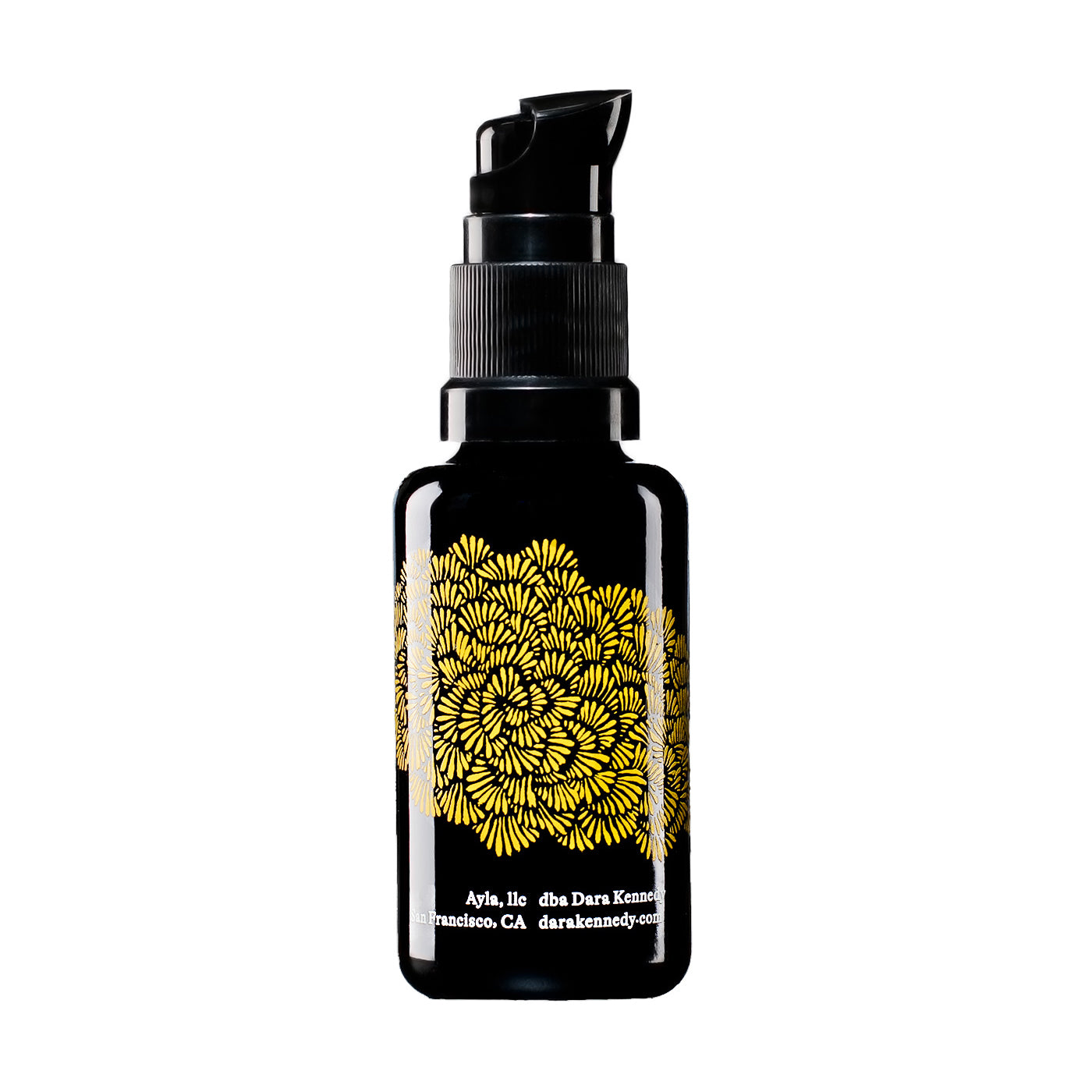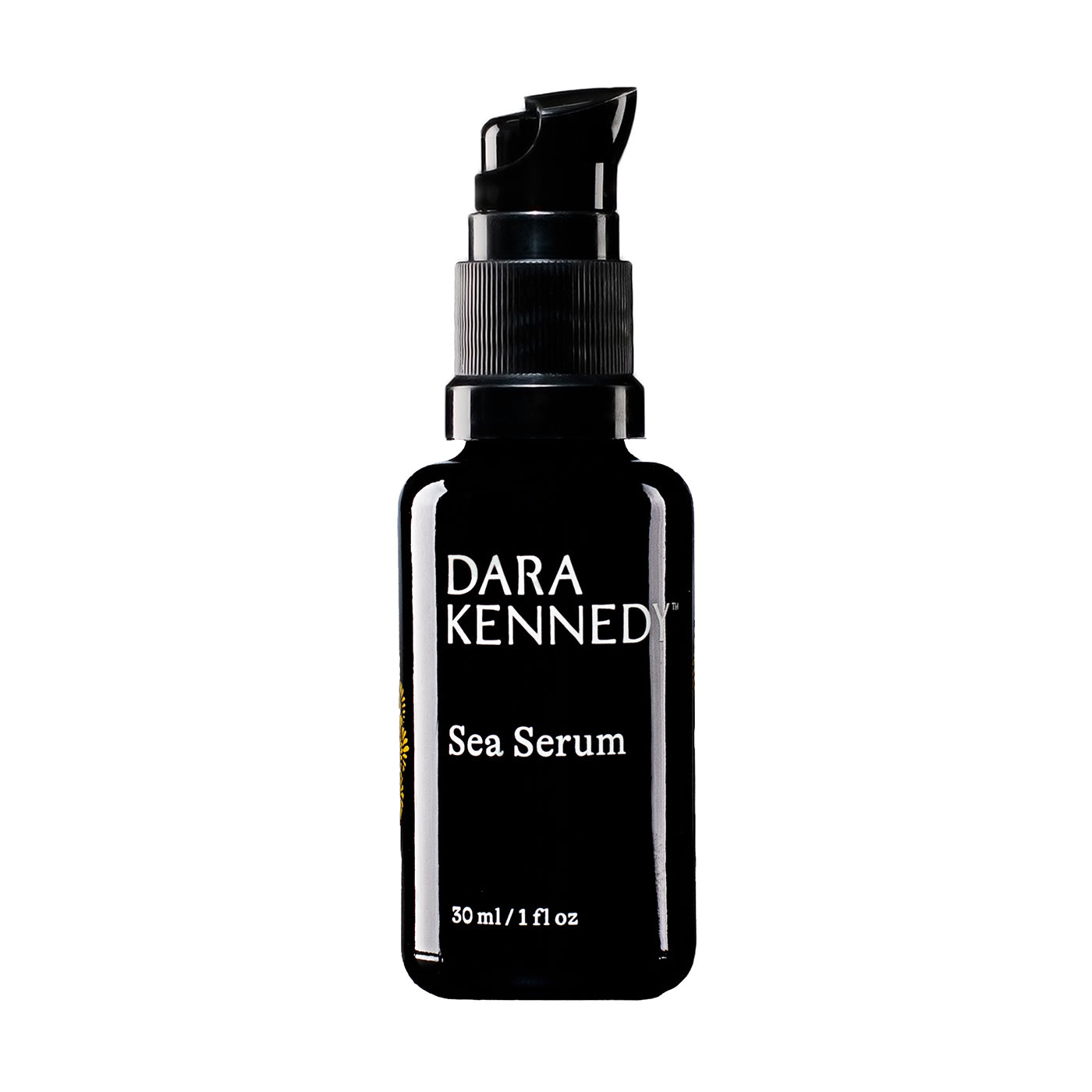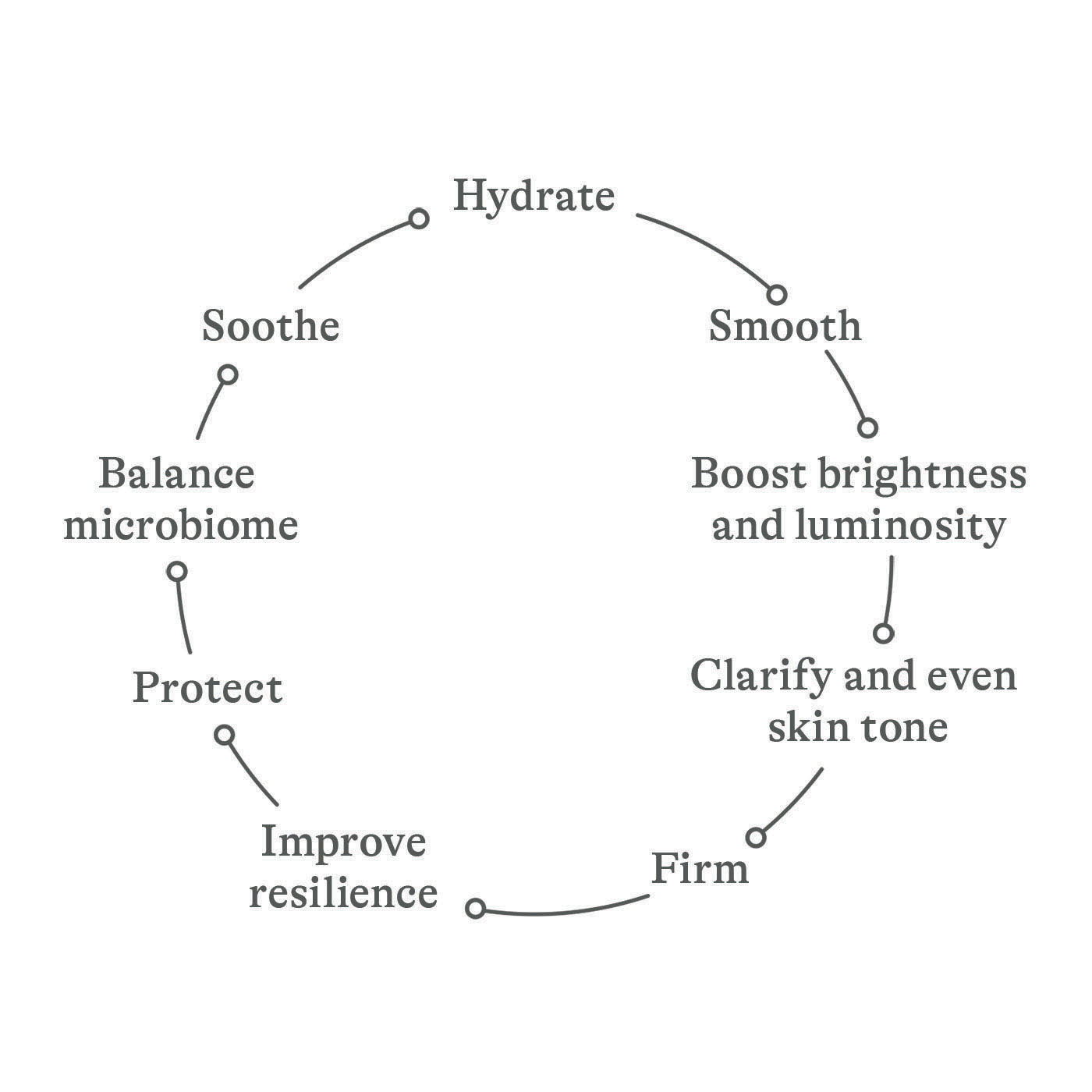 Description
The multi-talented vibrance and elasticity booster that just knows what you need / 1 oz
The Dara Kennedy Sea Serum is an innovative hydrating, multi-dimensional, and adaptive serum for more vibrant, resilient skin. It starts by addressing what your skin craves the most, and its benefits build on one another in an intelligent, cumulative way.
What it does
Our many testers, of widely ranging ages and skin types, noticed slightly different effects at first: skin felt better hydrated or seemed calmer — and in several cases, with fewer breakouts. Some noted that the moisturizers they used on top of it seemed to penetrate more easily. After a few weeks, though, we all noticed brighter, softer, firmer skin and thought the same thing: "My skin just looks so good," along with, "I will never stop using this product. Ever!"
It makes sense: everyone's skin is a little different, and it might lack vibrance, firmness, or smoothness for different reasons. The fact that this multi-talented formula works a little differently on each person — but with similar "my skin just looks better" results — speaks to its unique ability to address skin's needs on a deeper level: it addresses the specific mechanisms behind the conditions we've heard most of our customers mention over the past 12 years (dryness, dullness, sensitivity, sagging) in a way that is both cohesive and profound. 
How it works
At the heart of the Sea Serum's formula are marine plants that have evolved and adapted over hundreds of millions of years with protective, rejuvenating mechanisms. The gorgeously green, silky formula features local, sustainably harvested Giant Kelp, the same ingredient in the Sea Soak; like the Sea Soak, even the first application feels healing and rejuvenating, like a dip in the ocean. And over time, with a proprietary blend of actives that includes 5 additional seaweeds and coastal plants from California, France, and Ireland — natural master adapters — this multi-dimensional vibrance booster has clinically proven power to brighten, firm, soothe, and fortify while deeply hydrating, obviating the need for multiple treatments.
Working with those master adapters are tried and true ingredients like multi-molecular-weight hyaluronic acid, hydration-boosting polyglutamic acid, multi-benefit niacinamide, collagen-boosting peptides, and barrier-restoring squalane that enable the formula's benefits to continue getting better and better. As a holistic system, it addresses skin's needs at the surface (microbiome-balancing and barrier-restoring) and below (firming and both preventing and addressing existing hyperpigmentation), even nourishing nascent skin cells so they grow stronger and healthier, creating a virtuous circle of benefits shown in the image on this page. We call this type of formula "biointegral," and it's simply how we think beauty and wellness products should work.
The Dara Kennedy Sea Serum is powered by ingredients clinically demonstrated to:
- Significantly reduce brown spots, even on darker skin tones that can't easily use lasers
- Improve firmness by up to 62% in just two months
- Prompt a 20%+ increase in NMF production after 14 days (which means that it helps your skin lock in and regulate moisture more effectively)
- Reduce redness and protect skin's microcapillaries, limiting UV stress-induced activity by up to 74% for more resilient skin
- Provide protection against UVA- and UVB- induced free radical damage (important note: it's not a sunscreen, it's a sunscreen helper — please wear your sunscreen!) 
Good to know
This is important: with protective and brightening abilities that muscle even Vitamin C out of the way, the Dara Kennedy Sea Serum packs a serious punch, but it suits the most sensitive skin. "Hurts so good" skincare can become a thing of the past, where it belongs.
Bonus superpower: it's also an incredible team player. Use it under any face oil, lotion, or cream on our shelves to feel like you're cocooning your skin in a protective, rejuvenating, healing bubble — and you'll notice that the products you apply over it seem to work better, too. 
And the important cherry on top: in recognition of the planet that has made this plant-based formula possible, and the need for us all to give back and protect it, 5% of every sale goes to Climate Changemakers. Climate Changemakers is an incredible community that advocates for equitable, science-based climate policies that have the greatest positive impact on climate change — and encourages all of us to join in and help. You can learn more about them on our blog.
We are so proud of everything about this product, thrilled to have it featured already in 7x7 and Town & Country Magazine, and hope you love it as much as we do. (If our testers' experiences, and the fact that Dara's used it every day for the past 1.5 years, are any indication...we think you will. The Sea Serum has quickly become our single best selling product.) 
Find out why Dara developed this product on our blog, and what our long-term testers have noticed here.
How to Use
Shake well and apply to clean face, neck, and chest: our team typically uses 2 pumps per application (sometimes 3, depending on surface area covered). Skin can be either dry or damp (from mist/hydrosol/toner) when you apply your Sea Serum. Follow with the moisturizer or face oil of your choice.

The Sea Serum can be used day and night; it's a definite must during the day due to its incredible antioxidant capabilities, but it's equally amazing at night. If you're a retinol user, or want to be, applying the Sea Serum under your retinol can amplify its benefits while alleviating sensitivity. (Testers who previously couldn't use retinol were able to work it into their routine with Sea Serum as a buffer!)

The Sea Serum is an excellent team player, designed to work beautifully with everything on our shelves. If you're not sure how to work it into your routine, just contact our Guides at help@aylabeauty.com.
Ingredients
OK, this is a lot…but we know you love the info.

• FOR ANTIOXIDANT PROTECTION: Our hand-harvested giant kelp (macrocystis pyrifera) from California has highly regarded antioxidant and hydrating properties; we blend it with a red algae from the Irish coast (porphyra umbilicalis) known for its ability to actively protect skin against UVA-induced stress and photoaging — the type that travels through windows and clouds. Sea fennel (crithmum maritimum), one of the earliest plants to migrate from sea to land, supports their efforts: it's also clinically shown to help protect skin against UVB-induced free radical damage.

• FOR A BRIGHTER, MORE EVEN SKIN TONE: A special, polyphenol-rich brown algae from the coast of France (ascophyllum nodosum) improves radiance and luminosity; it also helps to prevent the formation of future dark spots, as it has been clinically proven to neutralize the free radicals that can cause hyperpigmentation as well as ascorbic acid, the most powerful form of Vitamin C. It works with the sea fennel, also harvested off the coast of France, to gently lighten existing hyperpigmentation and encourage a more even skin tone.

• FOR PROFOUND HYDRATION: We all know and love hyaluronic acid for the way it attracts and creates a breathable barrier on the surface of the skin, providing it with a natural reservoir of moisture. We blend multi-molecular-weight hyaluronic acid in our proprietary blend with red seaweed (chrondrus crispus), sourced from the Pacific coast. These two ingredients are dramatically more effective than just one or the other, working together to trap moisture in the skin. And polyglutamic acid is what takes our hydration blend to the next level: it's an amino acid that encourages the production of skin's natural moisturizing factor. This helps skin hold onto moisture more effectively and pull it in more deeply so that it doesn't just stay on the skin's surface. Along with sea fennel and other favorites (squalane, propanediol, glycerin), this creates a perfectly complete cycle of hydration.

• FOR PROVEN FIRMING: Two tried-and-true peptides (there are a lot out there that are all talk) work with the seaweeds and sea fennel in our blend to increase skin's collagen production, helping to improve its structural integrity and leading to firmer skin with fewer fine lines.

• FOR ALLEVIATING REDNESS AND SENSITIVITY: Yet another seaweed from France (asparagopsis armata) works with the others in our blend to shield skin's microcapillaries from external stressors, with clinically proven ability to reduce UV stress-induced activity that can lead to redness.

• FOR A BALANCED MICROBIOME: probiotics, including lactobacillus and leuconostoc/radish root ferment filtrate, help the skin's microbiome maintain a healthy mix of flora.

• PLUS: Multi-faceted ingredients like niacinamide, panthenol, bisabolol, and aloe fill in where your skin needs them, adding soothing, hydrating, and pore-tightening properties. Sea fennel, the all-around power player, supports it all — helping to hasten skin's natural healing processes and improving epidermal metabolism for healthier, more vibrant skin.
---
All Ingredients
Aqua (Water), Propanediol, Glycerin, Lactobacillus, Squalane, Leuconostoc/Radish Root Ferment Filtrate, Ascophyllum Nodosum Extract, Crithmum Maritimum Callus Culture Filtrate, Asparagopsis Armata Extract, Porphyra Umbilicalis (Red Algae) Extract, Macrocystis Pyrifera (Kelp), Chondrus Crispus (Carrageenan) Extract, Niacinamide, Panthenol (D), Cocos Nucifera (Coconut) Fruit Extract, Spirulina Platensis Extract, Bisabolol (L-alpha), Sodium Hyaluronate (L), Aloe Barbadensis Leaf Juice Powder, Hyaluronic Acid, Sodium Polygamma-Glutamate, Palmitoyl Dipeptide-5 Diaminobutyroyl Hydroxythreonine, Palmitoyl Dipeptide-5 Diaminohydroxybutyrate, Malachite Extract, Caprylyl Glycol, Hydrogenated Starch Hydrolysate, Sodium Gluconate, Polyacrylate Crosspolymer-6, Xanthan Gum, Citric Acid, Daucus Carota Sativa (Carrot) Root Extract, Maltodextrin, Sodium Lactate, Lecithin, Alcohol, Hydrolyzed Gardenia Florida Extract, Sodium Hydroxide.
Aqua (Water), Propanediol, Glycerin, Lactobacillus, Squalane, Leuconostoc/Radish Root Ferment Fil...
See All
"Wow. You weren't kidding...I feel like some hyperpigmentation right below my eyes is already fading and my neck is firmer. These are two problem areas that I'd largely given up on, so I'm pretty shocked to see a difference. It feels so light and hydrating, too."
Andrea F.