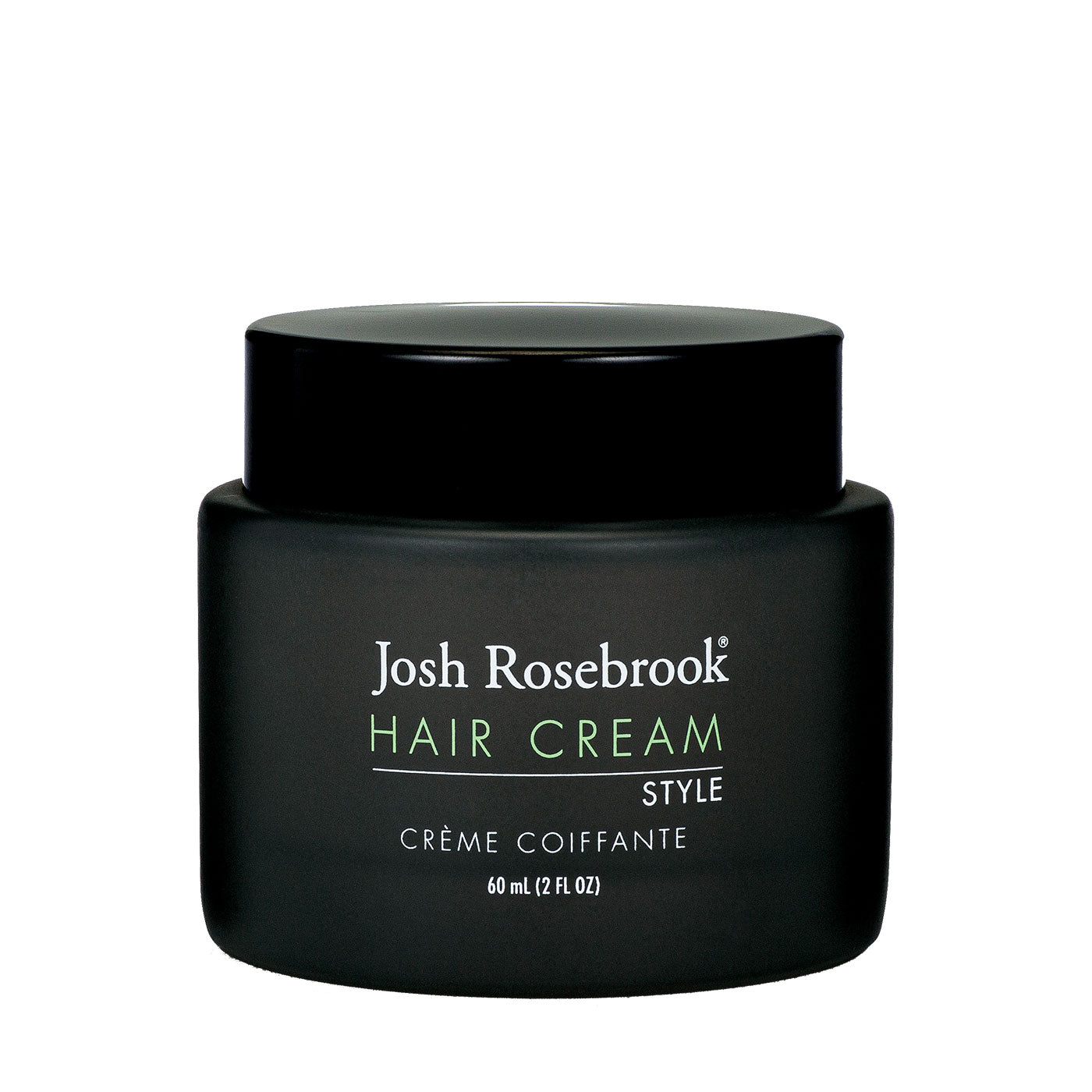 Description
Multi-purpose styling cream for natural polish and hold / 2 oz full size
Josh Rosebrook Styling Cream is a wonder cream that belongs in everyone's bathroom cabinet. On short hair, it creates texture, separation, and height without greasiness or weight. On long hair, it adds polish at the end of a blow-dry and protects hair that's being flat-ironed. On curly or wavy hair, it helps control volume, smooth frizz, and define curls. It pairs nicely with Josh Rosebrook's excellent LIFT volumizer/texturizer for long, beachy hair styles, too. Whatever hair type or style you have, it will keep your scalp calm and nourished — and your hair healthier.
No wonder it's been called "a life-changing product" by beauty bloggers and received the "Best Styling Cream" award from Organic Beauty Talk.
How to Use
For short hair: Use a pea- to kidney bean-sized dollop to smooth and create texture, separation, and height on dry hair.
For longer hair: After spraying and combing through LIFT, apply from mid-shaft to ends and air dry for a tousled, beachy look. Or apply a dab to the ends of your hair at the end of a blow-dry for a little extra polish and separation.
For heat styling: Apply a small amount before blow-drying or flat-ironing, as the shea butter-rich formula will seal and create a protective barrier on your hair.
Ingredients
- Organic shea butter creates a protective barrier as it softens and adds shine.
- Beeswax provides matte hold.
- Grape seed oil balances moisture levels and promotes elasticity.
---
All Ingredients
*Shea Butter, *Aloe Vera Leaf Juice, †Marula Seed Oil, *Jojoba Seed Oil, *Coconut Oil, *Baobab Oil, *Apricot Oil, *Grape Seed Oil,†Olive Oil, *Meadowfoam Seed Oil, *Tamanu Seed Oil, *Hemp Seed Oil, *Argan Oil, *Evening Primrose Oil, *White Rice Seed Water, ‡Candelilla Wax, *Rosemary, *Indian Gooseberry, *Burdock, *Calendula, *Linden, *Bringraj, *Nettle, *Fenugreek, *Catnip, *Ginseng Root, *Peppermint, *Chamomile, *Sage, *Alfalfa, *Rose Hips flower, *flax Seed, *Dandelion, *Ginger,*Gotu Kola, *Yucca, Potassium Sorbate, §Xanthan Gum, *Gum Arabic, *Guar Gum, †Litsea Cubeba Essential Oil, †Fennel Essential Oil, †Cardamom Essential Oil, †Bergamot Essential Oil, †Lime Essential Oil.

*CERTIFIED ORGANIC

†ORGANIC

‡WILDCRAFTED

§NON-GMO PLANT SOURCED
*Shea Butter, *Aloe Vera Leaf Juice, †Marula Seed Oil, *Jojoba Seed Oil, *Coconut Oil, *Baobab Oi...
See All
"It doesn't just work, it works better than many of the conventional styling products I have tried. It is also not even the tiniest bit greasy."
Lola, The Hermes Hippie