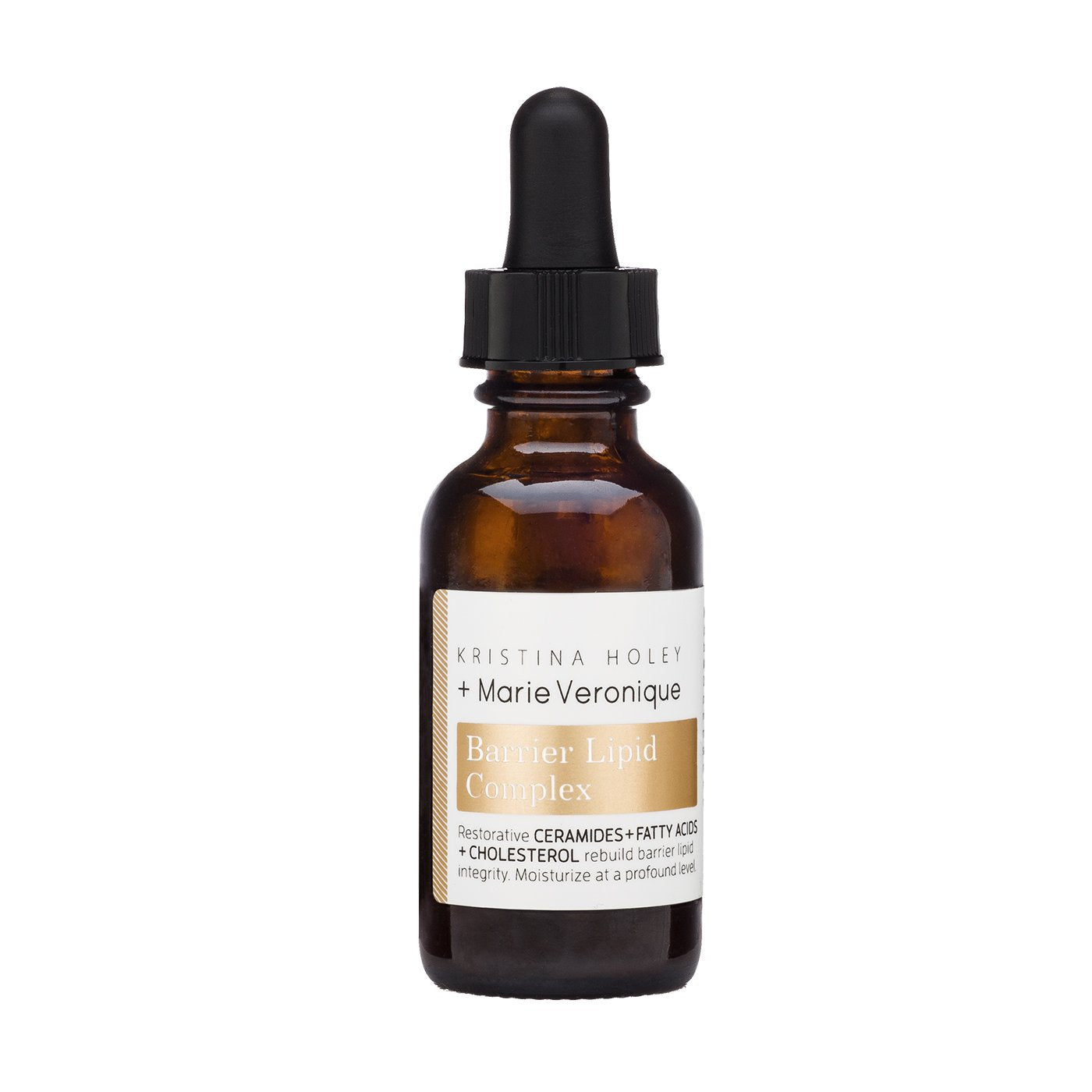 Description
Profoundly moisturizing, restorative oil-cream hybrid with ceramides, fatty acids, and cholesterol / 1 oz
Kristina Holey + Marie Veronique Barrier Lipid Complex is, in the best and most skin-soothing way, aggressive moisture. If you have dry, sensitive skin, and nothing seems to be working for you, this may very well end your search. Sure, it has some oddities. It's chunky (no big deal, you just shake it up, but it's probably the first time you've seen chunks in your face oil); it's unscented (which means that it smells a bit aggressively like unscented oil, which dissipates); it's a slightly indescribable oil/cream hybrid. But man, does it moisturize.
Kristina and Marie developed this product in a very solution-oriented way, looking at the elements of the skin's protective barrier layer and then figuring out how to give those elements back to the skin to help it heal itself. Its secret lies in its perfect ratios of cholesterol, ceramides, and essential fatty acids. The ceramides help maintain youthfully plump skin, while cholesterol — humanely sourced from sheep's wool — delivers profound moisture, and fatty acids from a variety of oils help skin achieve balance. Thanks to the soothing, fragrance-free formula, all of this is accomplished without causing any irritation.
Think of it as a next-generation balm for mature, dry, dehydrated skin that's especially helpful during long flights or cold winters. Blend it with Barrier Restore Serum (or layer it on top) for skin barrier superpowers.
How to Use
Shake well. Apply approximately one dropper full into palm of hand. Massage onto face, neck and chest, avoiding eye contour area. If irritation occurs, discontinue use and consult physician. Keep in a cool, dry place, out of direct light.
* Use within 6 months of opening.
Ingredients
- CERAMIDES: Lipid molecules within cell membranes, they help cells form a protective layer that plumps skin and retains moisture.
- CHOLESTEROL: An important barrier lipid, it has water-binding properties and is crucial to maintaining proper barrier function.
- FATTY ACIDS: Polyunsaturated fats crucial to proper barrier function, examples are: Cranberry Seed oil, Black Raspberry seed oil, Chia seed oil, prickly pear seed oil, evening primrose oil.
- PHOSPHATIDYL SERINE: A phospholipid that is an important (though small) component of the lipid barrier. Some studies show topical application slows wrinkling by inhibiting enzymes that break down collagen.
- EICOSAPENTAENOIC ACID: A vegan alternative (from algae oil) to the hard-to-get type of Omega-3 (EPA) found in fatty fish.
---
All Ingredients
Rubus Occidentalis (Black Raspberry) Seed Oil, Oenothera Biennis (Evening Primrose) Oil, Squalane, Vaccinium Macrocarpon (Cranberry) Seed Oil, Sambucus Nigra (Elderberry) Extract, Caprylic/Capric Triglyceride, Salvia Hispanica (Chia) Seed Oil, Helianthus Annuus (Sunflower) Seed Oil, Mixed Tocopherols (Vitamin E), Opuntia Ficus-Indica (Prickly Pear) Seed Oil, Water, Simmondsia Chinensis (Jojoba) Seed Oil, Rubus Fruticosus (Blackberry) Seed Oil, Behenyl Alcohol, Phosphatidyl Serine, Phospholipids (Soy Lecithin), Sodium Hyaluronate, Glyceryl Stearate, Ceramide NP (N-Acylated Phytosphingosine), Phytosterols (Plant Cholesterol), Eicosapentaenoic/Docosahexaenoic Acid (Omega-3 Fatty Acids from Schizochytrium spp. Microalgae), Propanediol, Glycerin, Glyceryl Undecylenate, Glyceryl Caprylate, Xanthan Gum

Microbiome-friendly

Fragrance + Essential Oil free
Rubus Occidentalis (Black Raspberry) Seed Oil, Oenothera Biennis (Evening Primrose) Oil, Squalane...
See All