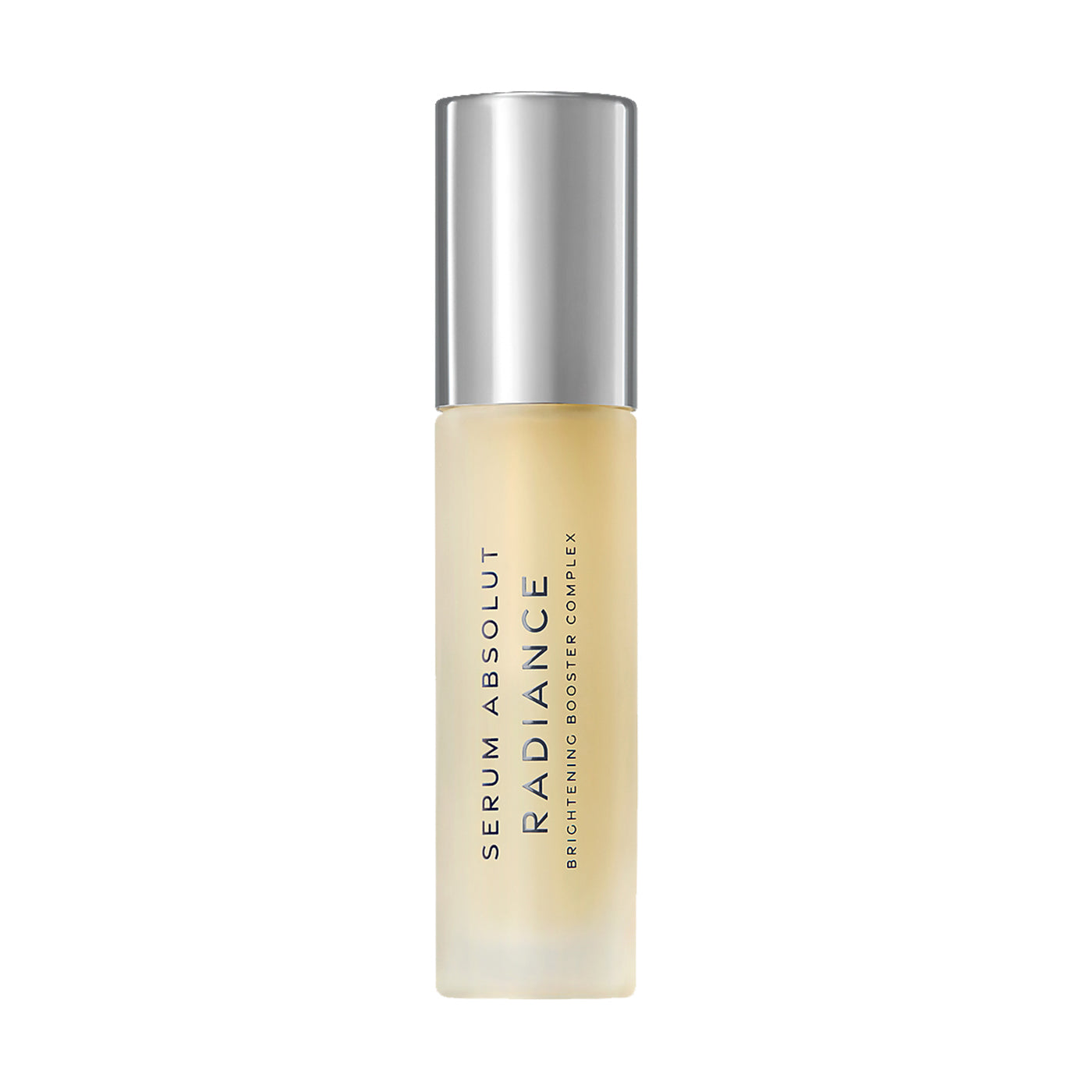 Description
Naturally effective treatment for dark spots that delivers a smoother skin texture and brighter complexion / 1 oz
Luzern's Serum Absolut Radiance is not only an excellent alternative to hydroquinone-based treatments for hyperpigmentation, but also an excellent brightening antioxidant serum for sensitive skin.
Serum Radiance boasts an intelligent mix of proven spot-lighteners and skin-brighteners — stabilized Vitamin C, arbutin, and licorice — along with some novel plant-based actives. Boerhavia diffusa root extract has a long history of use in Ayurvedic practices, but it has only recently begun to be used more widely in skincare, where it's described as "the first 'intelligent' brightening active" due to its ability to even the look of skin in a uniform way. And daisy flower extract's polyphenols support arbutin's proven ability to fade the appearance of imperfections.
At the same time, pumpkin enzyme ferment provides gentle exfoliation with minimal irritation to smooth skin, enhancing skin's glow; niacinimide features in the formula, too, to take down redness, making it an ideal choice for sensitive skin.
This powerful but anti-inflammatory serum can be used during the day and at night to diminish the appearance of dark spots and melasma, prevent future discoloration, and dramatically brighten the skin overall. It's safe even for sensitive skin and pregnant women and gives skin a pretty glow.
There are a few different ways you could use Serum Radiance:
1. If you use an ascorbic acid product (like Luzern's Serum V15 or Marie Veronique's Vitamins C+E+Ferulic Serum) at night, use Serum Radiance during the day. Ascorbic acid has a "reservoir effect" in the skin that allows it to work for about 24 hours, so this is the perfect daytime brightening and antioxidant serum to complement its effects.
2. If you have sensitive skin and can't tolerate ascorbic acid, use it instead of an ascorbic acid product as your daytime OR nighttime serum. This is one of those fantastic products that allows those of us with sensitive skin to enjoy the same benefits we'd normally find in more aggressive formulas.
How to Use
Apply 2 drops to clean skin with fingertips. Do not rub excessively. Allow to dry for 20 seconds before applying moisturizer and sunscreen.
Ingredients
BOERHAVIA DIFFUSA L. acts on the initial mechanisms of pigmentation, working on discoloration evenly and uniformly.
SWISS ALPINE ORGANIC EXTRACTS and STABILIZED VITAMIN C brighten skin's appearance. .
NIACINAMIDE inhibits the transfer of melanin, helping to prevent the formation of surface discoloration. .
ALPHA-ARBUTIN (1%) has been shown to outperform Kojic Acid and Hydroquinone in improving skin tone. .
PUMPKIN ENZYME EXTRACT speeds the removal of dead skin cells to reveal brighter skin.
---
All Ingredients
Water (Aqua)*†, Aloe Barbadensis Leaf Juice**†, Propanediol*†, Niacinamide*†, Sodium Ascorbyl Phosphate*†, Alpha-Arbutin*†, Glycerin**†, Bellis Perennis (Daisy) Flower Extract**†, Dimethyl Sulfone (Msm)*†, Glycyrrhiza Glabra (Licorice) Root Extract**†, Lactobacillus/Pumpkin Fruit Ferment Extract*†, Alchemilla Vulgaris Extract**†, Boerhavia Diffusa Root Extract*†, Malva Sylvestris (Mallow) Extract**†, Achillea Millefolium Extract**†, Chondrus Crispus Extract*†, Veronica Officinalis Extract**†, Mentha Piperita (Peppermint) Leaf Extract*†, Salix Alba (Willow) Bark Extract*†, Melissa Officinalis Leaf Extract**†, Primula Veris Extract**†, Sodium Hyaluronate*†, Gluconolactone*†, Xanthan Gum*†, Tetrasodium Glutamate Diacetate*†, Potassium Sorbate*†, Sodium Benzoate*†, Citric Acid*†, Calcium Gluconate*†

* Natural-Derived
** Certified Organic
† Ingredient Rating "Green 0-2"
Water (Aqua)*†, Aloe Barbadensis Leaf Juice**†, Propanediol*†, Niacinamide*†, Sodium Ascorbyl Pho...
See All
"Gets absorbed into my skin nicely, and I like the way my skin feels with it on. I think my skin tone is already getting more balanced after 2 weeks."
Elena