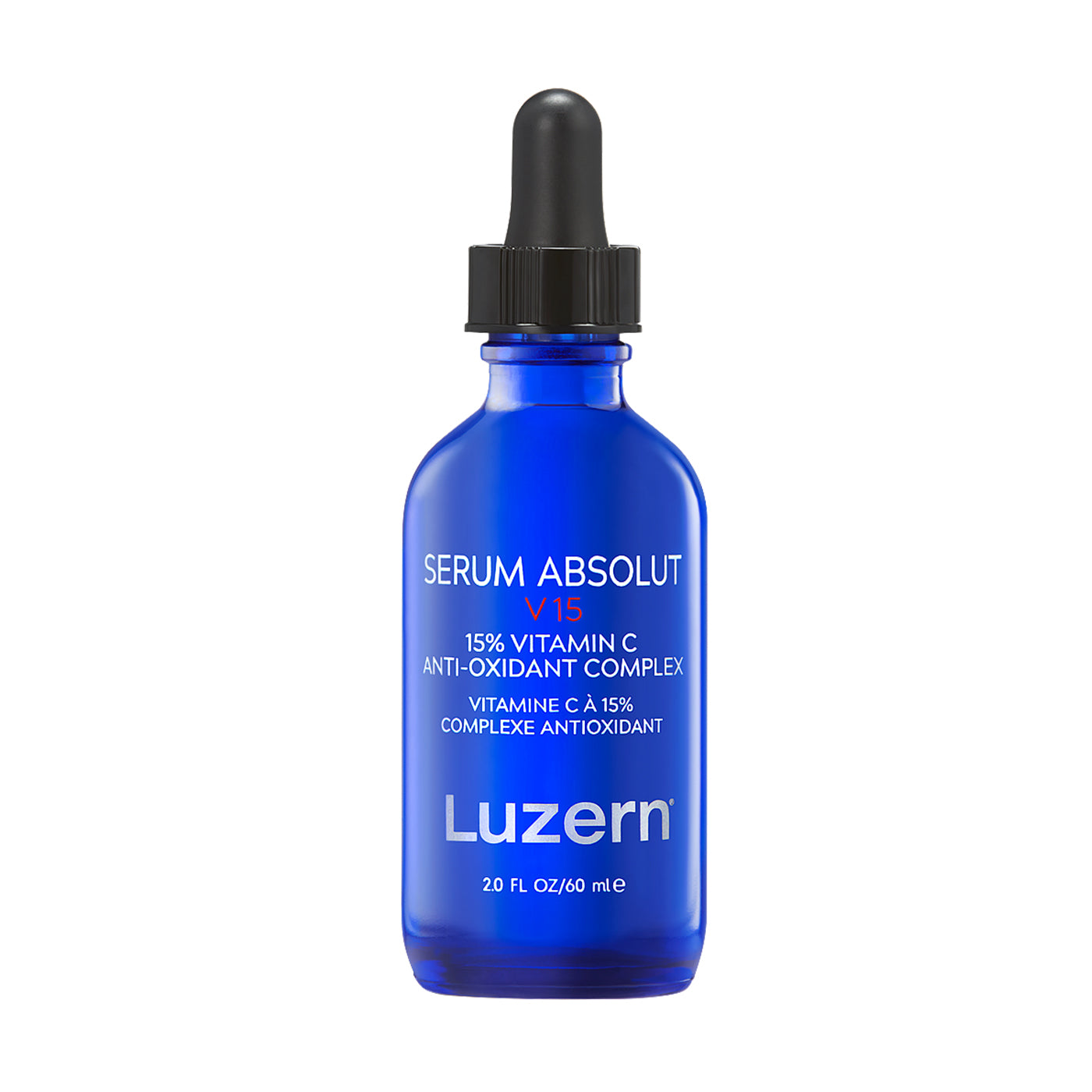 Description
Anti-aging Vitamin C treatment with 15% L-Ascorbic Acid / 2 oz
Luzern Serum V15 is an excellent Vitamin C serum containing pure ascorbic acid. For antioxidant protection, hyperpigmentation fighting, and age defying, few things match the power of Vitamin C: it helps support skin in the face of the sun and city pollution to sweep up free radicals that accelerate the aging process.
In addition to Vitamin C, this daily multivitamin for skin features an essential mineral complex, combined with hyaluronic acid and organic Swiss Alpine botanicals, that efficiently plumps wrinkles, improves skin's elasticity, bolsters collagen, and evens skin tone. One of Luzern's facialists calls it her "daily orange juice for the skin." Incidentally, said facialist looks a solid 20 years younger than she actually is.
As a side benefit, it'll help keep your complexion looking fresh and bright. Apply it under your daily moisturizer. Suitable for all skin types, but those with sensitivity might find it a little too much. (It's strong orange juice. By the way, V15 can be used at night, too, but we often recommend this for day and some type of retinol product at night.)
Arrives in a massive 2 oz glass vial. Formerly known as Serum Absolut V12 – this name was changed to reflect the level of ascorbic acid in the formula.
How to Use
Apply a few drops into palm of hand and apply to cleansed skin before moisturizing.
Ingredients
- PURE VITAMIN C (ascorbic acid) is a potent antioxidant that can help protect skin from the visible signs of photoaging.
- PROTEIN-COMPLEXED MINERALS of silicon, magnesium, copper, iron, and zinc help smooth, moisturize and speed cell-renewing capabilities to skin in a bioactive form. The minerals are combined in a ratio best utilized by the skin.
- BIO-SUISSE ORGANIC ALPINE EXTRACTS provide protection factors to support the antioxidant action of Vitamin C in neutralizing free radicals.
---
All Ingredients
Water (Aqua)*†, Ascorbic Acid*†, Glycerin**†, Algae Extract*†, Sodium Hyaluronate*†, Saccharomyces/Copper Ferment*†, Saccharomyces/Zinc Ferment*†, Saccharomyces/Silicon Ferment*†, Leontopodium Alpinum (Edelweiss) Extract**†, Thymus Vulgaris (Thyme) Extract**†, Buddlejadavidii Extract**†, Saccharomyces/Magnesium Ferment*†, Saccharomyces/ Iron Ferment, Xantham Gum*†


* Naturally derived

** Certified organic

† Low hazard ingredient rating "green 0 - 2" (non-toxic, non-irritating)
Water (Aqua)*†, Ascorbic Acid*†, Glycerin**†, Algae Extract*†, Sodium Hyaluronate*†, Saccharomyce...
See All
"Gets absorbed very quickly and leaves my skin feeling refreshed. I had to travel for a few days recently and didn't bring this with me, and I found that my skin didn't look as even or feel as refreshed without it. I'm going to make sure from now on not to skip it!"
Pattrawadi