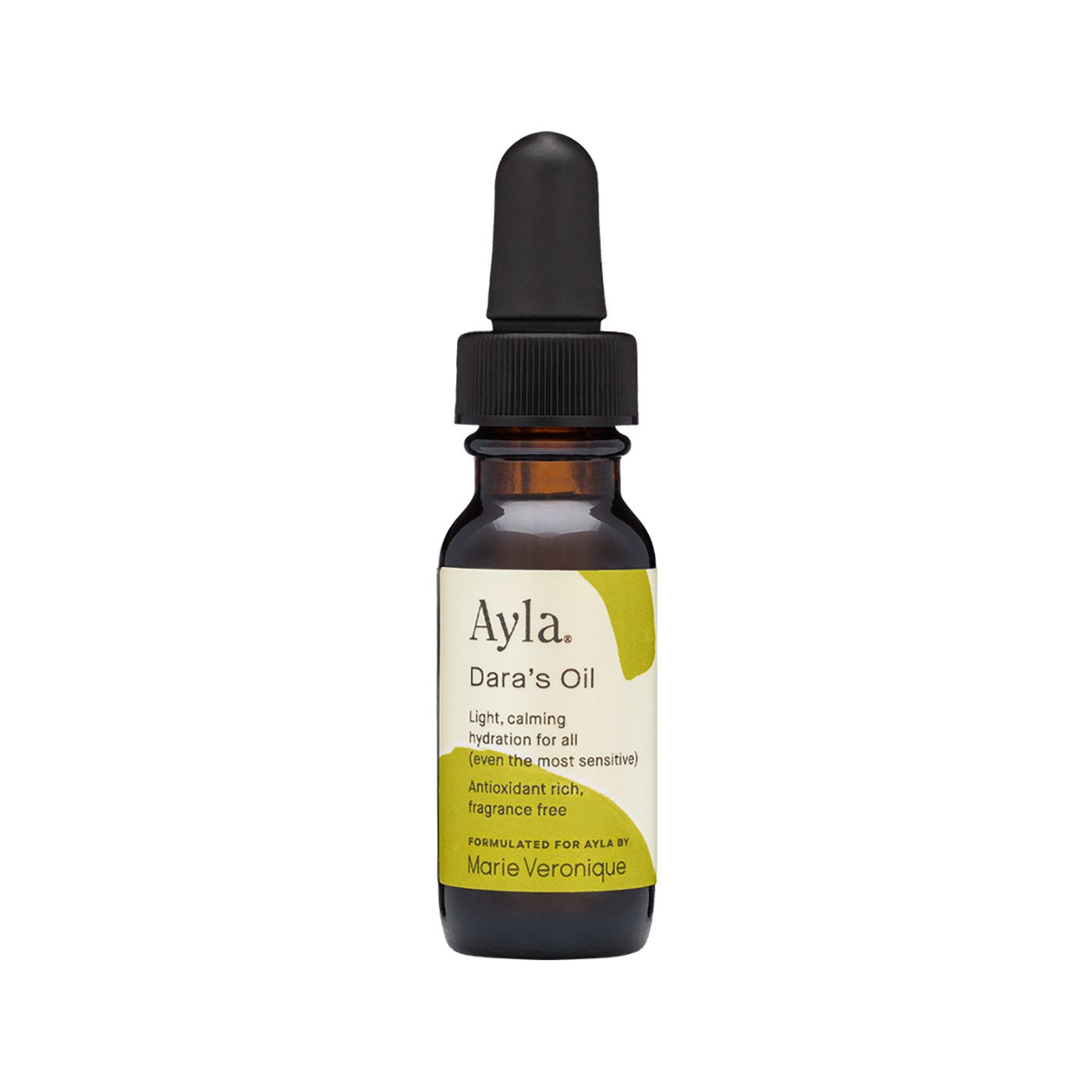 Description
Lightweight yet deeply moisturizing oil with a beautifully silky texture / 0.5 oz 
Marie Veronique created this product specifically for our founder, Dara, who has super-sensitive skin. One might assume that a fragrance free, essential oil free, tocopherol free (and also, by the way, vegan, gluten free, and nut free) creation would be like the skincare equivalent of salt-free rice crackers, but no! This oil, thanks to Marie's formulation magic, happens to be the most beautifully balanced, hydrating but non-greasy, calming, and all-around excellent moisturizer that Dara and the rest of our team, all of whom have different skin types, have ever used.

So we decided to manufacture it in partnership with Marie Veronique to ensure that we could have an endless supply and you could enjoy it, too.
This lightweight oil absorbs quickly yet provides deep, long-lasting, and satisfying hydration; thanks to its blend of light but nourishing oils, perfectly balanced omega fatty acids, and silky hyaluronic acid, Dara's Oil leaves skin calm and glowing without an overly glossy sheen. Check out the details behind this powerhouse blend in the Ingredients tab below: you'll find all-stars like chia, prickly pear, and evening primrose alongside exotics like cherry kernel, which is one of the secrets behind its how-did-they-do-that texture. Our five testers have reported far more compliments on their skin since using this oil than before, and to us, that's an indicator of a truly great product.
Another thing to love about it? Dara's Oil is suitable for all skin types. While it can be used on the most delicate complexions, it's an excellent way to give any skin a break from potential allergens and avoid sensitizing skin. There are myriad ways to use it: check out our suggestions in "how to use" below.
And to learn more about how Dara's Oil came to be, click here. We're pretty sure you'll love it, but if you want to try a sample first, you can select it when you pick your free samples at checkout!
How to Use
Shake well, then apply to clean, damp skin. Dara's Oil works beautifully over serums or mixed into creams for extra moisture, too; here are some of our top product-mixing tips.
- If your skin tends to be oily and can't typically handle face oils, try mixing a drop or two of Dara's Oil with a moisture serum like Ideal Rebalancing Serum from TWELVE Beauty for a perfectly bespoke moisturizer.
- If your skin tends to be very dry, layer Dara's Oil over a moisture serum or under a moisturizing cream.
- And if like most skin it's somewhere in between, you can't go wrong by pairing it with TWELVE Beauty's Ideal Moisture Level Serum, which is a cult favorite for a reason.
Ingredients
- Hyaluronic acid is an excellent humectant that can also help skin retain moisture. Its silkiness provides an excellent finish to this oil blend, making it lighter in feel.
- Prickly pear oil is rich in minerals and amino acids that contribute to skin elasticity and suppleness. It's also rich in antioxidants to combat damaging free radical formation.
- Meadowfoam seed oil closely resembles human sebum, making it an excellent oil for skin lubrication as well as improving barrier function.
- Cranberry oil contains omega-3, omega-6, and omega-9 essential fatty acids, the only oil with a natural ratio of the three.
- Blackberry and black raspberry oils are rich in antioxidants, including vitamin C, and essential fatty acids.
- Chia seed oil is a rich source of Omega-3 EFA's, which have significant anti-inflammatory properties. Chia seed oil is a multi-tasker as it is also a great source of vitamin B3 and zinc, which helps with oily skin and clogged pores.
- Algae oil (cold-pressed) provides a vegan source of eicosepentenoic acid (EPA), a well-established anti-inflammatory.
- Cherry kernel seed oil is good source of natural Vitamin A. It is also high in oleic acid, the Omega-9 EFA that provides emolliency without feeling heavy.
- Elderberry extract is an efficacious, multi-functional natural alternative to conventional preservatives in cosmetics and personal care applications.
- Jojoba oil is a liquid wax from the seed of the jojoba plant that absorbs easily into skin, hydrating and moisturizing without greasiness.
---
All Ingredients
Simmondsia Chinensis (Jojoba) Seed Oil, Sambucus Nigra (Elderberry) Extract, Vaccinium Macrocarpon (Cranberry) Seed Oil, Rubus Occidentalis (Black Raspberry) Seed Oil, Rubus Fruticosus (Blackberry) Seed Oil, Limnanthes Alba (Meadowfoam) Seed Oil, Opuntia Ficus-Indica (Prickly Pear) Seed Oil, Oenothera Biennis (Evening Primrose) Oil, Salvia Hispanica (Chia) Seed Oil, Prunus Avium (Cherry) Kernel Oil, Hyaluronic Acid, Schizochytrium Spp. (Marine Algae) Oil
Simmondsia Chinensis (Jojoba) Seed Oil, Sambucus Nigra (Elderberry) Extract, Vaccinium Macrocarpo...
See All
"It's got to be a sign you've made it big when Marie Veronique, natural skin care genius, formulates an oil just for you…It's the perfect product for very sensitive types, or anyone whose skin needs a break. "
Observer