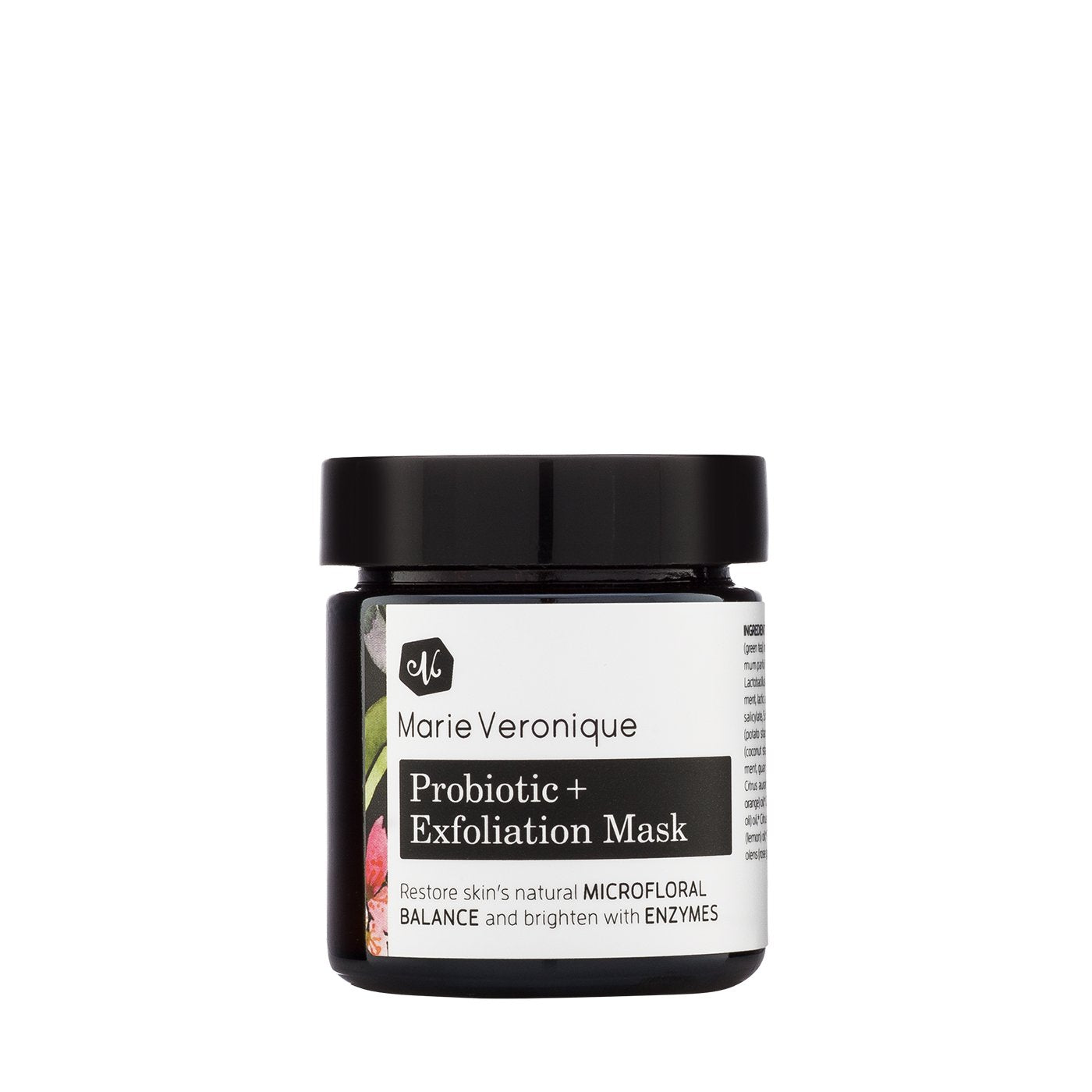 Description
Exfoliation 2.0 with gentle lactic acid and anti-aging probiotics / 1.7 oz full size
Marie Veronique Probiotic + Exfoliation Mask was bound to become one of our favorites. We love a good, gentle-yet-effective enzyme exfoliating mask, and the two others we have on our shelves represent necessary ends of the spectrum: Luzern's Hydra-Enzyme Masque is rich, creamy, and moisturizing, while Ursa Major's Bright & Easy Flash Mask is gel-based and hydrating in a lighter way. But sometimes it's good to have a Goldilocks option that sits squarely in the crowd-pleasing middle.
But beyond that, Marie Veronique's brightening, hydrating, and smoothing formula is, as one might expect, thoughtful and multifaceted. 5% lactic acid loosens dead skin cells that are then eaten up by lemon bioferment enzymes; this combination provides swift but gentle exfoliation that's suitable even for sensitive, rosacea- or hyperpigmentation-prone skin. At the same time, a pre- and probiotic complex ensures the exfoliation process doesn't disturb the skin's microfloral environment (and therefore barrier function). Additionally, shea butter hydrates and sodium salicylate quells inflammation, a combination that keeps skin calm and supple. Marie calls this Exfoliation 2.0: "This mask does more than exfoliate, it enlists specific microbiota that work to improve skin's health." Well, then.
The immediate-gratification piece we love most is that, after just 5 minutes, skin is noticeably smoother and brighter — and so soft that you might ask yourself if you're in a dream state when you touch your post-mask skin. Oh, this is no dream. This product is your key to five non-negotiable minutes of weekly me time.
To dig deeper into why the Probiotic + Exfoliation Mask works such magic and why smart exfoliation can be helpful, read our interview about exfoliation with Marie.
How to Use
Apply ¼ to ½ teaspoon of mask to cleansed skin, avoiding eye area. Leave on 3 to 5 minutes. Rinse. If skin becomes irritated, remove after 2 minutes. If redness occurs, follow with Kristina Holey + Marie Veronique Barrier Restore Serum or a soothing oil (Marie Veronique Rejuvenating Night Oil, Protective Day Oil, or Dara's Oil) to soothe skin. Can be used 1-2 times a week, or for more sensitive skins, 1-2 times a month. Daily sunscreen recommended.
Ingredients
Lactic acid is an alpha-hydroxy acid safe for all skin types, including skin prone to hyperpigmentation.
Sodium salicylate is an anti-inflammatory that moderates effect of lactic acid.
Lemon bioferment enzymes dissolve dead skin cells loosened by lactic acid
Potato flour contains the enzyme catecholase for skin lightening.
Shea butter and coconut flour return emolliency to the skin.
Probiotic cultures help restore the natural balance of skin's microbiota.
---
All Ingredients
Camellia Sinensis (Green Tea) Leaf Infusion, Butyrospermum Parkii (Shea) Nut Butter, Lactobacillus/Lemon Peel Ferment Extract, Sodium Salicylate, Xanthan Gum, Potato Flour, Cocos Nucifera (Coconut) Flour, Lactic Acid Extract, Probiotics, Cyamopsis Tetragonoloba (Guar) Gum, Citrus Aurantium (Neroli) Oil*, Citrus Sinensis (Orange) Peel Oil, Citrus Limon (Lemon) Oil*, Pelargonium Graveolens (Rose Geranium) Oil*

*Essential oil
Camellia Sinensis (Green Tea) Leaf Infusion, Butyrospermum Parkii (Shea) Nut Butter, Lactobacillu...
See All
"This is a great mask for anyone who's new to exfoliating, because shea butter and sodium salicylate hydrate calm inflammation and hydrate the skin—two important steps to counterbalance the effects of sensitivity that arises from exfoliation."
MindBodyGreen