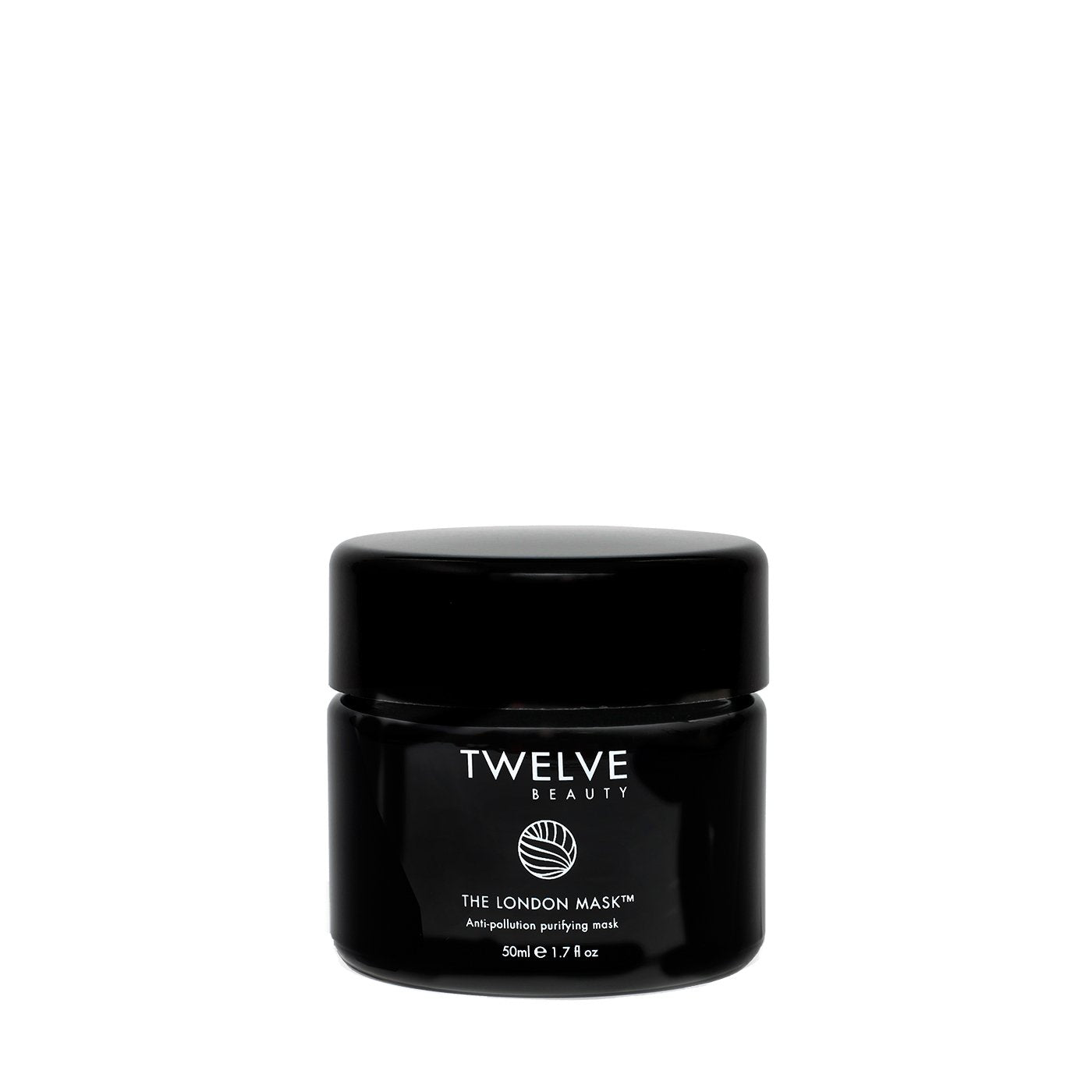 Description
Ultra-gentle detoxifying mask for sensitive, stressed skin, 1.7 oz
TWELVE Beauty's London Mask is an excellent illustration of just how different this product lineup is. Sure, masks that combine detoxifying, purifying clay with hydrating ingredients are hard to come by, but they're out there. (We carry a few of them and love them.) But what you'll notice with this one is that it is arrestingly smooth. No grittiness whatsoever. Which, as formulator Pedro Catalá explained to us, is important: for stressed, sensitive, reactive skin, he believes that grit is not a good thing. Makes sense, right?
Here's what explains the higher price tag: to get that beautifully smooth, creamy texture, Pedro hand-blends the formula himself over the course of three days to make sure it's mixed just enough so that it holds together, but not so much that it hardens and becomes gritty. This also ensures that its beneficial ingredients don't get trapped inside the emulsion and, instead, remain on its surface, where they can come into direct contact with the skin. It's such a time-consuming process that he can only make 50 jars per month. With TWELVE, the ingredients may be (for the most part) ones you've seen elsewhere, but devil's in the details.
Pedro developed this mask after spending many years as the pharmacist at a famed oncology clinic in London, where he saw a clear need for a detoxifying treatment that would address the effects of air pollution while at the same time soothing and softening stressed skin. Thanks to its masterful blend of kaolin, olive-derived squalene, rice, comfrey, mallow, cucumber, and vitamin B5, it does that beautifully, even on the most sensitive, post-surgical skin.
Like the other items in the TWELVE collection, The London Mask is free from parabens, sulfates, silicones, petrochemicals and glycols. Formulated and produced in Spain.
How to Use
Spread a generous layer over clean skin and allow to rest for 10-15 minutes. Remove gently with lukewarm water; follow with the rest of your usual skincare routine.
Ingredients
- Kaolin has moisturising, detoxifying, soothing, and anti-acne properties. It helps to remove impurities by absorbing the dirt in the skin.
- Allantoin reduces skin irritation by supporting the natural regeneration of skin cells and improving skin's moisture retention while providing a smoothing effect.
- Vitamin B5 is a great skin-conditioning agent that provides deep, penetrating moisture to the skin, stimulating epithelization (which soothes and aids in wound healing).
- Rice starch creates a protective film on skin.
- Cucumber extract is a soothing and refreshing agent that improves skin's elasticity and flexibility.
- Mallow Flower is a soothing anti-irritant with gentle moisturizing properties.
- Squalane is a clear fluid oil with a natural affinity to skin, being one of the main components of the human sebum and hydrolipidic film.
---
All Ingredients
Aqua, Dicaprylyl Carbonate, Oryza Sativa Starch, Kaolin, Zinc Oxide, Cetearyl Alcohol, Glycerin, Squalane, Panthenol, Glyceryl Stearate, Potassium Cetyl Phosphate, Glyceryl Laurate, Mallow Sylvestris Flower Extract, Allantoin, Helianthus Annuus Seed Oil, Tocopherol, Xanthan Gum, Benzyl Alcohol, Dehydroacetic Acid, Parfum, Limonene, Linalool.
Aqua, Dicaprylyl Carbonate, Oryza Sativa Starch, Kaolin, Zinc Oxide, Cetearyl Alcohol, Glycerin, ...
See All
"It's amazing...in just 10 minutes my skin plumped up, calmed and some lines around my mouth have softened...really??? A sincere (and very pleasant) surprise!"
Lynn B.