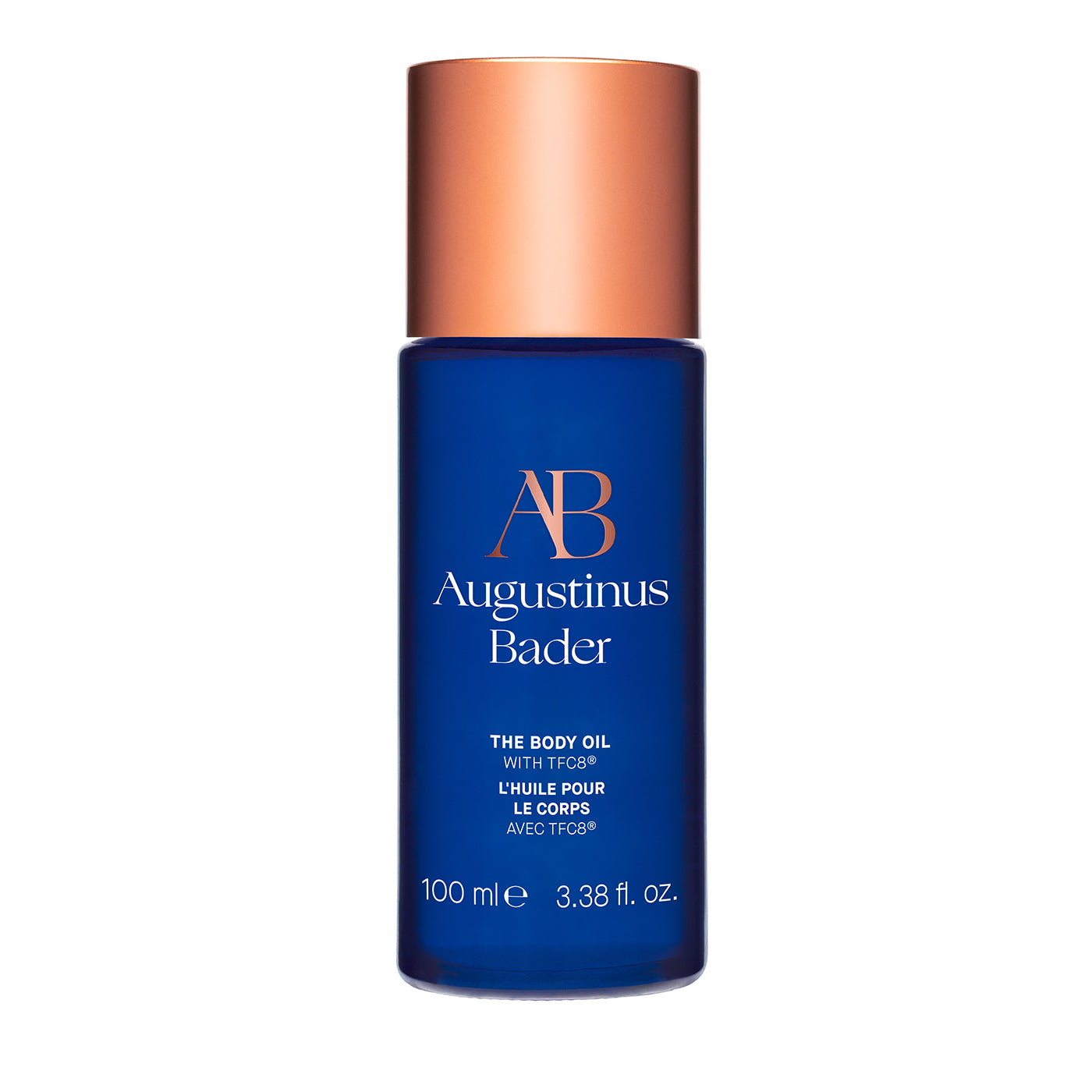 Description
Glow-boosting, texture-improving, fast-absorbing body oil / 3.38 fl oz
Augustinus Bader The Body Oil is one of those products that hits all the right notes: unlike far too many body oils out there, it's deeply moisturizing (you'll see an instantaneous improvement), yet it doesn't feel greasy, slick, or heavy. The fact that it absorbs so quickly means that  you don't have to spend minutes you don't have waiting to get dressed — particularly important now that we're all getting out and about a little more. 
The Body Oil's secret is its base of lightweight oils (grapeseed, sunflower, squalane, broccoli, and argan), augmented with a touch of richer olive oil to deliver Bader's signature TFC8 to the skin along with long-lasting moisture. If you use this unscented marvel during the day, you can rest assured that your skin will show off a beautiful, completely natural glow; if you use it at night, know that you'll wake up with incredibly soft skin.
And over time, you'll notice even more exciting things, because like all Augustinus Bader products, this one comes with jaw-dropping test results. In addition to the clinically-demonstrated benefits of TFC8, The Body Oil's 55 first testers noticed a significant improvement in their skin's texture (100%), diminished appearance of cellulite (94%), and diminished appearance of stretch marks (92%). 
Related to that last exciting statistic, it's also pregnancy-safe — so if you're expecting, perhaps you'll sail right on through without any stretch marks in the first place.
If we had to pick one body product for summer, it might be this one. Or The Body Lotion. Or The Body Cream, if your skin tends to be very dry. It's hard to choose just one! You can also request a sample through our Custom Sample Service if you're plagued with indecision, but with this one, we'd say just go for it. It's that good.

100% free of parabens, fragrance, SLS, SLES, DEA, heavy metals, talc, and petrolatum/paraffin/mineral oil.
How to Use
Apply after showering or bathing, especially after sun exposure.
Ingredients
- TFC8®: A complex of natural amino acids, high-grade vitamins and synthesized molecules naturally found in skin, which guides key nutrients and powerful natural ingredients to the skin cells, creating an optimal environment for the body's innate processes of repair and renewal.
- Olive Fruit Oil: This fatty acid rich fruit oil has a high content of vitamins A, B, C and E. Known for its nourishing and softening properties, it helps keep skin smooth and supple.
- Argan Oil: This cold-pressed seed oil is rich in essential fatty acids including linoleic acid (omega-6), known for its ability to help restore skin's hydrolipidic film and prevent trans-epidermal water loss.
- Squalane: This sugarcane-derived oil is a powerful humectant that helps to restore suppleness and elasticity to the skin.
- Vitamin E (Tocopherol): A skin-conditioning vitamin that supports barrier function to optimize hydration levels in the skin and protect from external stressors.
---
All Ingredients
Vitis Vinifera (Grape) Seed Oil, Helianthus Annuus (Sunflower) Seed Oil, Squalane, Argania Spinosa Kernel Oil, Olea Europaea Fruit Oil, Tocopheryl Acetate, Tocopherol, Aqua, Lecithin, Glycerin, Pentylene Glycol, Scenedesmus Rubescens Extract, Alanyl Glutamine, Arginine, Brassica Alba Oil, Lysine, Oligopeptide–177, Phenoxyethanol, Sodium Hydroxide
Vitis Vinifera (Grape) Seed Oil, Helianthus Annuus (Sunflower) Seed Oil, Squalane, Argania Spino...
See All