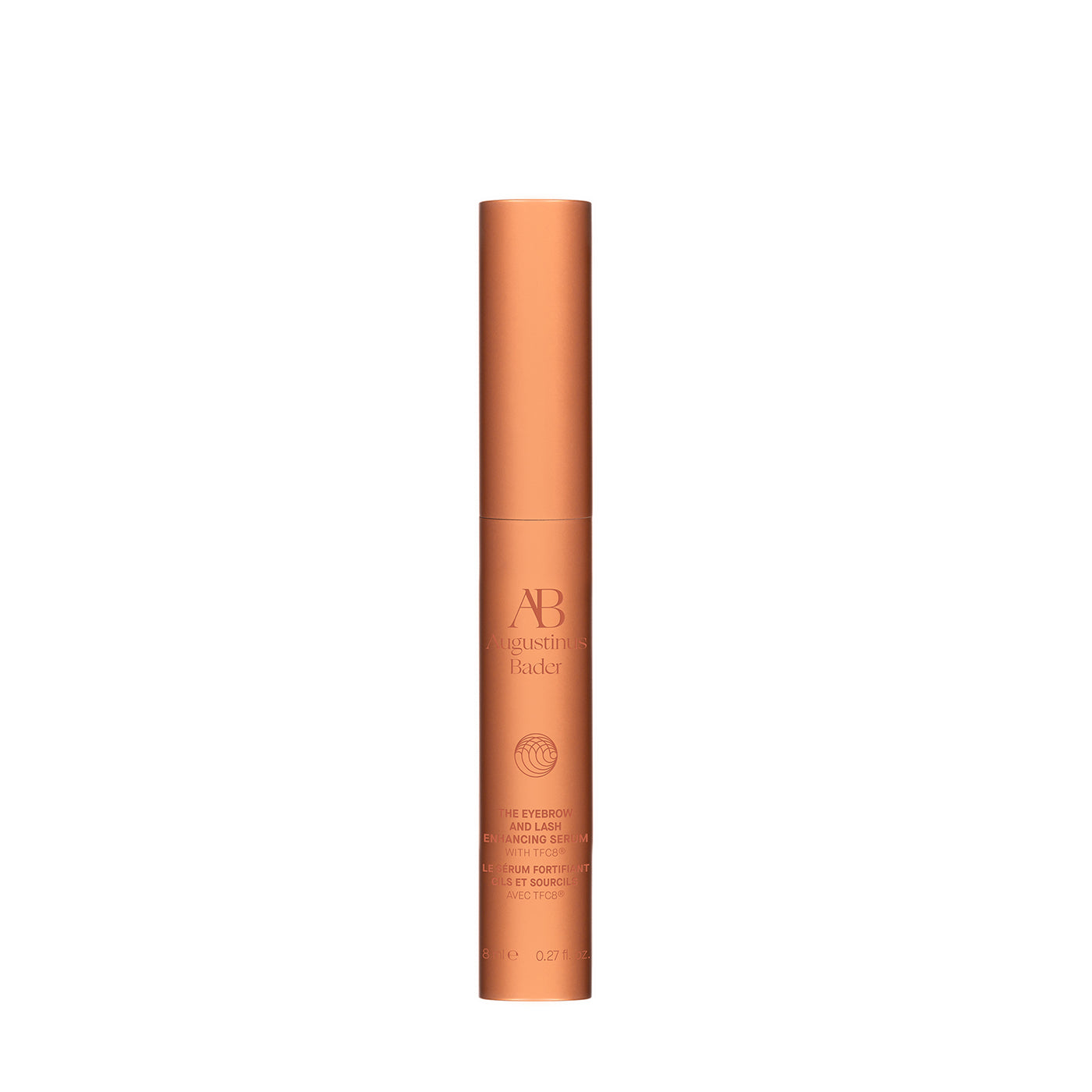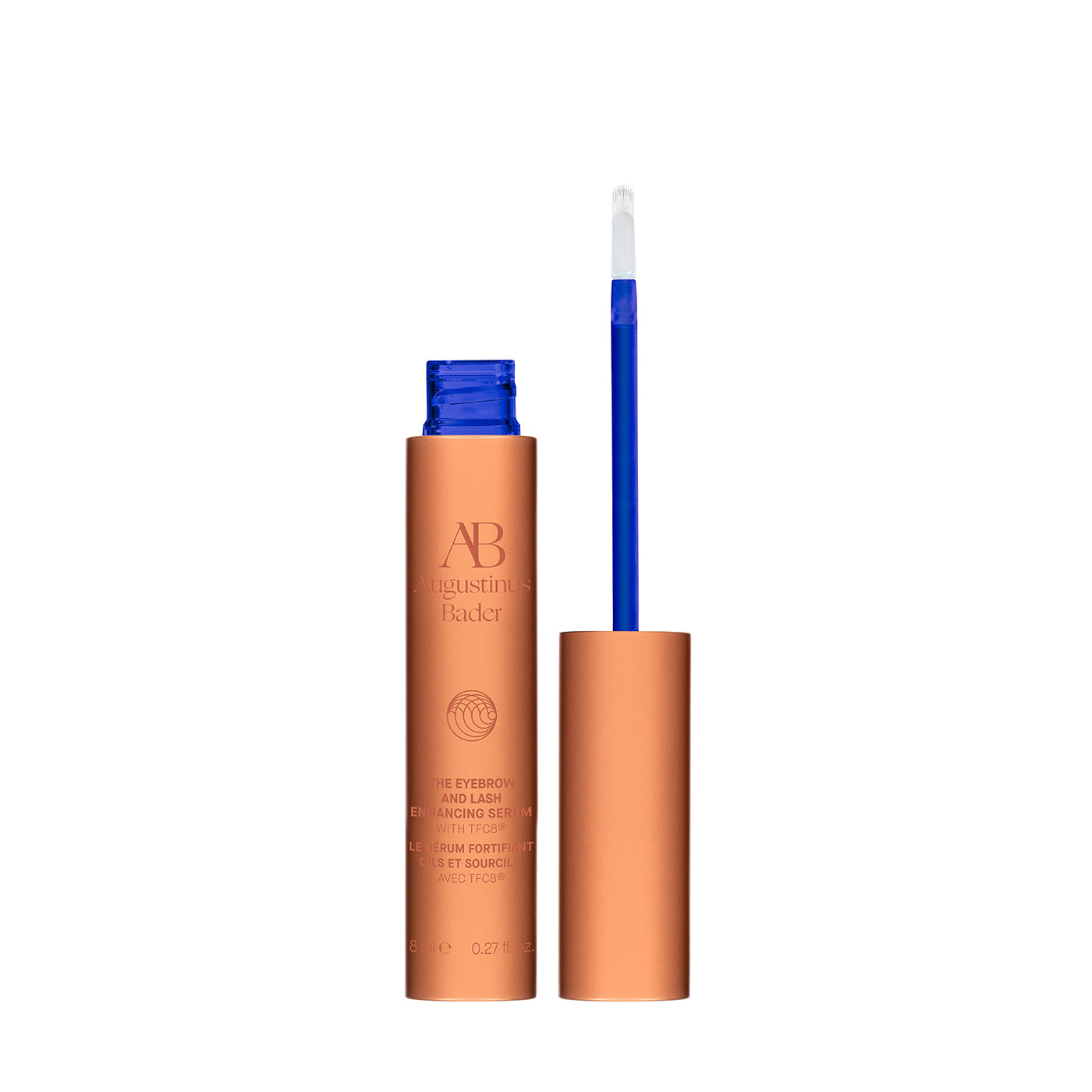 Description
Bader's TFC8 in a formula clinically shown to boost eyebrow and lash growth / 0.27 oz)
Augustinus Bader The Eyebrow and Lash Enhancing Serum is a great addition to this brand's lineup, and a smart way to use Bader's famed TFC8® — a blend of 40 different natural amino acids, vitamins, and synthesized molecules that are found in healthy skin, combined to help accelerate skin's own repair processes. This serum was designed to address the underlying cause of diminishing lashes and thinning brows, revitalizing hair follicle functioning for reduced shedding and faster, natural hair growth.
We love the fact that its ultra-light, milky, and irritant free formula dries within seconds: it's ideal not only to boost the growth of healthy lashes and brows, but also to prime them for makeup. The Eyebrow and Lash Enhancing Serum was specifically made to be friendly to sensitive eyes and skin, protecting the delicate eye area from irritation while optimizing hair growth and resilience. And its microbristle applicator, which is sort of in between the tiniest spatula in the world and a brush, is made of pharmaceutical-grade synthetic material for even, hygienic application; it's soft enough to be used along the root of the lash line, too.
One tube lasts 4 months with twice-daily use (consistent use is essential for the best results). Once your desired results are achieved, you can use the product once daily for maintenance.
Brow and lash growth products are notoriously tricky: certain formulas seemingly work magic for some while working less obviously on others. What we love about this one is that it has the thorough clinical trials and consumer studies that every Augustinus Bader formula boasts, so you can try it with a not-unreasonable amount of hope.
Clinical studies demonstrated that, after 12 weeks of use by 60 people who described their skin and eyes as "sensitive," lash length increased by 34%, lash thickness increased by 40%, eyebrow thickness increased by 55%, hair follicle clog decreased by 79%, and lashes and brows increased in hydration by 149%.
Note that we quoted objective clinical study results— not the typical subjective consumer study results — because these numbers, in a clinical study, are downright impressive. But we also loved hearing that, in Augustinus Bader's consumer perception study, 100% of the participants noted visible results in as little as four weeks. (Everyone is different, but those are some good numbers!) 
100% vegan and free of gluten, GMOs, parabens, fragrance, SLS, SLES, DEA, heavy metals, talc, and petrolatum/paraffin/mineral oil.
How to Use
Use morning and night on clean, dry skin. With the wide side of the brush, apply a few strokes onto each brow. Then, using the thin or wide side of the brush, apply along the lash line.
Ingredients
- Augustinus Bader's Trigger Factor Complex 8®: consists of natural amino acids, high-grade vitamins, and synthesized signaling molecules that naturally occur in the skin; these work together to guide key signaling molecules and powerful natural ingredients to the skin cells, to support the skin's own natural renewal process.
- Roselle and safflower extracts are abundant in phytosterols and polyphenols that increase circulation to encourage regrowth and decrease the inflammation and oxidative stress that can trigger hair loss.
- Biotin is a form of Vitamin B also known as "Vitamin H" for its importance to hair health. Helps metabolize amino acids, which boosts production of keratin, supporting increased natural hair growth and improved hair health and strength.
- Red winter algae is a marine extract abundant in arginine and taurine, two essential molecules for preventing hair loss, stimulating cells responsible for hair growth, and improving the density of hair.
- Castor oil is a non-comedogenic hair nourisher. Abundant in restorative fatty acids known to support the growth of thicker, longer lashes and brows.
---
All Ingredients
Aqua/Water/Eau, Polyglyceryl-10 Stearate, Pentylene Glycol, Helianthus Annuus (Sunflower) Seed Oil, Undaria Pinnatifida Extract, Panthenol, Propanediol, Glycerin, Polyglyceryl-3 Diisostearate, Carthamus Tinctorius Flower Extract, Hibiscus Sabdariffa Flower Extract, Sodium Benzoate, Carbomer, Ricinus Communis (Castor) Seed Oil, Citric Acid, O-Cymen- 5-Ol, Hydrolyzed Hyaluronic Acid, Biotin, Hydrolyzed Rice Protein, Maltodextrin, Chondrus Crispus (Carrageenan) Extract, Sodium Hydroxide, Lactic Acid, Sodium Hyaluronate, Aloe Barbadensis Leaf Juice Powder, Camellia Sinensis Leaf Extract, Hydrogenated Lecithin, Tocopheryl Acetate, Xanthan Gum, Potassium Sorbate, Tocopherol, Alanyl Glutamine, Arginine, Oligopeptide-177, Phenylalanine, Sisymbrium Irio Seed Oil, Sodium Chloride.
Aqua/Water/Eau, Polyglyceryl-10 Stearate, Pentylene Glycol, Helianthus Annuus (Sunflower) Seed Oi...
See All