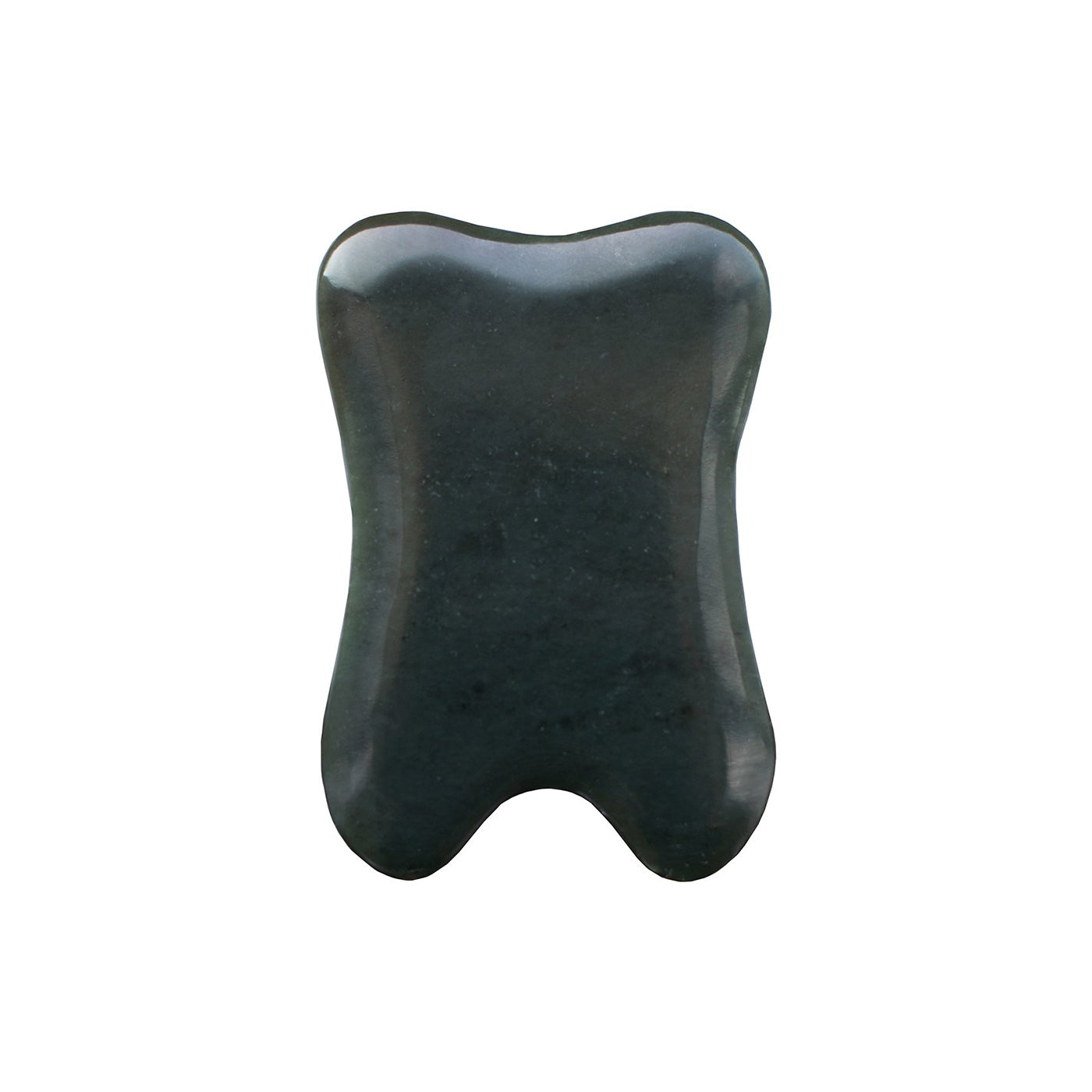 Description
A luxe and totally foolproof tool for facial Gua Sha

Gua Sha is a traditional healing technique from China that involves a small, smooth stone board that is pressed against the skin to gently massage facial fascia, muscles, and skin while stimulating specific energy points. This encourages healthy circulation, releases muscular tension, and promotes lymphatic drainage for a more lifted, less puffy look and brighter, healthier looking skin. The release of muscular tension is particularly key, since repeated movements usually underlie the pesky lines that bother us.
We think gua sha is an ideal next step for those of us who are already using great skincare products but are wondering, "What else can I do that doesn't involve needles, lasers, or knives?" You can complete a simple Gua Sha routine at home in a matter of minutes, and it's an entirely healthy addiction: if you have a tight jaw, you may find that running your gua sha stone across it every night is the greatest thing you have done for yourself in quite some time.
The newest addition to our shelves is a luxurious, ultra-smooth, black nephrite jade Gua Sha tool that anyone can use — even those who have never heard the words "Gua Sha" before. It was created by Sandra Lanshin, widely viewed as one of the pioneers of the current Gua Sha movement, who comes to Ayla from time to time to lead workshops. You can see Sandra using an older version of the tool in her popular Gua Sha tutorial, which we highly recommend viewing, here. 
For those of you who are curious about the stone used for this tool, black nephrite is also known as He Tian jade. This dark green stone is rarer than the typical light green Xiu Yan Jade and is regarded as having stronger healing resonance. We love its beautiful smoothness and luxurious heft...which also mean that it breaks less easily than typical jade Gua Sha tools.
PS You can now book a Gua Sha virtual facial (60 minutes) or a consultation with massage instruction (45 minutes) with our in-house esthetician and Gua Sha expert, Sarah, no matter where you are! Regular Gua Sha treatments can help minimize lines, provide a firming/lifting effect, smooth puffiness under the eyes, and even improve a saggy jaw or neck.
PPS This makes a perfect gift for a skincare enthusiasts, and we'll package it up in a pretty kraft paper box – just let us know that you'd like it gift wrapped.
How to Use
We recommend checking out the video link above or signing up to one of our Gua Sha workshops to learn how to use best the tool!

Caring for your tool: Wash your Lanshin Gua Sha tool using soap and hot water.
Ingredients
Black nephrite jade
---
All Ingredients
Black nephrite jade. Tool measures 2.25" x 3.25".
Black nephrite jade. Tool measures 2.25" x 3.25".