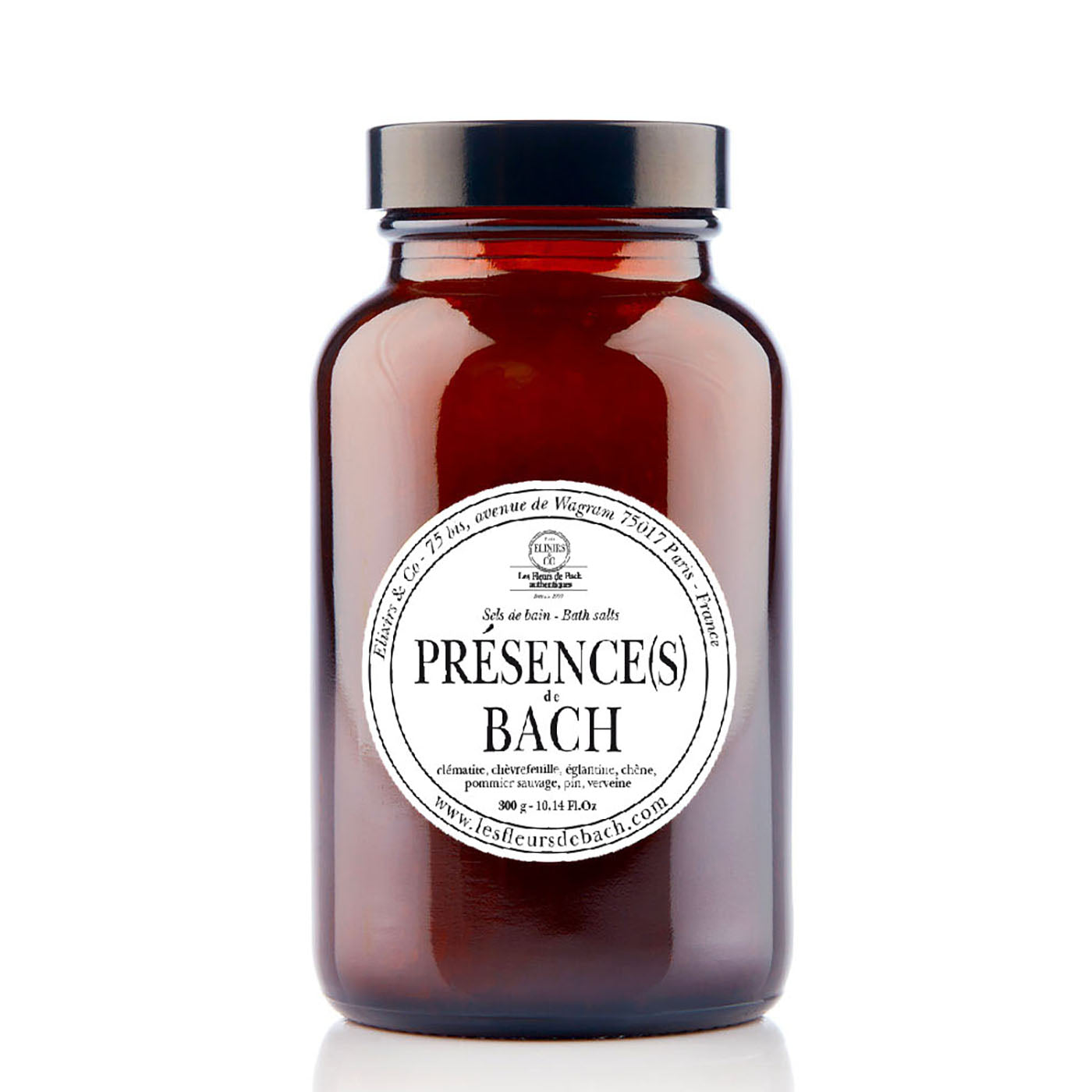 Description
Aromatherapeutic bath salts with Bach Flower essences / 10 oz.
Les Fleurs de Bach Bath Salts were the first bath salts to make the Ayla cut: we're very picky about products in general, and too many bath salts are just a little too…fluffy. We demand more from our baths than just fluff, as you may already realize from our Sea Soak.
The Présence(s) Bath Salts are infused with organic Bach flower essences for a de-stressing effect. Bathing with Bach flower essences is one of our favorite ways to enjoy them; our founder takes a Bach flower bath nearly every evening. This blend of Clematis, Vervain, Oak, Crab Apple, Pine, Wild Rose, and Honeysuckle essences was chosen to help foster a sense of inner harmony and a fresh, positive outlook on your environment. To learn more about what each essence is designed to encourage, check out "Key Ingredients."
And for those of you who like a little aromatherapy with your baths, these particular salts feature a beautiful floral fragrance with top notes of white flowers (clematis) and lemon verbena. It's lovely, classically floral, and designed to bring you back into the present moment: no wonder it's this brand's best-selling fragrance.
These bath salts make a perfect gift, too. If you don't already know the wonderful story behind this little company and its exacting methods, check it out here. Available in the US exclusively at Ayla.
How to Use
For your ritual, pour a tablespoon in your bathtub, stir, and wait a few minutes.

In case of contact with eyes, rinse with plenty of water.

This bottle contains 300g of bath salt (equivalent to 20 baths).
Ingredients
Organic Bach flower essences for the following specific situations:
- Clematis is for those who can find themselves in a bit of a dreamy or tuned-out state. Here, it is included to encourage a stronger sense of focus and balance between the worlds of reality and fantasy.
- Wild Rose is for those who feel flat, apathetic, or resigned about their lives. Here, it is included to help revive enthusiasm and a spirit of joy.
- Honeysuckle is for those who live in the past in some way. Here, it is included to help restore involvement in the present.
- Oak for the stoic, who often just keep going out of duty until they wear themselves out. Here, it's included to aid in the process of letting go.
- Vervain for the enthusiasts who want to "convert" others to their point of view and find it hard to unwind and relax. Here, it's included to encourage a sense of calm and peacefulness, particularly when you're overworked.
- Crab Apple for perfectionists and those who feel shame around their appearance. Here, it's included to encourage you to stop the exhausting effort for perfection.
- Pine for feelings of guilt, even when it's not really your fault. Here, it's included to bolster self-esteem.
---
All Ingredients
Sodium Chloride, Parfum (Fragrance), Alcohol, Aqua (Water), Verbena Officinalis (Vervain) Flower Extract, Clematis Vitalba (Clematis), Flower Extract, Rosa Canina (Wild Rose) Extract, Lonicera Caprifolium (Honeysuckle) Extract, Malus sylvestris (crab apple) flower Extract, Pinus Sylvestris (Pine) Extract, Quercus Robur (Oak) Extract, Limonene, Linalool,Hydroxyisohexyl 3-Cyclohexene Carboxaldehyde, Geraniol, Hydroxycitronellal, Coumarin, Isoeugenol, Citral, Alpha-isomethyl ionone.
Sodium Chloride, Parfum (Fragrance), Alcohol, Aqua (Water), Verbena Officinalis (Vervain) Flower ...
See All