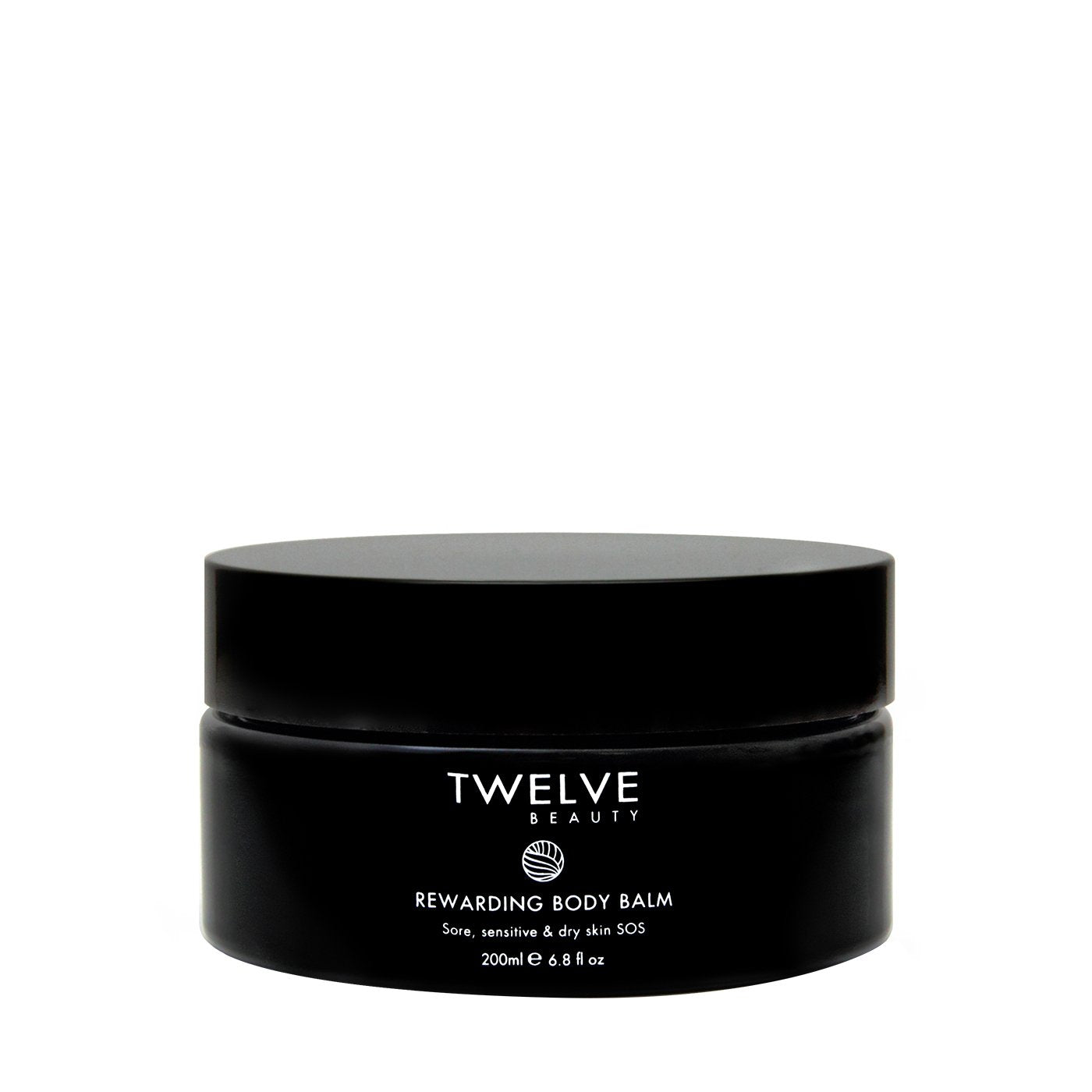 Description
Extraordinarily rich and soothing body cream / 6.8 oz
TWELVE Beauty Rewarding Body Balm was the first product created by founder Pedro Catalá. A botanist, pharmacist, and expert in natural formulation, Pedro was the in-house pharmacist at a prestigious oncology clinic in London. When he noticed that many of the clinic's patients had skin that was extremely dry and vulnerable after radiation treatments, he carefully blended a batch of this balm — which might be the richest, thickest cream we have ever come across.
The balm's ingredients are relatively simple (no kelp harvested by moonlight here), but their quality and the way in which they're blended together is what makes the magic. It features a blend of weightless hydrators (glycerin and hyaluronic acid), fast-absorbing oils (argan, jojoba, sunflower, and squalane), and rich butters (cupuaçú, shea, and spent grain wax) that deeply nourish while supporting skin's natural protective barrier.
Pedro says of Rewarding Body Balm, "The product name was suggested by patients of the clinic in London where I worked because, according to them, it comforted them and the body balm was seen as a reward to the skin. Currently the product is still in use in other prestigious clinics in central London, not only as a soothing and refreshing emollient, but also as a complement to other treatments in the hands, arms and legs." This luxuriously nourishing balm is the real deal.
Like the other items in the TWELVE collection, Rewarding Body Balm is free from parabens, sulfates, silicones, petrochemicals and glycols. Formulated and produced in Spain.
How to Use
Slather on liberally as needed. Especially wonderful after bath or shower.
Ingredients
- Squalane: Derived from olives, this clear fluid oil has a natural affinity to the skin, being one of the human sebum and hydrolipidic film.
- Organic Artemisia extract: Protects the skin with antioxidant and radical scavenging properties.
- Organic Mallow extract: Possesses soothing, anti-irritant, emollient, and moisturising properties.
- Organic Cupuaçu butter: Restores moisture and elasticity, as a result, the skin is left soft and comfortable.
- Sodium hyaluronate: Forms a thin, invisible, transparent, visco-elastic surface film. The hyaluronic acid film helps to preserve the most important characteristics of youthful, healthy skin, such as suppleness, elasticity and tone.
- Organic Imperatoria extract: Properties include re-epithelialization (helps to repair of minor cuts and wounds), moisturization and antioxidant radical scavenging functions.
---
All Ingredients
Aqua, Squalane, Simmondia Chinensis (Jojoba) Seed Oil*, Glycerin*, Cetearyl Alcohol, Butyrospermum Parkii Extract*, Glyceryl Stearate, Cetearyl Glucoside, Olus Oil, Argania Spinosa Kernel Oil*, Tocopherol, Hydrogenated Vegetable Oil, Candelilla Cera, Glyceryl Laurate, Sodium Hyaluronate, Peucedanum Ostruthium Leaf Extract*, Spent Grain Wax* , Helianthus Annuus Seed Oil*, Artemisia Umbeliformis Extract*, Malva Sylvestris Flower Extract*, Buddleja Davidii Leaf Extract*, Theobroma Grandiflorum Seed Butter*, Epilobium Fleischeri Extract*, Xanthan Gum, Benzyl Alcohol, Potassium Cetyl Phosphate, Dehydroacetic Acid, Parfum*, Geraniol, Limonene, Linalool.
*organic ingredients
Aqua, Squalane, Simmondia Chinensis (Jojoba) Seed Oil*, Glycerin*, Cetearyl Alcohol, Butyrospermu...
See All