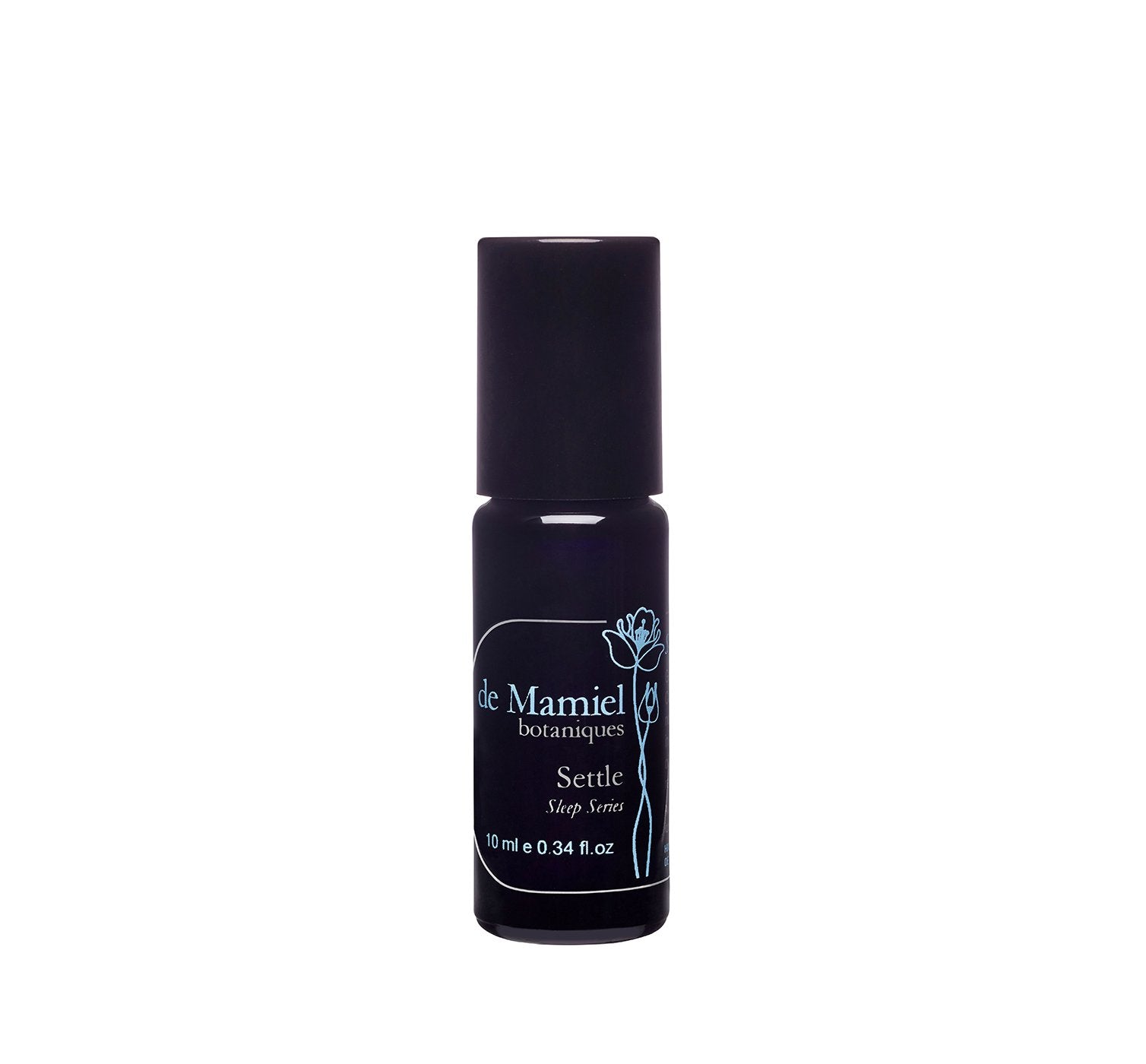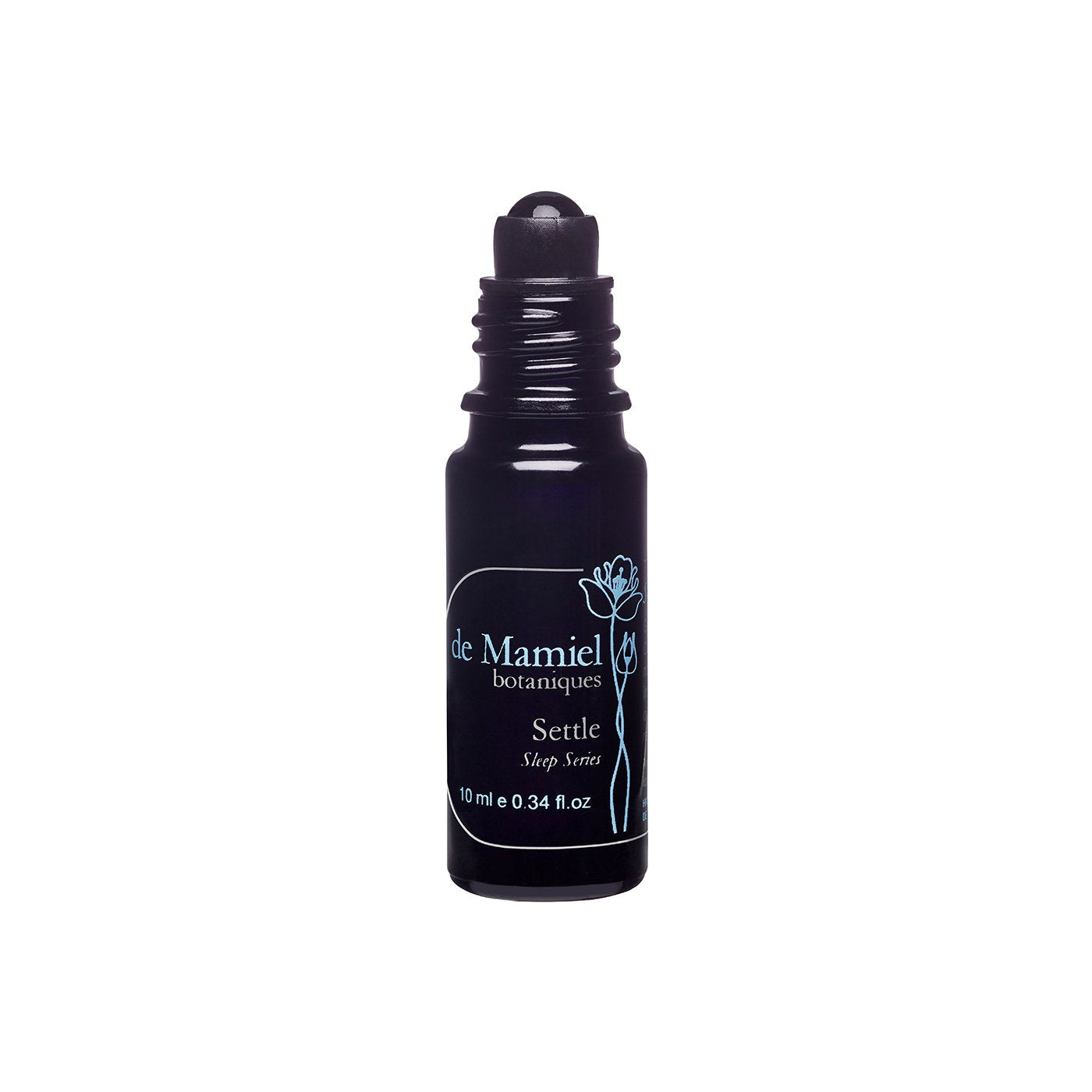 Description
Sleep Series blend for those who have trouble falling asleep / 0.34 fl oz 
de Mamiel Settle, part of the Sleep Series collection, is one of those tools that may seem unassuming at first, but soon reveals itself to be a genuine little gem.
Many of us have noticed recently how much the quality of sleep affects every aspect of our lives — including the condition of our skin. In her clinic, Annee de Mamiel saw this firsthand and developed her Sleep Series to address the foundational need for good sleep. The Sleep Series, as Annee describes to us in our Brand Spotlight interview (well worth a read!), is far more than a set of typical "sleepytime" lavender essential-oil blends: each formula is designed to work with the body, addressing the root cause of sleep disturbances.
At the base of each Sleep Series blend is a composition of herbs, Watermelon seed oil, and Passionflower oil, chosen for their abundance of magnesium, zinc, and B vitamins. Layered over that base are essential oils and flower essences chosen with the principles of Traditional Chinese Medicine in mind.
Settle (our favorite) is for busy types who have difficulty settling down and falling asleep, either because they just tend to be "wired" or due to the to-do ticker tape that often loops in one's mind. (Parents, especially working moms: sound familiar?) Its key note of Jasmine was chosen to settle the nerves, and inspire inner "it's all going to work out" optimism so that you can sink into deep, restorative slumber, but there are so many other goodies in this blend, including Chinese herbs and adaptogens chosen to help support the kidney function and rest the heart according to Traditional Chinese Medicine. We adore it. It smells absolutely beautiful, and it also makes a wonderful gift for an insomniac.
How to Use
Apply Settle to your palms and gently rub your hands together. Place over your nose and breathe deeply for a minimum of 3 breaths. Anoint the inside of your wrists then roll the oil across your chest and breathe. Exhale and roll the oil back, letting go of any tension.
Ingredients
The base oil combines a bespoke blend of herbs, watermelon seed oil, and passionflower oil to maximize the absorption of vitamins and minerals such as Magnesium, Zinc, and B Vitamins that are essential for quality sleep.
---
All Ingredients
Passiflora incarnate (passion fruit) flower oil*, Citrullus vulgaris (melon) seed oil*, Carthamus tinctorius (safflower) flower oil*, Lavandula angustifolia (lavender) flower oil, Santalum album (sandalwood) wood oil, Boswellia carterii (frankincense) resin oil, Chamecyparia obutusa (hinoki) wood oil, Citrus aurantium bergamia (bergamot) peel oil*, Rosa damascena (wild rose) blossom oil, Jasminum grandiflorum (jasmine) flower extract*, Commiphora myrrha (myrrh) gum oil, Vetiveria zizanoides (vetiver) root oil*, Tillia cordata (linden) blossom extract*, Valeriana officinalis (valerian) extract*, Eschscholzia californica (california poppy) extract*, Humulus lupulus (hops) extract*, Magnolia officinalis (magnolia) bark extract*, Withania somnifera (ashwagandha) extract*, Schisandrae fructus (schisandra) fruit extract*, Astragalus membranaceus (astragalus) root extract*, Angelica archangelica (dang gui) root extract*, Linalool°Bespokely sleep series , created from flower and environmental essences, LightBringer essences Sweet Night Angel Star (Stellaria graminea), Butterfly Orchid (Platanthera bifolia), Early Purple Orchid (Orchis mascula), Fly Orchid (Ophrys insectifera), Sanicle (Sanicula europaea), Yellow Wort (Blackstonia perfoliata)

*Certified organic
°Natural essential oil constituents
Passiflora incarnate (passion fruit) flower oil*, Citrullus vulgaris (melon) seed oil*, Carthamus...
See All