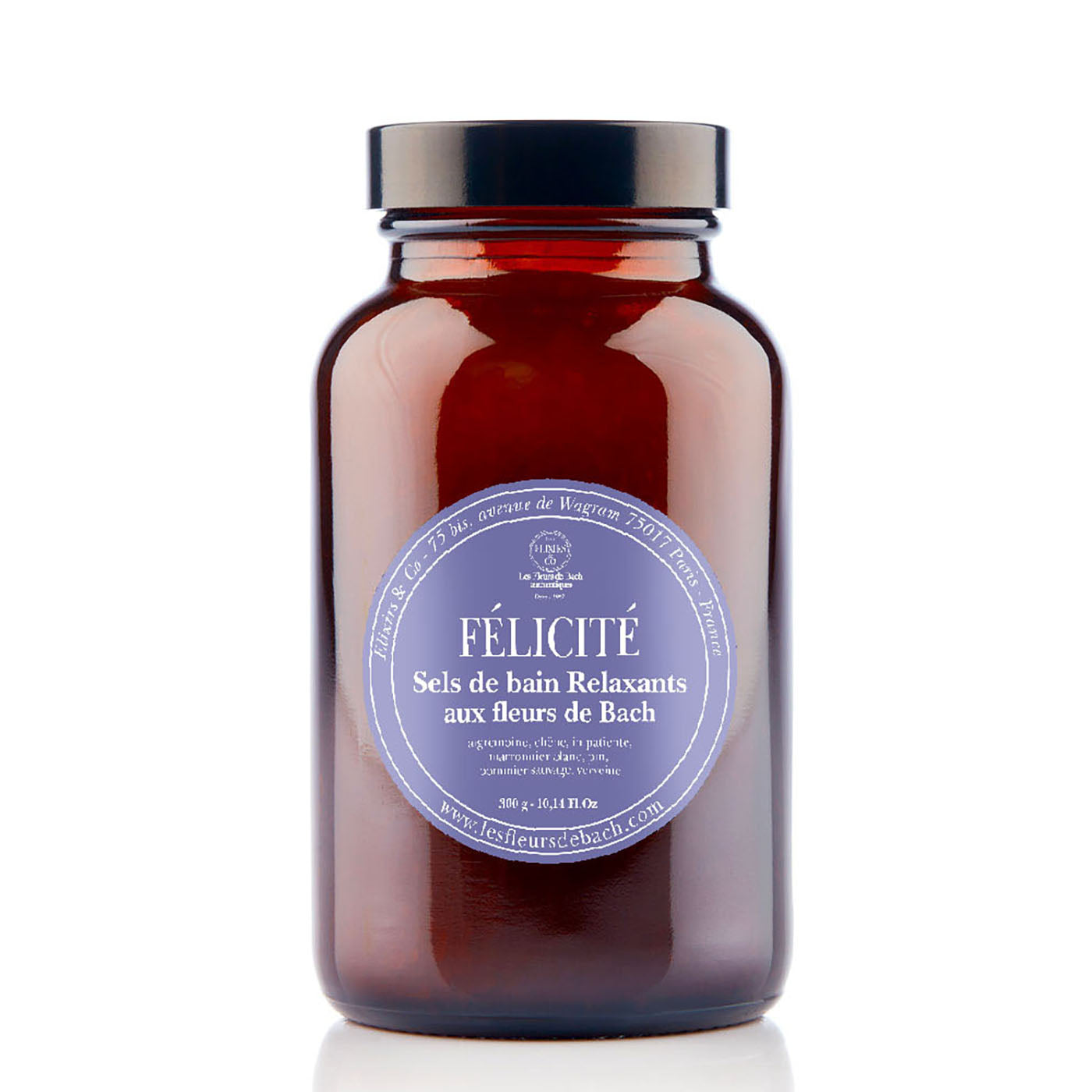 Description
Stress-relieving, aromatherapeutic bath salts with Bach Flower essences / 10 oz.
Les Fleurs de Bach Bath Salts were the first bath salts to make the Ayla cut: we're very picky about products in general, and too many bath salts are just a little too…fluffy. We demand more from our baths than just fluff, as you may already realize from our Sea Soak.
The Félicité Bath Salts are infused with organic Bach flower essences for a de-stressing effect. Bathing with Bach flower essences is one of our favorite ways to enjoy them; our founder takes a Bach flower bath nearly every evening. This blend of Agrimony, Oak, Impatiens, White Chestnut, Pine, Crab Apple, and Vervain essences is one of our hands-down favorites for stress, and it's also found in the best-selling Stress Elixir. To learn more about what each essence is designed to encourage, check out "Key Ingredients."
And for those of you who like a little aromatherapy with your baths, these particular salts feature the same subtle, natural, essential-oil based fragrance of bergamot, orange, and lavender that has made so many of you fall in love with their Anti-Stress Body Scrub, Anti-Stress Body Lotion, and Anti-Stress Body Oil. It's intoxicating, the kind of scent that you just want to keep smelling: perfect for a bath designed to help you let go of your day.
Makes a perfect gift, too. If you don't already know the wonderful story behind this little company and its exacting methods, check it out here. Available in the US exclusively at Ayla.
How to Use
For your ritual, pour a tablespoon in your bathtub, stir, and wait a few minutes.

In case of contact with eyes, rinse with plenty of water.

This bottle contains 300g of bath salt (equivalent to 20 baths).
Ingredients
Organic Bach flower essences for the following specific situations:
- Agrimony for those who hide discomfort, pain, difficult feelings, or suffering behind a cheerful face. Here, it's included to help you find the right words to express your feelings.
- Oak for the stoic, who often just keep going out of duty until they wear themselves out. Here, it's included to aid in the process of letting go.
- Impatiens for those who move quickly and get frustrated by those who don't. Here, it's included to help calm tightly-wound nerves.
- White Chestnut for spinning thoughts that you can't switch off. Here, it's included to help bring the ticker-tape to a stop.
- Pine for feelings of guilt, even when it's not really your fault. Here, it's included to bolster self-esteem.
- Crab Apple for perfectionists and those who feel shame around their appearance. Here, it's included to encourage you to stop the exhausting effort for perfection.
- Vervain for the enthusiasts who want to "convert" others to their point of view and find it hard to unwind and relax. Here, it's included to encourage a sense of calm and peacefulness, particularly when you're overworked.
---
All Ingredients
Sodium Chloride, Parfum (Fragrance), Limonene, Alcohol, Aqua (Water), Linalool, Geraniol, Eugenol, Farnesol, Benzyl Benzoate, Citral, Bromus Ramosus (Wild Oat) Flower Extract, Centaurium Erythaea (Centaury) Flower Extract, Gentianella Amarella (Gentian) Flower Extract, Scléranthus Annuus (Scléranthus) Flower Extract, Ulmus Procera (Elm) Flower Extract, Larix Decidua (Larch) Flower Extract, Ceratostigma Wilmottiana (Cerato) Flower Extract.
Sodium Chloride, Parfum (Fragrance), Limonene, Alcohol, Aqua (Water), Linalool, Geraniol, Eugenol...
See All