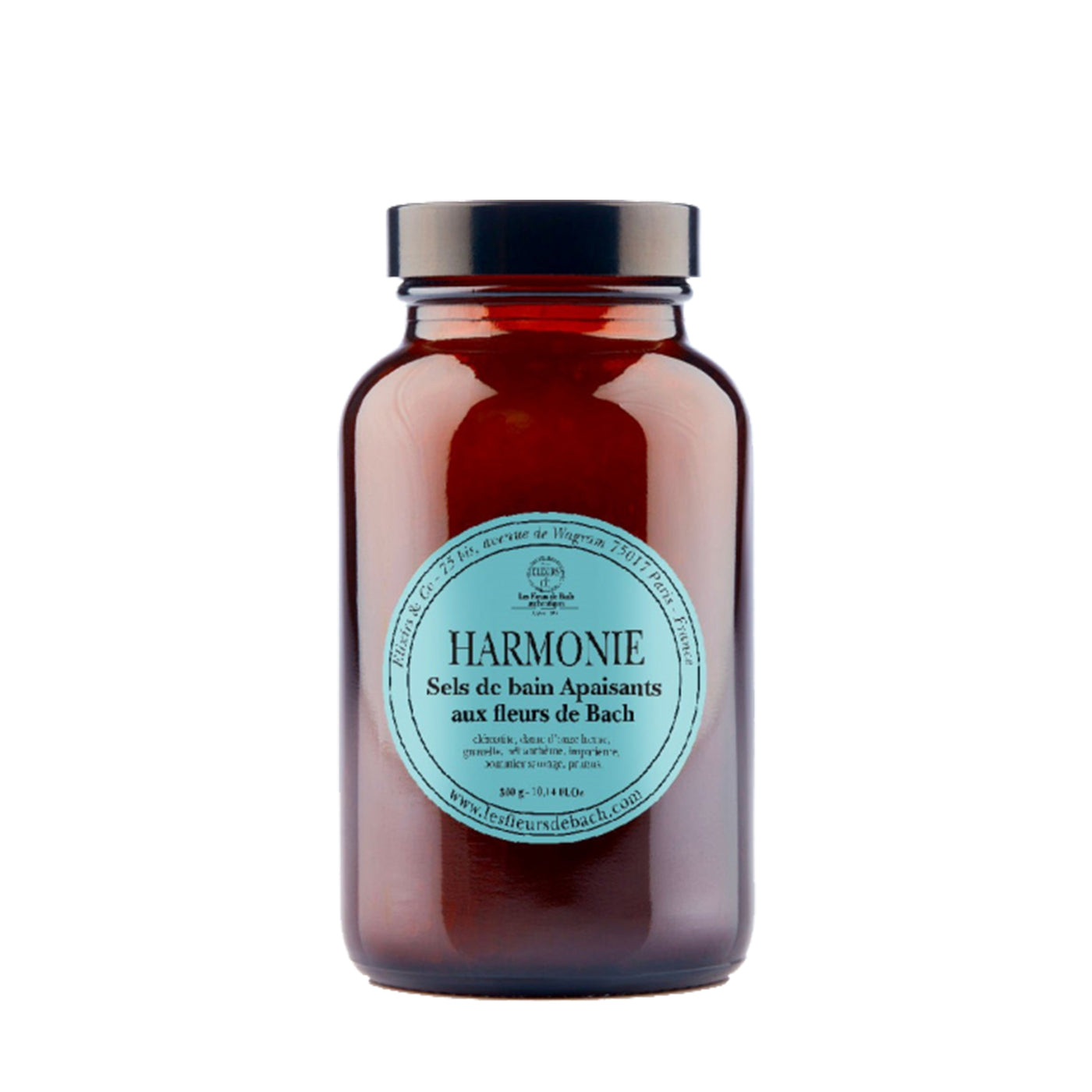 Description
Stress-relieving, aromatherapeutic bath salts with Bach Flower essences / 10 oz.
Les Fleurs de Bach Bath Salts were the first bath salts to make the Ayla cut: we're very picky about products in general, and too many bath salts are just a little too…fluffy. We demand more from our baths than just fluff, as you may already realize from our Sea Soak.
The Harmonie Bath Salts are infused with organic Bach flower essences for a de-stressing effect. Bathing with Bach flower essences is one of our favorite ways to enjoy them; our founder takes a Bach flower bath nearly every evening. This blend of Clematis, Star of Bethlehem, Scleranthus, Rock Rose, Impatiens, Crab Apple, and Cherry Plum essences is one of our hands-down favorites for immediate soothing and grounding, and it's also found in the wildly popular Urgency Elixir (also known as Rescue Remedy). To learn more about what each essence is designed to encourage, check out "Key Ingredients."
And for those of you who like a little aromatherapy with your baths, these particular salts feature the same subtle, natural, warm fragrance you'll find in the Harmonie Eau de Toilette. It's grounding and vanilla/bourbon-based, the kind of scent that you just want to keep smelling: perfect for a bath designed to help you let go of your day.
Makes a perfect gift, too. If you don't already know the wonderful story behind this little company and its exacting methods, check it out here. 
How to Use
For your ritual, pour a tablespoon in your bathtub, stir, and wait a few minutes.

In case of contact with eyes, rinse with plenty of water.

This bottle contains 300g of bath salt (equivalent to 20 baths).
Ingredients
Organic Bach flower essences for the following specific situations:
- Star of Bethlehem is the remedy that suggests to us that healing is possible and that life can be gentle. It's like a hug from those we have loved and lost.
- Rock Rose is the remedy for terror — when a situation leads to shock or panic. This may also arise when an accident in the past leads to extreme fear of a related situation.
- Scleranthus is the remedy for those who may know their eventual goal but aren't sure how to get there, struggling to choose between options.
- Impatiens for those who move quickly and get frustrated by those who don't. Here, it's included to help calm tightly-wound nerves.
- Clematis is for those who can find themselves in a bit of a dreamy or tuned-out state. Here, it is included to encourage a stronger sense of focus and balance between the worlds of reality and fantasy.
- Crab Apple for perfectionists and those who feel shame around their appearance. Here, it's included to encourage you to stop the exhausting effort for perfection.
- Honeysuckle is for those who live in the past in some way. Here, it is included to help restore involvement in the present.
- Cherry Plum is the remedy for those whose nerves can feel they're stretched to a breaking point, and who may fear losing control in an irrational or regrettable explosion of words or actions.
---
All Ingredients
Sodium Chloride, Parfum, Alcohol Aqua (Water), Linalool, Geraniol, Clematis vitalba (Clematis) flower extract*, Ornithogallum Umbellatum flower extract*, Scleranthus Annuus flower extract*, Helianthemum Nummularium flower extract*, Impatiens Glandulifera flower extract*, Malus Sylvestris flower extract*, Prunus Cerasifera flower extract.
*Organic
Sodium Chloride, Parfum, Alcohol Aqua (Water), Linalool, Geraniol, Clematis vitalba (Clematis) fl...
See All