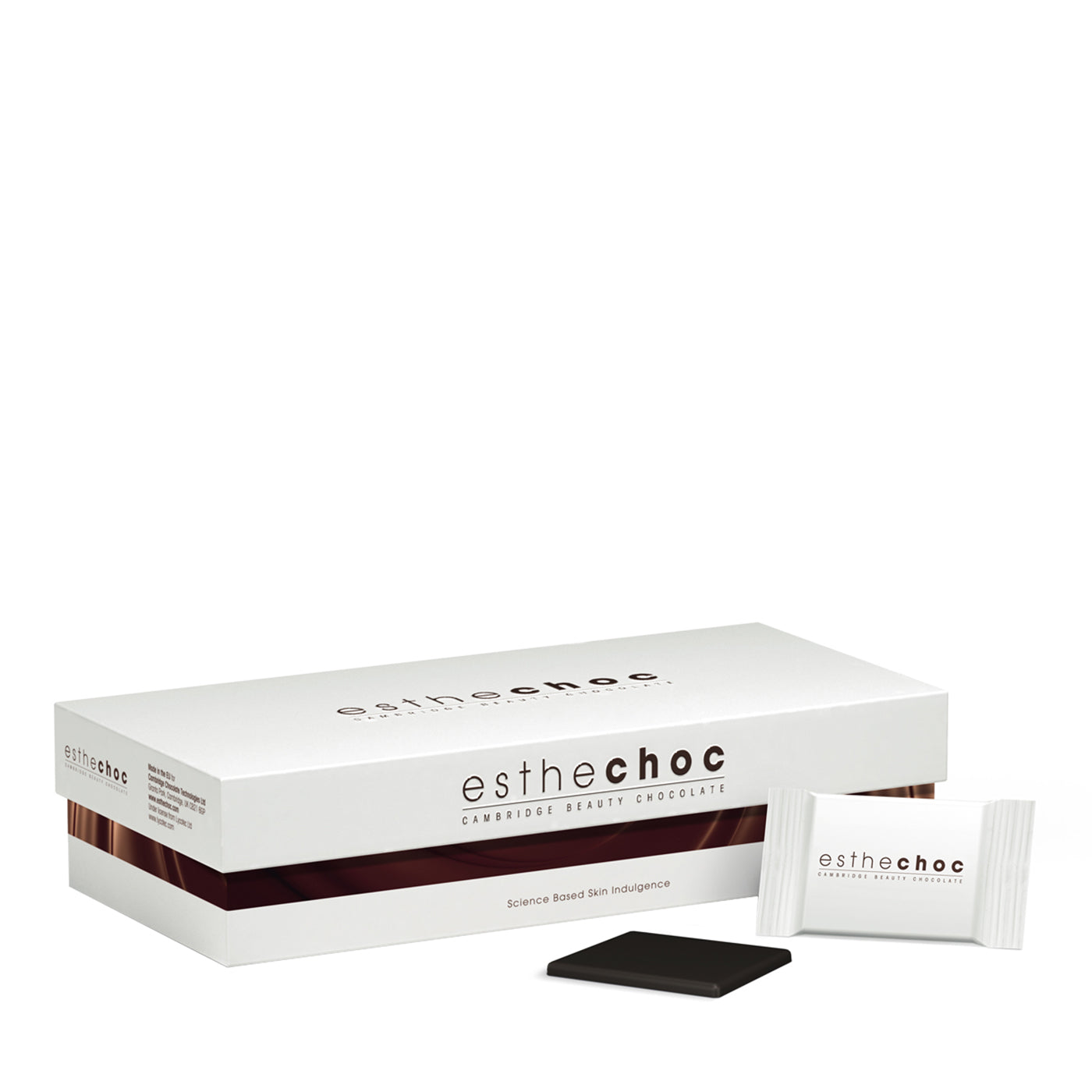 Description
Anti-aging chocolate supplement developed by a University of Cambridge spin-off lab / 21 pieces, each 7.5 g
This food supplement, which conveniently comes in the form of 72.6% dark chocolate, is the real deal: in a 4-week, double-blind trial at Cambridge University among 3000 women between the ages of 50 and 60, Esthechoc was proven to significantly reduce inflammation, increase antioxidant activity, and improve microcirculation in the skin. 
How? Each single-serving piece is packed with astaxanthin, an algae-derived antioxidant that's 6000 times more powerful than vitamin C and is commonly recommended by doctors as a type of "internal sunscreen support."
Also notable: Esthechoc's encapsulation technology improves the bioavailability of its astaxanthin so that it's even better than typical astaxanthin supplements. Esthechoc has also managed to pack as many cocoa polyphenols (the good, antioxidant-rich stuff in dark chocolate) as you'd find a typical 500-calorie dark chocolate bar into a delicious, 38-calorie chocolate wafer that's intended to be eaten every day, completely free of guilt.
Each box contains 21 individually wrapped pieces. Conveniently, that's just enough to get you through three weeks — at which point it's been clinically shown to help skin look more nourished and benefit from greater protection against free radicals.
Until we brought it on, the only retailer lucky enough to carry Esthechoc was Harrods in London. We're thrilled and honored to be Esthechoc's first US retailer.

NOTE: If you're experiencing warm weather where you live (or you live in a warmer climate), please order your Esthechoc with cold packs. We ship cold-pack orders Monday through Wednesday in order to ensure a cooler journey for your chocolate. To make sure it doesn't melt, please keep an eye on your package tracking information and bring it inside (ideally, into a refrigerator) as soon as it's delivered — it should not sit outside in sun and heat. 
PS If you know of anyone who loves chocolate and would love a real excuse to eat it even more, we can't think of a better gift idea.
PPS If you're a superfan, we offer 4 boxes for the price of 3. Sweet deal.
How to Use
Eat one individually-wrapped piece every day. (Sadly, it is recommended not to exceed the daily dose.)
Ingredients
Astaxanthin, a powerful antioxidant derived from algae, induces anti-inflammatory action, improves oxygen transport in plasma, and has a beneficial effect on the levels of oxygen in the skin
Cocoa epicatechin polyphenols boost skin microcirculation and have a powerful antioxidant effect
---
All Ingredients
Cocoa solids (72.6% minimum), sugar, fat-reduced cocoa powder, cocoa butter, emulsifier: lecithin (from soybeans), astaxanthin.
Cocoa solids (72.6% minimum), sugar, fat-reduced cocoa powder, cocoa butter, emulsifier: lecithin...
See All