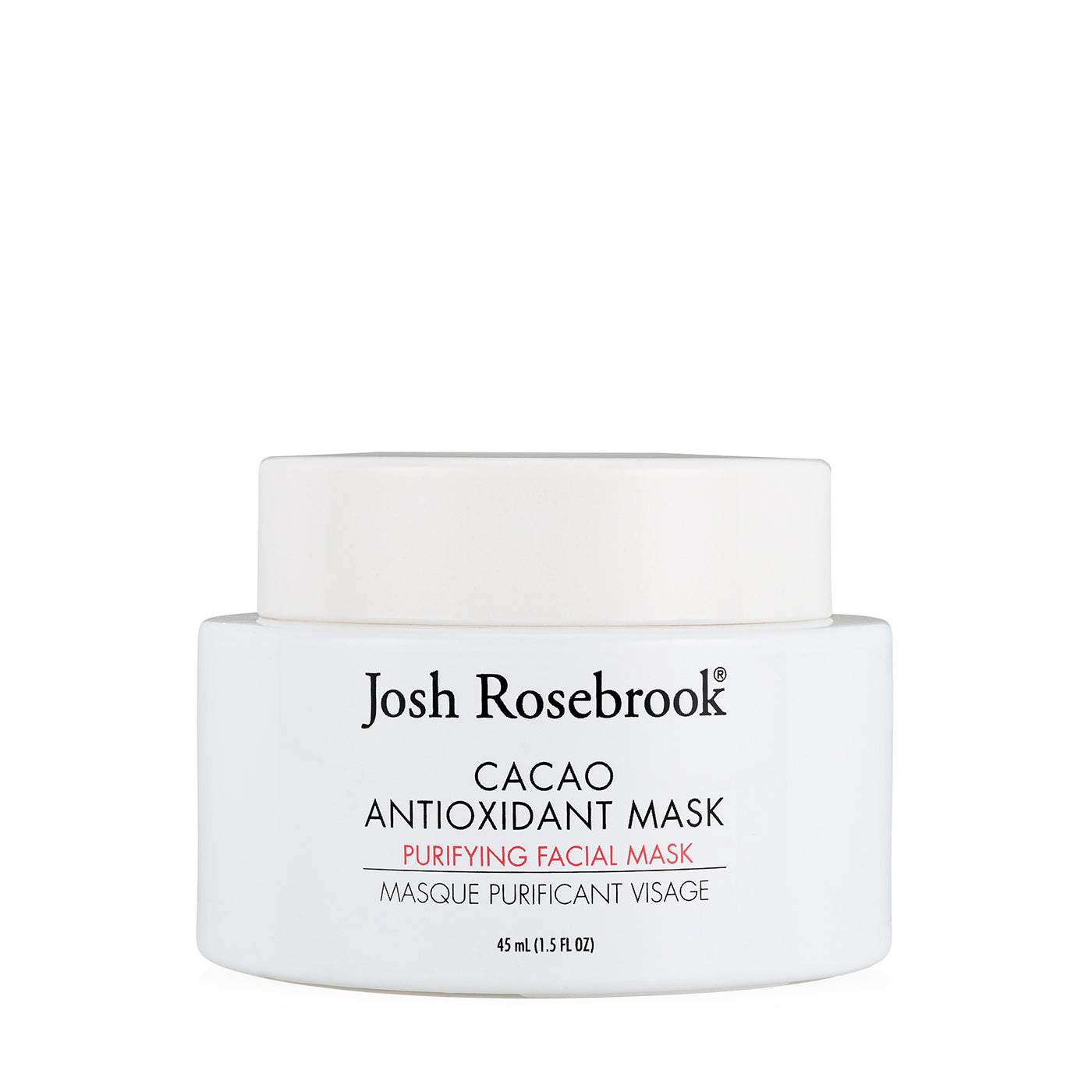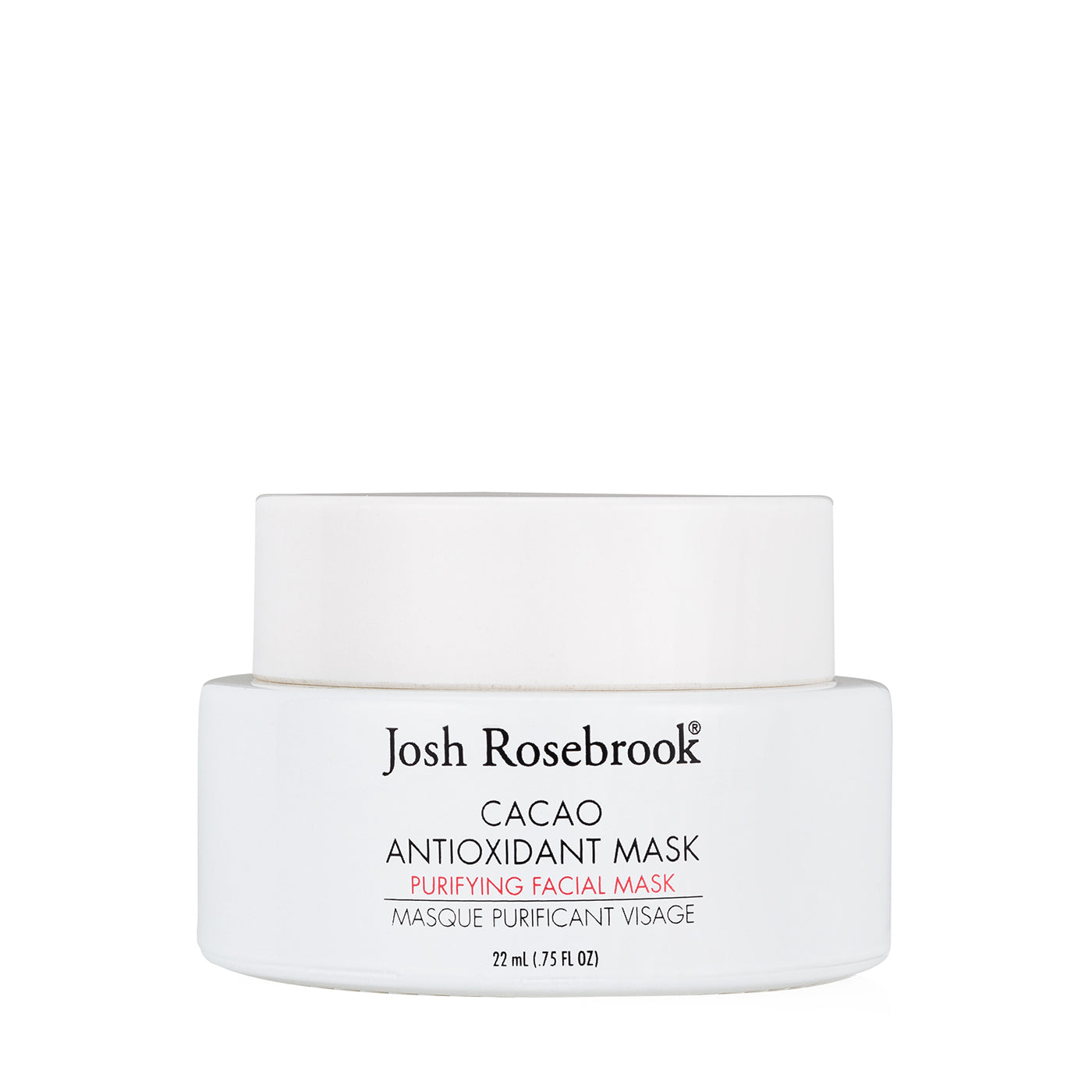 Description
Detoxifying, brightening, toning mask for all skin types / 1.5 oz full size
When you open the jar of chocolaty goodness that is Josh Rosebrook's Cacao Antioxidant Mask, you're going to want to eat it: it looks like a pot de crème that's just begging to go in your belly and not on your face. But don't give into the temptation, because your skin deserves this all-skin-types-suitable treat for itself.
The thick, heavenly-smelling mask uses a heap of cacao along with a good amount of witch hazel and a blend of herbs to detoxify, tone, firm, and lightly exfoliate; lightweight oils in the formula keep even sensitive or dry skins comfortable and hydrated. You can leave it on for up to 45 minutes for extra invigoration, but we've used it for 10-15 minutes and found that amount of time to be perfectly adequate, too.
Generally speaking, this mask will make your skin look like you just came back from a restful and rejuvenating vacation.  After the first use, you'll notice softer, fresher-feeling skin. And over time, you'll notice a clearer, firmer, brighter complexion. It's an all-around great treatment for skin that needs a little boost. Use it with the Josh Rosebrook Hydrating Accelerator, especially if your skin tends to be on the Balanced to Dry side.
The Cacao Antioxidant Mask was the first product Josh created, and it's still far and away one of his best sellers.
How to Use
Apply quickly and evenly, ideally after cleansing skin and misting it with Josh Rosebrook's Hydrating Accelerator. Allow to dry for up to 30-45 minutes (we suggest 15-30 minutes at the most!), then rinse & towel dry.
Your skin may look slightly flushed afterwards due to the circulation-boosting effects, but it will subside.
Ingredients
- Cacao stimulates circulation, firms, brightens, and protects.
- Marula oil provides lightweight, non-greasy moisture.
- Witch hazel provides powerful toning and anti-inflammatory benefits.
---
All Ingredients
Vitamin Infused Water, *Cacao, *Vinegar, *Baobab Oil, *Sunflower Oil, *Evening Primrose Oil, *Avocado Oil, *Almond Oil, †Marula Oil, *Jojoba Oil, *Grape Seed Oil, *Vegetable Glycerin, *Rose Petal, *Turmeric, *Goji Berry, *Dandelion, *Eyebright, *Rosemary, *Ashwagandha, *Sage, *Beetroot, *Alfalfa, *Black Cohosh, *Raspberry Leaf, *Elderberry, *Chickweed, *Calendula, *Rose Hip, *Hawthorn Berry, *Ginkgo, *Cinnamon, *Marshmallow Root, *Bladderwrack, *Ginger, *Milk Thistle, *St. John's Wort, *Cat's Claw, *Licorice, *Lavender, *Fenugreek, *Potassium Sorbate, †Orange Essential Oil, †Lavender Essential Oil, †Rosemary Essential Oil, †Calendula Essential Oil, *Witch Hazel.

*CERTIFIED ORGANIC

†ORGANIC
Vitamin Infused Water, *Cacao, *Vinegar, *Baobab Oil, *Sunflower Oil, *Evening Primrose Oil, *Avo...
See All