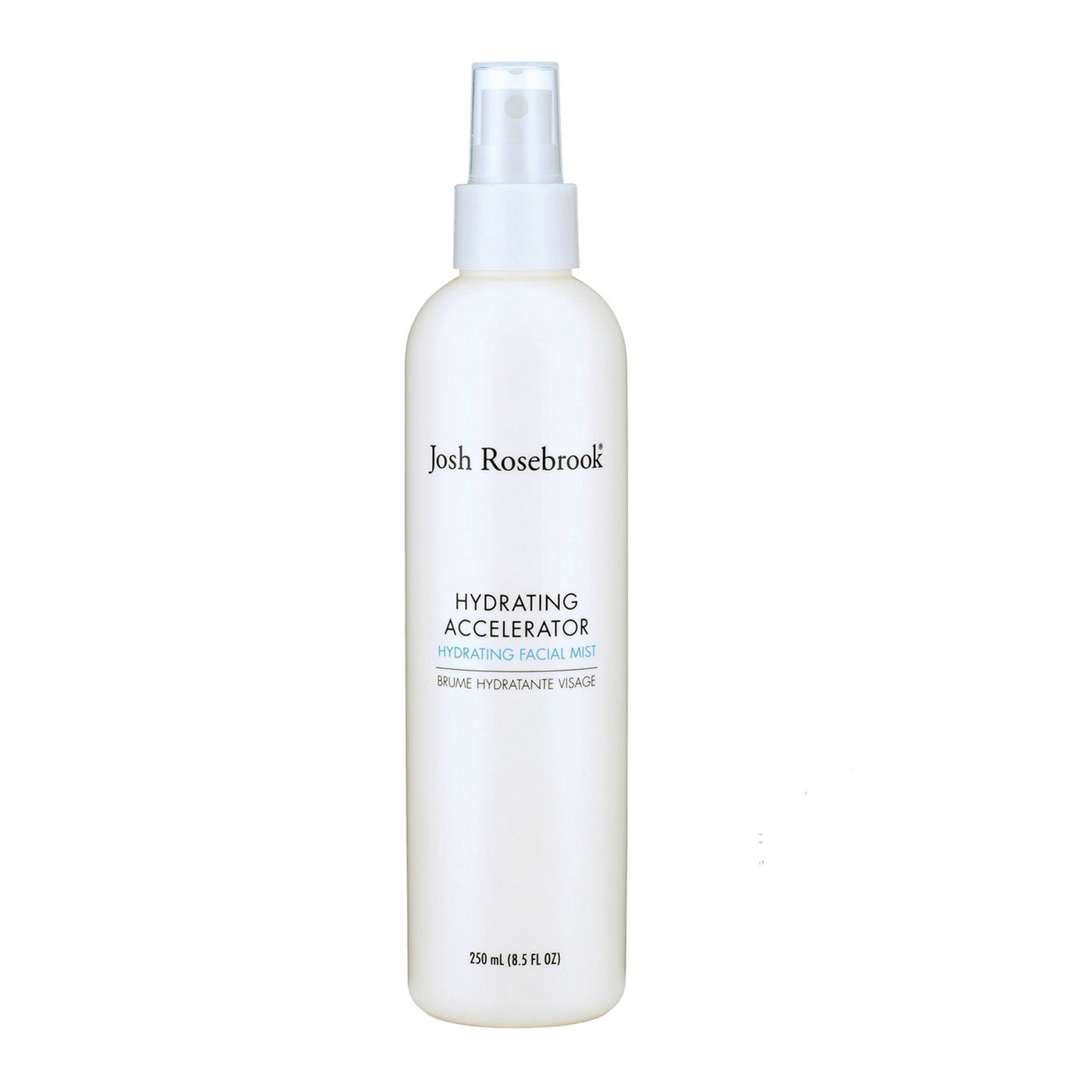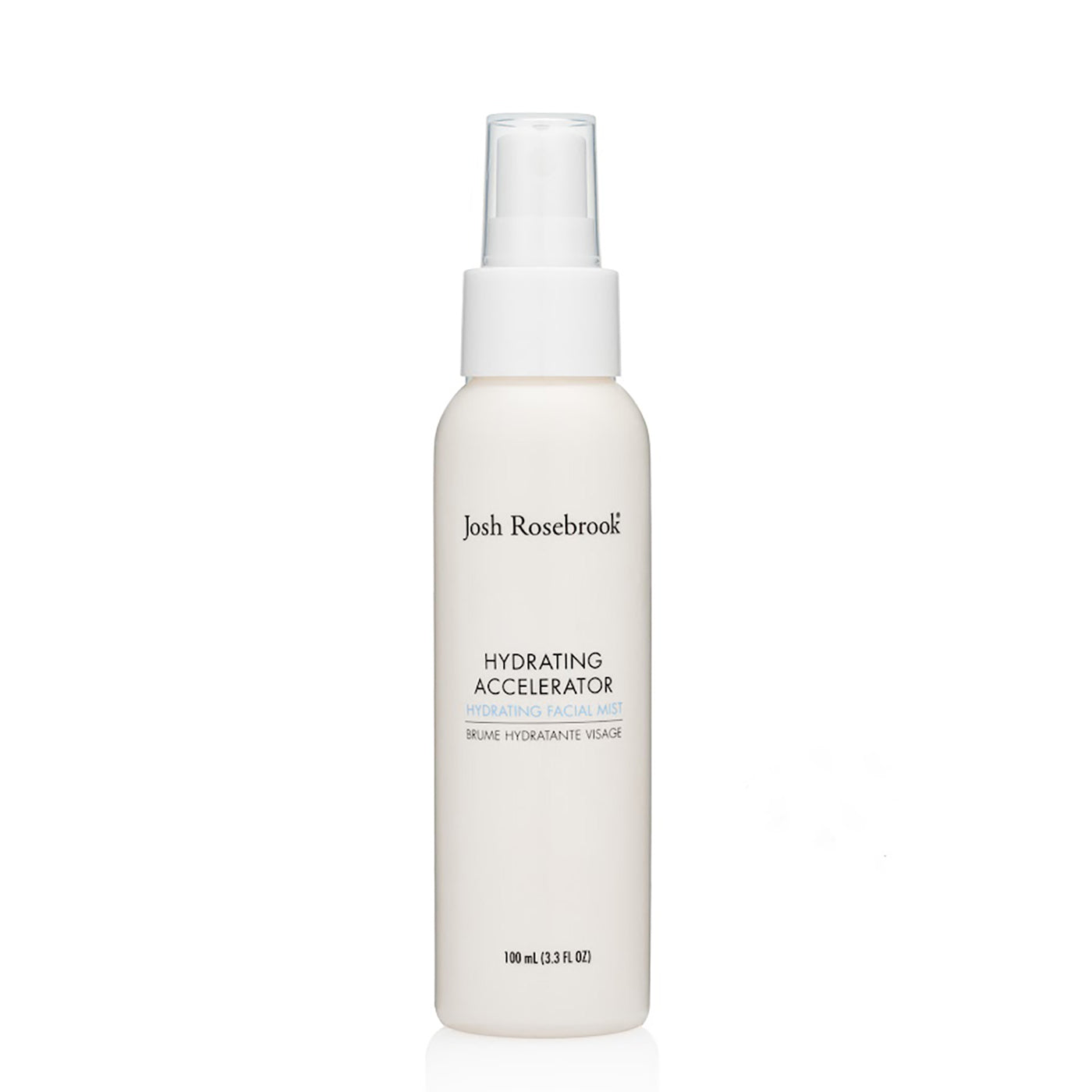 Description
Vanilla-scented hydrating mist / 8.5 fl oz extra size & 3.3 fl oz travel size
We love our mists, and Josh Rosebrook's Hydrating Accelerator is no exception. This mist is a blend of vitamin-infused aloe juice and lightweight oils that sink into skin right away to soothe and hydrate. It works nicely underneath an oil or cream, like Josh Rosebrook's Nutrient Day Cream SPF 30, when skin feels like it just needs a liiiiiittle bit more hydration to be its best dewy self. It also pairs well with Josh Rosebrook's Cacao Antioxidant Mask, since the moisture it adds help the mask spread more easily upon application; it also allows you to keep the mask on your skin more comfortably for a longer period of time.
Some of its most diehard fans simply use it to refresh their skin periodically throughout the day, perhaps because it smells like vanilla and marshmallow candy. If you like your products to smell dessert-like, order up one of these.

PS We're loving the new bottle, which is made from 50% Ocean Waste Plastic and 50% post-consumer recycled plastic.
How to Use
After cleansing, pat face dry. Mist three to five pumps of the Hydrating Accelerator all over your face, then follow with a serum and/or moisturizing oil, lotion, or cream.
We also recommend using the Hydrating Accelerator before applying the Cacao Antioxidant Mask.
Ingredients
Aloe Vera Juice calms, hydrates, treats eczema, softens, assists all skin conditions

Evening Primrose improves elasticity, moisturizes, treats rosacea, treats eczema

Marula protects, moisturizes, softens, firms, assists hydration
---
All Ingredients
*Aloe Vera Leaf Juice, *Jojoba Oil, †Marula Oil, *Vitamin E, *Evening Primrose Oil, *Grape Seed Oil,*Sea Buckthorn Oil, *Hemp Seed Oil, *Borage Seed Oil, *Almond Oil, *Sesame Oil, *Goji Berry, *Ashwaganda, *Turmeric, *Calendula, *Black Cohosh, *Dandelion, *Fo Ti Root, *Alfalfa, *Bilberry, *Rosemary, *Elderberry, *Raspberry Leaf, *Burdock, *Chamomile, *Rose Hips, *Eyebright, *Beetroot, *St. John's Wort, * Hawthorne Berry, *Chickweed, *Licorice, *Coriander, *Horse Chestnut, *Lavender, *Red Clover, *Olive Leaf, *Sage, *Thyme, *Vanilla Extract, †YlangYlang Essential Oil, †Rosemary Essential Oil, †Eucalyptus Essential Oil, †Bergamot Essential Oil, †Carrot Seed Essential Oil.

*CERTIFIED ORGANIC

†ORGANIC

§NON-GMO PLANT SOURCED
*Aloe Vera Leaf Juice, *Jojoba Oil, †Marula Oil, *Vitamin E, *Evening Primrose Oil, *Grape Seed ...
See All
"One of my favorite hydrators to pair with a face oil for Gua Sha"
Sandra Lanshin Chiu