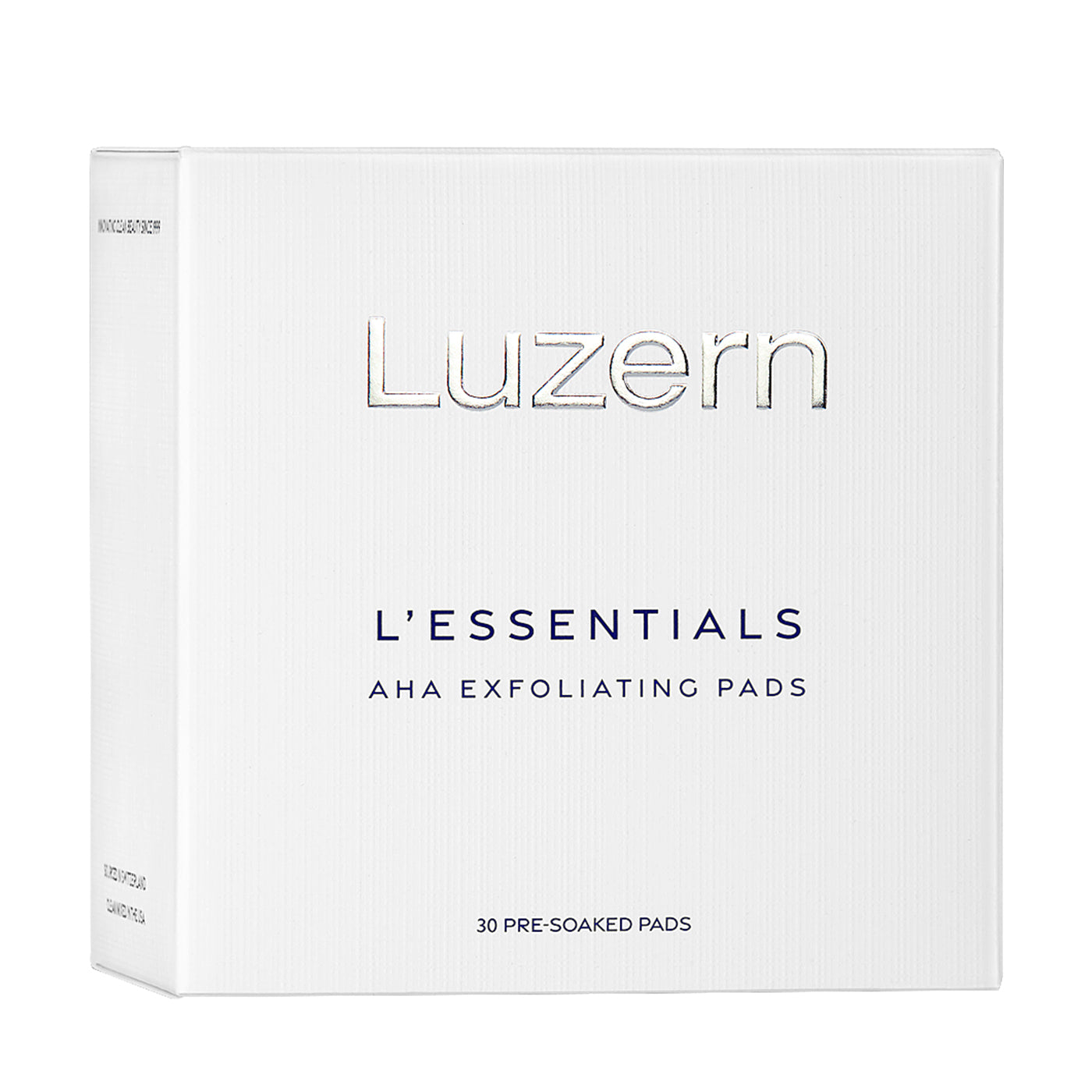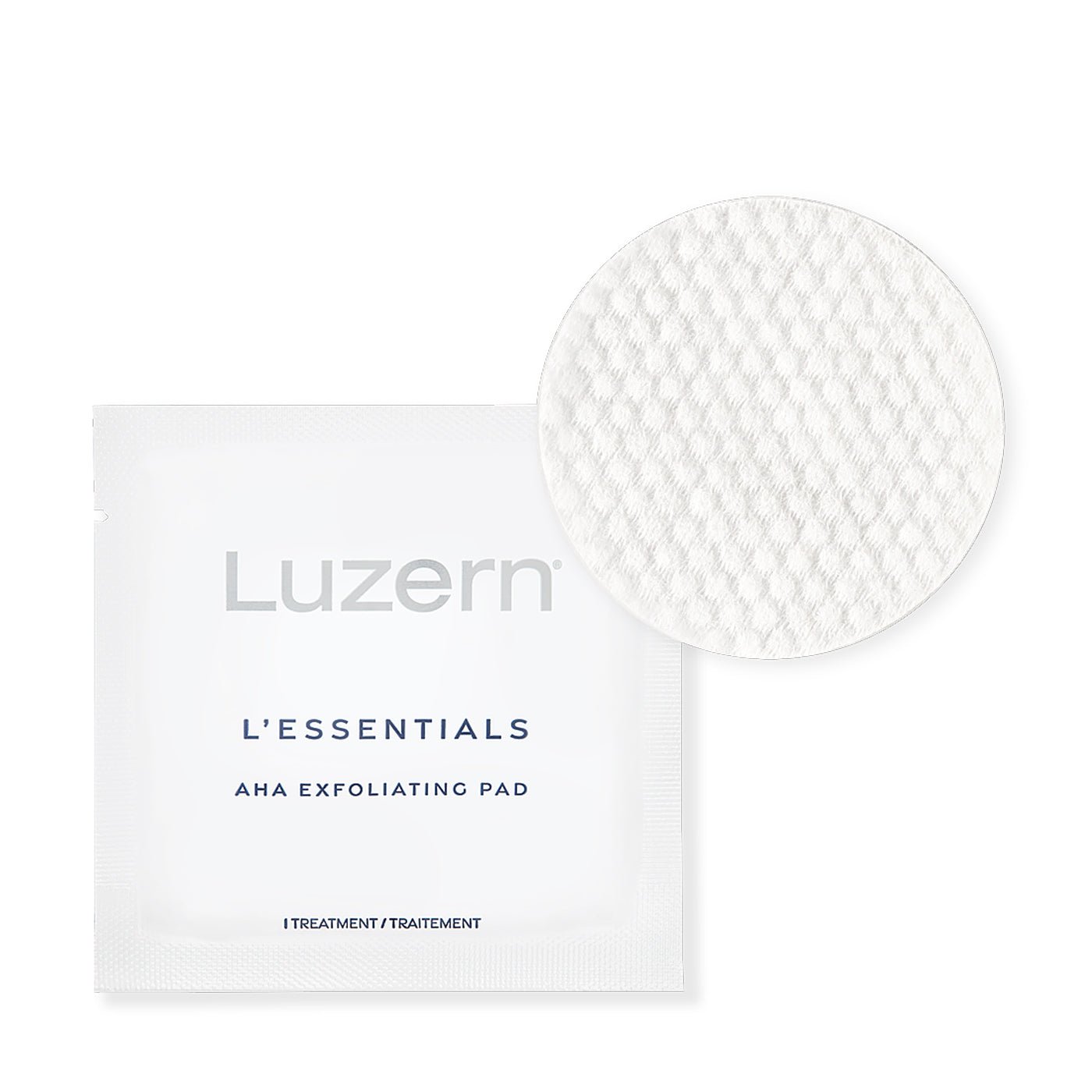 Description
AHA treatment peel pads to smooth and brighten skin while refining pores / 30 individually wrapped pads
Luzern AHA Exfoliating Peel (formerly known as Au Vin Exfoliating Treatment) took a while to win us over because we were such big fans of the original Serum Au Vin and, well, change is hard. But we'll say it: we were wrong to doubt them. Because these exfoliating pads are really, really good. Marvelously so.
These super-exfoliating pre-soaked AHA treatment peel pads have more of a bite than the original Serum — they're quite a bit more powerful — but if your skin isn't very sensitive and you're looking for a smoothing, pore-decongesting treatment that will improve skin's texture and smooth fine lines over time, this jar might become one of your favorite things to reach for. 
Like the original (now discontinued) Serum Au Vin, these pads feature lactic acid that's been linked with arginine to reduce the possibility of irritation. But instead of malic acid, they feature salicylic acid to unplug pores; they also feature Vitamin C and discoloration-reducing botanicals so skin looks fresher and brighter. You might just be able to go makeup free in the morning. At the very least, you won't be able to stop touching your smooth, baby-soft face.
(And we know you might be tempted to use this product, delicate flowers. Good news: you can use the peel pads and then rinse for a gentler peel.)
Packaged in a box of 30 individually wrapped pads, which makes them great for traveling.
How to Use
After cleansing, swipe pad over face, neck, and décolleté in circular motions onto clean, dry skin. For sensitive skin, rinse thoroughly with water after 15 minutes. For other skin types, no rinsing is required. Follow with toner of your choice.

If irritation occurs, discontinue use immediately. This product contains AHA and BHA which can increase your skin's sensitivity to the sun and increase the possibility of sunburn, so please complete your daily skincare regimen with a broad-spectrum sunscreen. (A patented time-release mechanism slowly releases AHA molecules and allows them to penetrate gently into the skin without stinging, burning, or irritation. This patented technology makes Au Vin gentler than other AHA products, but with equivalent effectiveness.)
Ingredients
- 10% Lactic Acid: linked with the amino acid arginine to deliver all the benefits of AHAs with reduced irritation. This patented complex effectively exfoliates to reduce the look of fine lines and wrinkles, and enhances radiance.
- 1% Salicylic Acid: naturally derived from Willow Bark, this BHA is the perfect alternative to synthetic salicylic acid, delivering all of the benefits with none of the associated irritation. It is ideal for reducing inflammation and associated redness, while eliminating rough, dull skin cells to reveal soft, smooth, glowing skin.
- Chardonnay Grape Extract: provides an astringent effect to tone skin so pores look smaller and tighter.
- AlpPure™ Alpine White extracts: Swiss extracts combined with Vitamin C work together to reduce discoloration and brighten skin.
---
All Ingredients
Water (Aqua) *†, Lactic Acid*†, L-Arginine*†, Aloe Barbadensis Leaf Juice**†, Gluconolactone*†, Glycerin*†, Salix Alba (Willow) Bark Extract*†, Melissa Officinalis Leaf Extract**†, Mentha Piperita (Peppermint) Leaf Extract**†,Vitis Vinifera (Grape) Fruit Extract*†, Sodium Ascorbyl Phosphate*†, Veronica Officinalis Extract**†, Malva Sylvestris (Mallow) Extract**†, Alchemilla Vulgaris Extract**†, Primula Veris Extract**†, Achillea Millefolium Extract**†, Panthenol*†, Sodium Hyaluronate*†, Tetrasodium Glutamate Diacetate*†, Sodium Benzoate*†, Calcium Gluconate*†.

* NATURAL-derived / Dérivés de Naturel and/or ECOCERT
** CERTIFIED ORGANIC/ CERTIFIÉ ORGANIQUE USDA / ECOCERT / BIO-SWISS
† Low Hazard Rating of "Green 0 – 2" (non-toxic, non-irritating)
Water (Aqua) *†, Lactic Acid*†, L-Arginine*†, Aloe Barbadensis Leaf Juice**†, Gluconolactone*†, G...
See All