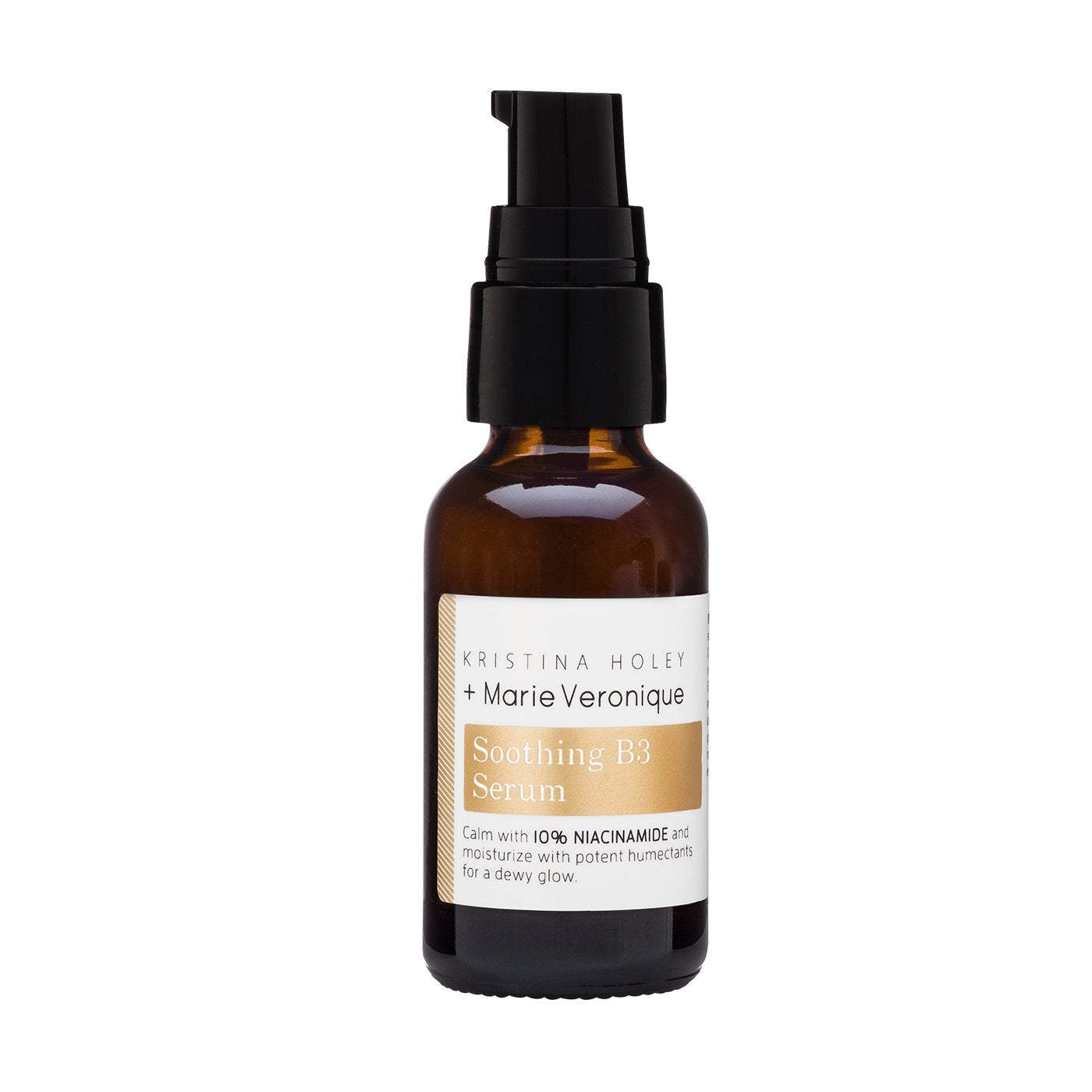 Description
Calming, hydrating, dewy-skin-making serum with 10% niacinamide and potent humectants / 1 oz
Soothing B3 Serum is a super-light, fast-absorbing, oil-free gel serum that features inflammation fighting niacinamide (vitamin B3) in a hyaluronic acid base for deep hydration, calmer skin, and a natural, dewy glow. It's a great pick for those with redness or rosacea who could also use a hydrating boost.
Celebrated facialist Kristina Holey and renowned formulator Marie Veronique developed this particular product for three types of situations: a) skin tending towards redness and sensitivity, b) skin experiencing cyclical or inflammatory breakouts, and c) frequent travelers or those experiencing changes in climate conditions.
Like all the Kristina Holey + Marie Veronique serums, it's designed to improve the health of skin's barrier; if you were to look at the serums as a team of superheroes, this one specifically would be the inflammation-fighting star. It happens to be Kristina's favorite due to its luxurious texture and the dewy glow it leaves on skin. Kristy, Marie Veronique's creative director, also loves it and tells us, "If Barrier Restore is your healthy protein and Intensive Repair is your plate of vegetables, Soothing B3 is like dessert." We all could use a little dessert, couldn't we?
Soothing B3 Serum layers well with other products in the Marie Veronique line. Some suggestions from Kristina and Marie:
- To treat rosacea, apply it under C+E+Ferulic serum
- To treat cystic acne or inflammatory acne, apply it over Gentle Retinol Serum
Fragrance-free and essential oil-free, so it suits even the most allergy-prone, sensitive skin.
How to Use
Apply 1-2 pumps to face, neck, and chest. Layer under Marie Veronique C+E+Ferulic serum to treat rosacea or over Marie Veronique Gentle Retinol Serum to soothe and treat cystic/inflammatory acne.
Ingredients
- Niacinamide (Vitamin B3) reduces inflammation by improving barrier function and stimulating ceramide production
- Panthenol hydrates and moisturizes and is deeply penetrative
- Licorice Root brightens skin, helps reduce hyperpigmentation and age spots
- Knotgrass flavonoids enhance skin's firmness and elasticity
---
All Ingredients
Sodium Hyaluronate, Camellia Sinensis (Green Tea) Leaf Infusion, Niacinamide (Vitamin B3), Leuconostoc/Radish Root Ferment Filtrate, Panthenol (Provitamin B5), Probiotics, Gluconolactone, Acetyl Glucosamine, Sodium Salicylate, Glycerin, Glycyrrhiza Glabra (Licorice) Root Extract, Camellia Sinensis (Green Tea) Extract, Beta-Glucan, Polygonum Aviculare (Knotweed Bioflavonoids) Extract, Cucumis Sativus (Cucumber) Fruit Extract, Galactooligosaccharides, Sodium Bicarbonate, Water, Curcuma Longa/Xanthorrhiza (Turmeric) Root Extract, Daucus Carota Sativa (Carrot) Root Extract

Microbiome-friendly

Fragrance + Essential Oil free
Sodium Hyaluronate, Camellia Sinensis (Green Tea) Leaf Infusion, Niacinamide (Vitamin B3), Leucon...
See All