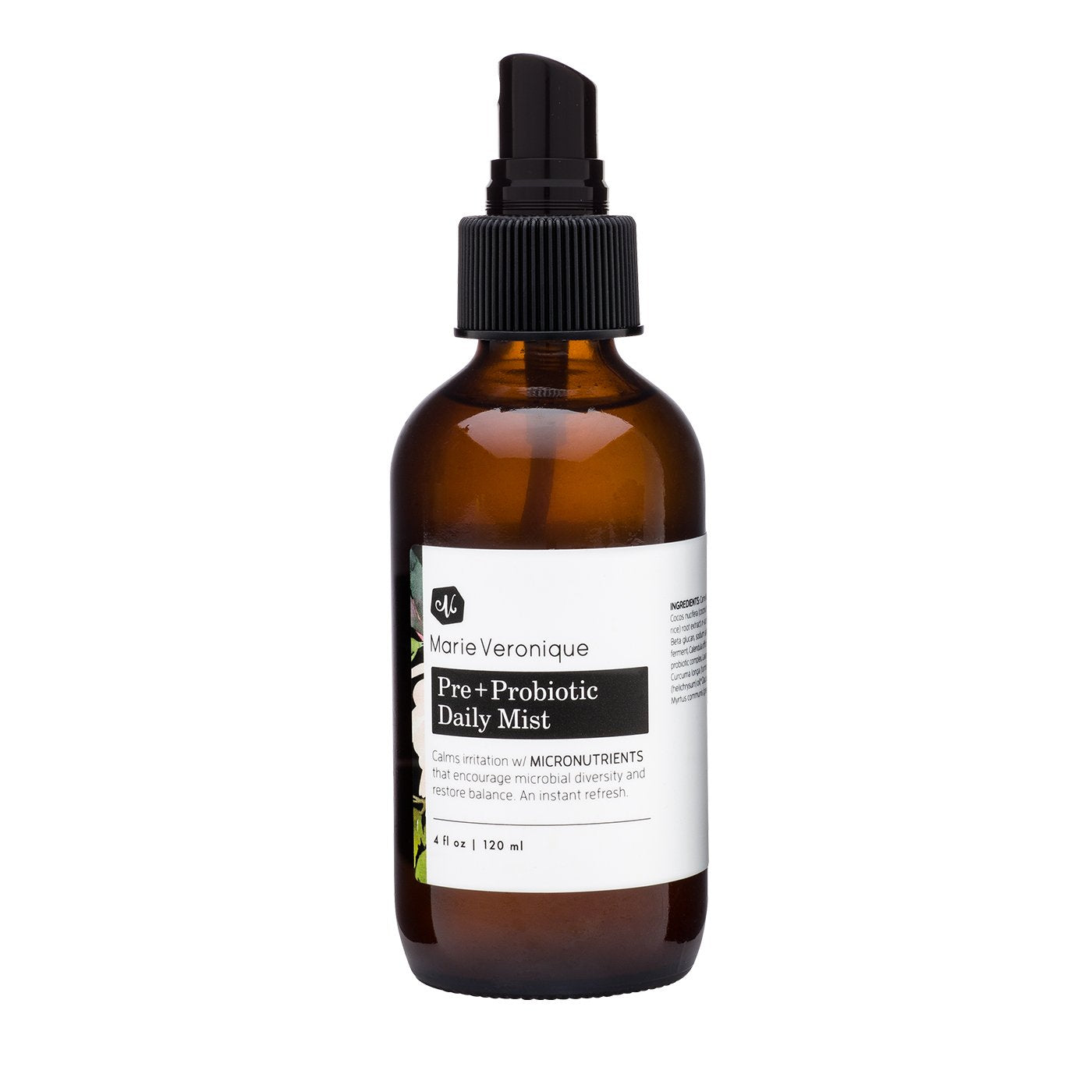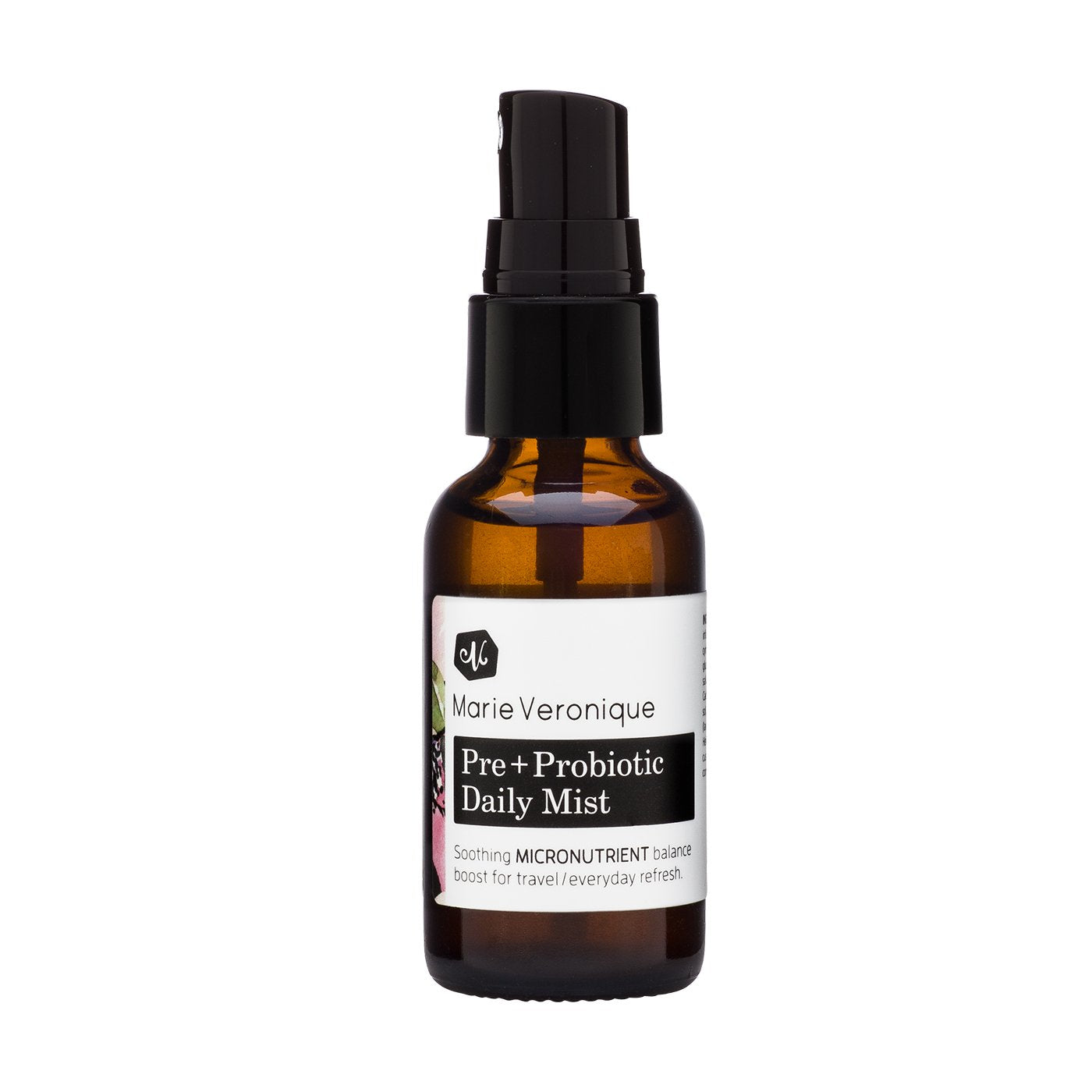 Description
Soothing mist with anti-inflammatory botanicals and probiotics / 4 oz full size
Marie Veronique's soothing Pre+Probiotic Mist is one of our favorite products because it's so versatile. It instantly refreshes and calms skin with hydrating coconut water, anti-inflammatory sodium salicylate, and soothing calendula. If you're a face oil fan, a mist like this is a must-have, since it'll create a hydrating base that helps your oils spread and penetrate more easily. And celebrity makeup artists love the Pre+Probiotic Mist to set wedding-day makeup. We love it to set everyday makeup, too (and it comes in a travel size so that you can take it with you on trips or to the gym).
Intriguingly, it's also designed to support skin's microbiome and further reduce irritation with beta-glucan as well as a robust blend of probiotics and prebiotics. Hmm. "Don't probiotics need to be refrigerated?" we asked Marie. She told us, "The dear little microbes like warm temperatures, so non-refrigeration encourages them to grow and multiply, plus we give them food (prebiotics) to do the same thing. There are many commensal microbes that live in the gut and on the skin, like Staphylococcus epidermidis, and some that studies show are good for moisturizing aging skin, like Streptococcus thermophilus, so we look for those microbes to be represented. But our rule of thumb is that if it's good for the gut it's good for the skin, so a good mix of gut residents will do well on the skin."
Makes sense to us, and the proof is in the Pre+Probiotic Spray's masterful soothing abilities. We're sold.
How to Use
Shake well. Mist face and neck in the morning; while face is still damp, apply Protective Day Oil, then apply sunscreen. Mist throughout the day to calm, soothe and hydrate your skin. Also sets makeup beautifully.
Ingredients
Coconut water is hydrating and antioxidant rich. Its high lauric acid content helps keep blemishes under control.
Licorice extract features glycyrrhizin and flavonoids that produce anti-inflammatory action in the skin.
Sodium Salicylate is a powerful anti-inflammatory that quickly calms skin. It also has significant environmental protection properties.
A proprietary microbiotic complex contains a combination of 34 probiotic live strains including high concentration of Bifidobacterium, kept in balance with prebiotics to maintain a well-regulated cycle and reduce skin irritations that lead to inflammation.
---
All Ingredients
Camellia Sinensis (Green Tea) Leaf Infusion, Cocos Nucifera (Coconut) Water, Leuconostoc/Radish Root Ferment Filtrate, Glycyrrhiza Glabra (Licorice) Root Extract, Acetyl Glucosamine, Niacinamide (Vitamin B3), Sodium Salicylate, Beta-Glucan, Calendula Officinalis (Marigold) Hydrosol, Probiotics, Galactooligosaccharides, Lavandula Angustifolia (Lavender) Oil*, Curcuma Longa (Turmeric) Root Extract, Helichrysum Italicum (Helichrysum) Flower Oil*, Daucus Carota Sativa (Carrot) Seed Extract, Myrtus Communis (Green Myrtle) Oil*

* Essential oil
Camellia Sinensis (Green Tea) Leaf Infusion, Cocos Nucifera (Coconut) Water, Leuconostoc/Radish R...
See All
"Nadeau harnesses the latest research linking probiotics with acne and rosacea relief, incorporating the helpful digestive bacteria into skin-care products."
The San Francisco Chronicle