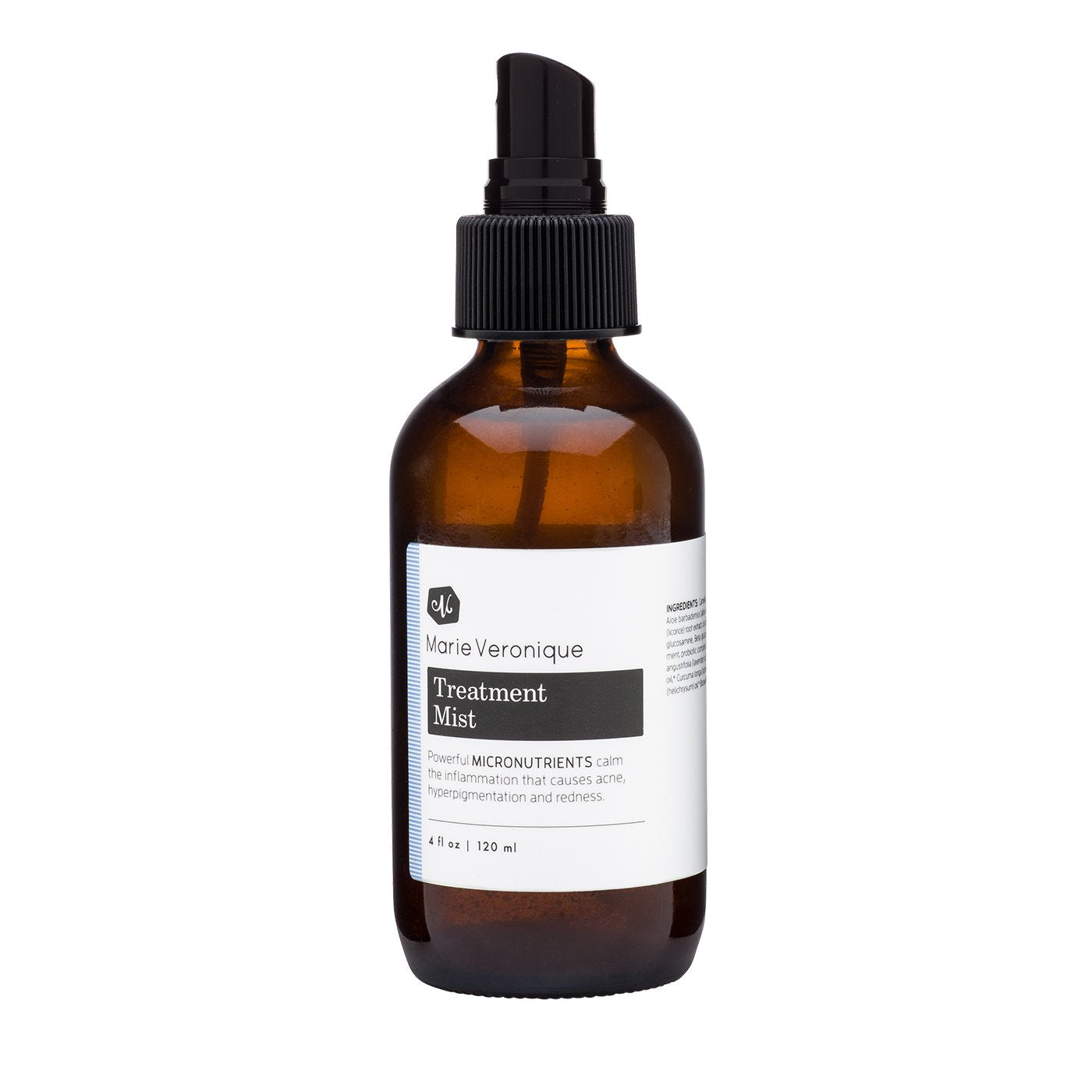 Description
Micronutrient-powered balancing, brightening, healing, and toning mist / 4 oz
Marie Veronique's Treatment Mist is the one to go with if you struggle with acne, oily spots, hyperpigmentation, or generally inflamed skin.
Its blend of B vitamins, licorice root, and green tea reduces inflammation from acne flareups, helps with post-inflammatory hyperpigmentation, and calms redness without any irritation or dryness. A shot of apple cider vinegar makes it a great balancing mist for Combination-Oily and Oily skin types, too.
If you ever get that "I feel a breakout coming on" feeling, you need this secret weapon in your medicine cabinet. Check out the rest of Marie Veronique's Treatment line, too: of the many vexing skin conditions out there, one of the most frequently experienced is acne, so Marie developed this lineup specifically to address breakouts at their source.
See Marie's protocols for adult acne, teenage acne, and men's skin with acne here; we particulary love following the Treatment Mist with the Treatment Serum for next-level flareup treatment. And if you're a reader, Marie's got you covered, too: she even wrote a refreshingly fun-to-read book on the topic called The Acne Answer.

How to Use
Shake well before use and keep in a cool place. Mist onto face, neck and chest. If irritation develops, discontinue use and consult a physician.
Ingredients
BIOB is a proprietary blend of botanicals and B vitamins formulated to boost the effects of B3 (niacinamide) and B5 (panthenol). These vitamin B derivatives are known for their ability to lighten post-inflammatory hyperpigmentation and heal scar tissue.
LICORICE ROOT EXTRACT delivers two important benefits to inflammation-related skin conditions: it's a powerful anti-inflammatory and it lightens skin and hyperpigmentation by inhibiting melanin production.
N-ACETYL GLUCOSAMINE works in conjunction with niacinamide (vitamin B3). Studies show this combination of ingredients reduces hyperpigmentation and age spots and helps even out blotchiness.
GREEN TEA: Powerful anti-inflammatory and natural UV protector.
ECGC (EPIGALLOCATECHIN-3-GALLATE): This powerful bioflavonoid found in green tea works by controlling sebum production and inhibiting bacterial growth.
---
All Ingredients
Camellia Sinensis (Green Tea) Leaf Infusion, Aloe Barbadensis (Aloe Vera) Leaf Juice, Leuconostoc/Radish Root Ferment Filtrate, Glycyrrhiza Glabra (Licorice) Root Extract, Beta-Glucan, Glucosamine, Niacinamide (Vitamin B3), Panthenol (Provitamin B5), Probiotics, Lactic Acid Extract, Lavandula Angustifolia (Lavender) Oil*, Daucus Carota Sativa (Carrot) Root Oil*, Curcuma Longa/Xanthorrhiza (Turmeric) Root Extract, Helichrysum Italicum (Helichrysum) Flower Oil*, Boswellia Carterii (Frankincense) Oil*

* Essential oil
Camellia Sinensis (Green Tea) Leaf Infusion, Aloe Barbadensis (Aloe Vera) Leaf Juice, Leuconostoc...
See All
"I could talk all day about the amazing ingredients and process behind this brand, but in a nutshell, it hydrates and moisturizes. Redness and inflammation disappear in seconds, leaving you with calmer, brighter skin. A must."
The Mini Post