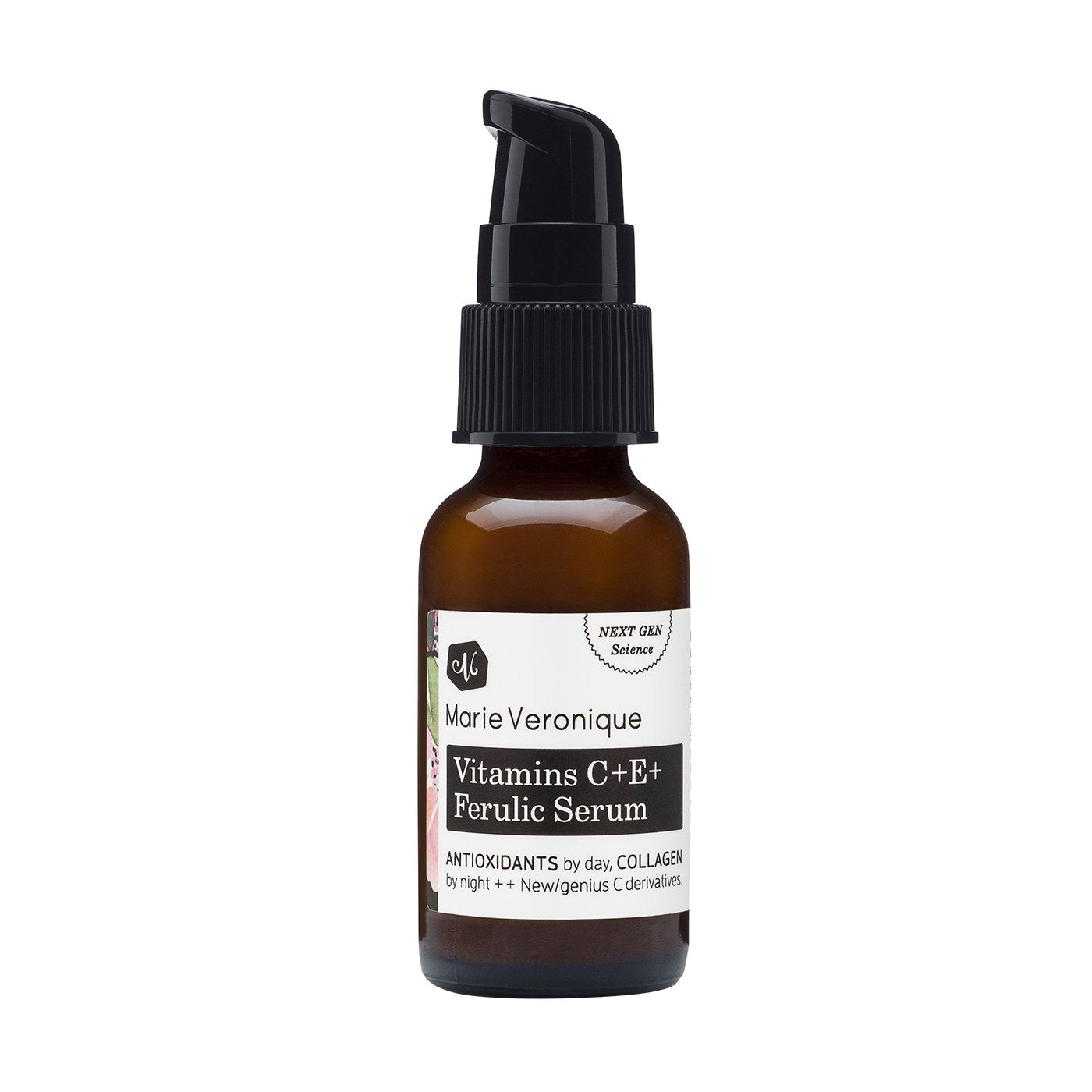 Description
Radiance-boosting, supercharged antioxidant serum / 1 oz full size
*Next Gen: Upgraded with new C derivatives in addition to the original concentration of encapsulated ascorbic acid for even more C power. Also, now essential oil free.*

When a discerning beauty editor revealed to us that this supercharged antioxidant serum is her desert-island product, we knew we had to take a closer look. Said beauty editor is a smart cookie, because she knows that the magical trio of Vitamin C, Vitamin E, and Ferulic acid can dramatically improve the protection offered by your sunscreen.
What's particularly smart about this product is that the CE Ferulic combination is joined by other antioxidant powerhouses, like Co-Enzyme Q10, astaxanthin, and lycopene. And it's in a moisturizing, sensitive skin-friendly base that leaves all complexions looking radiant.
Vitamins C+E+Ferulic Serum is a fabulous alternative to retinol for pregnant women, too, since its Vitamin C can work at night to rebuild collagen. So if you're expecting or nursing, try using this as your AM/PM treatment serum.
Whenever you use it, follow it up with the moisturizer of your choice (we love the Protective Day Oil, but if you need other suggestions, just get in touch!).
PS Vitamin C shelf life is a hot topic, but don't worry about this one. The peachy-colored Vitamins C+E+Ferulic Serum contains ascorbic acid stabilized in an anhydrous solution, so it's not activated as an antioxidant until it reacts with the moisture in your skin.
The next-gen formula does not contain any essential oils, which makes it odor-neutral at first — but, due to its many active ingredients, it may develop layers of complexity over time (like a good wine). Like all Marie Veronique formulations, it uses anhydrous emulsions, encapsulation, and combinations of synergistic ingredients to ensure that the formula stays perfectly stable and active for 6 months after opening.
How to Use
Shake well. Apply a thin layer before applying Protective Day Oil (or your other favorite moisturizer) and sunscreen.
Ingredients
- Vitamin C+E+Ferulic combination: Ferulic acid is a potent plant antioxidant. Studies show that combining it with L-ascorbic acid and Vitamin E, also powerful antioxidants, not only increases overall antioxidant protection, but also doubles the sun protection offered by your sunscreen.
- Co-enzyme Q10: A powerful anti-oxidant that boosts skin repair and regeneration.
- Astaxanthin: A very powerful antioxidant from the carotenoid family that protects against long-wave radiation damage.
---
All Ingredients
Camellia Sinensis (Green Tea) Leaf Infusion, Vitamin C (L-Ascorbic Acid, L-Ascorbyl Palmitate, Tetrahexyldecyl Ascorbate, Magnesium Ascorbyl Phosphate), Olea Europaea (Olive) Oil, Leuconostoc/Radish Root Ferment Filtrate, Prunus Armeniaca (Apricot) Kernel Oil, Populus Tremuloides (Aspen) Bark, Mixed Tocopherols (Vitamin E), Xanthan Gum, Ferulic Acid, Sodium Hyaluronate, Ceramide NP (N-Acylated Phytosphingosine), Unndaria Pinnatifida Cell Culture Extract , Sodium Salicylate, Acetyl Glucosamine, Potassium Sorbate, Terminalia Ferdinandiana (Kakadu Plum) Fruit Extract, Thioctic (Alpha-Lipoic) Acid, L-Glutathione, Ubiquinone (CoQ10), Solanum Lycopersicum (Tomato) Fruit/Leaf Stem Extract, Astaxanthin

Now Essential Oil Free
Camellia Sinensis (Green Tea) Leaf Infusion, Vitamin C (L-Ascorbic Acid, L-Ascorbyl Palmitate, Te...
See All
"This is one of those skin-transforming products you'll be hearing about if you haven't already. It contains a powerhouse antioxidant combination of vitamin C, vitamin E, and ferulic acid that promotes radiance and protects skin from oxidative stress, which you'll really need as the sun gets brighter. (Not to mention that it feels super hydrating and smells great, too.)"
Well+Good