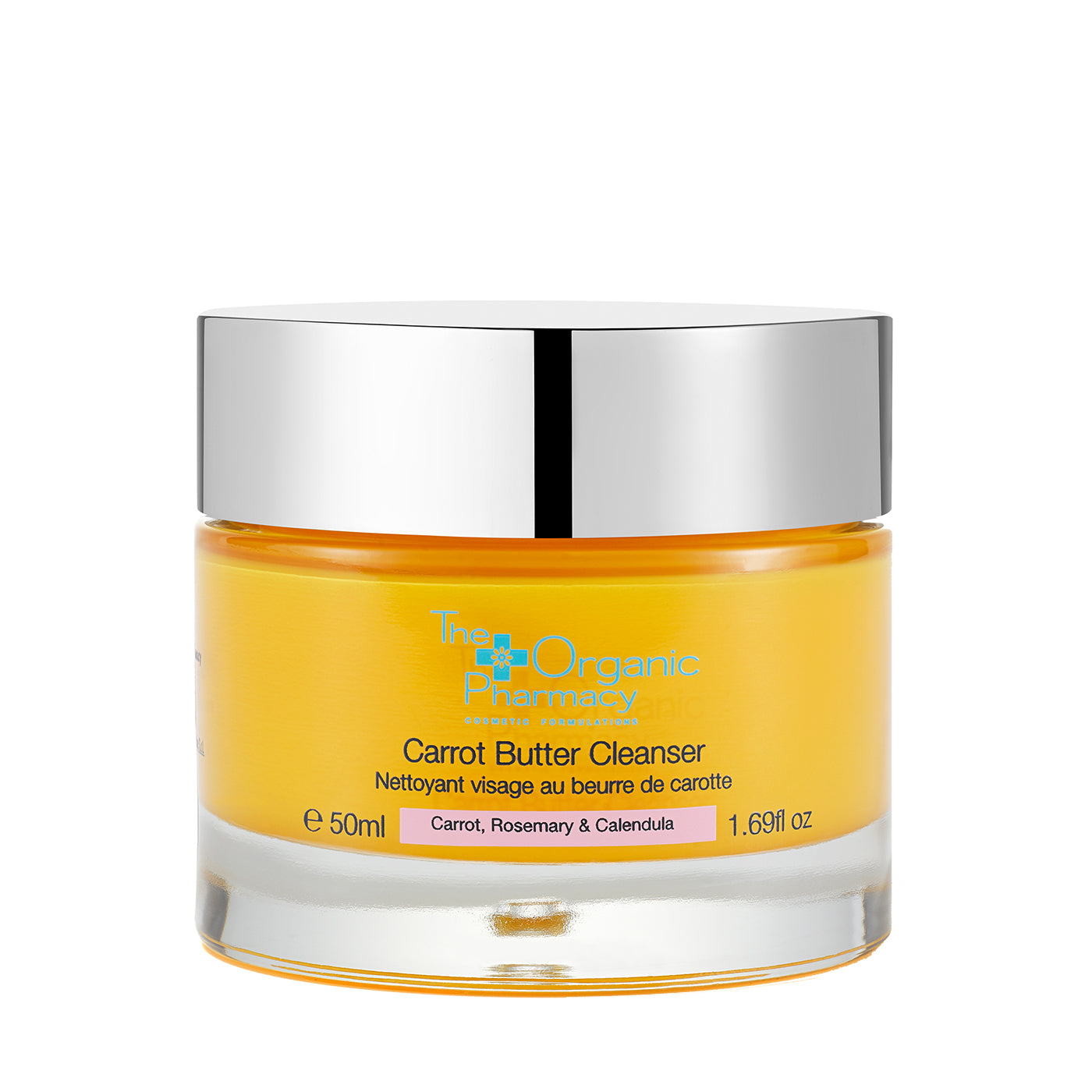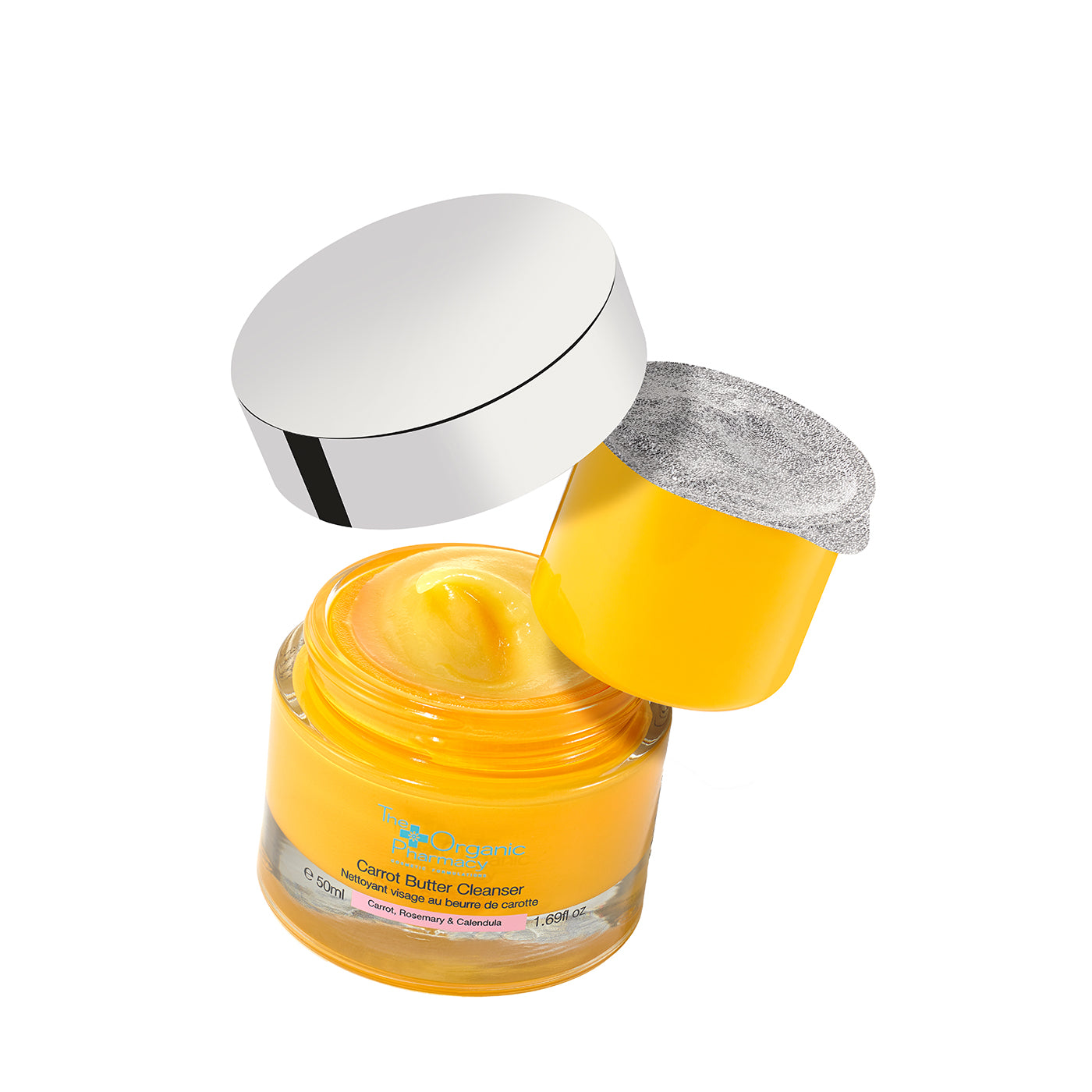 Description
Cult favorite for deep-cleaning all skin types / 1.69 oz (now packaged in a refillable jar)
The Organic Pharmacy's Carrot Butter Cleanser is a favorite of celebrities, beauty editors, and our customers. Why? It effortlessly removes makeup and the most stubborn blackheads, and perhaps most importantly, it will turn your bathroom sink into a spa. Deep cleansing with a dollop of this organic lusciousness will become a ritual you look forward to every day.
This rich, nourishing, beta-carotene-rich cleansing butter was the first product of its kind that Dara ever tried, and it completely converted her to into a cleansing balm fan. Its gorgeous texture melts onto skin, transforming into a silky oil with hints of rosemary, lavender, and flavonoid-rich calendula that encourage you to take your time massaging it over your face.
A jar will last at least three months, so it's definitely worth the splurge. Please use it with the Organic Muslin Cloth, which has the absolute perfect texture, for the full experience — soak the cloth in very warm water, wring it out, and let it sit on your face for a moment to steam before you wipe everything off. For those looking to double cleanse, try following it with Dara's Water if you're looking for a fresher feel on your skin, or The Organic Pharmacy's Peppermint Face Wash if you struggle with acne.
Ideal for all skin types, this best-selling butter relieves dry complexions, respects sensitive ones, and effectively dissolves and sweeps away excess oil, too. (Secret tip: Nothing removes stubborn nose blackheads more effectively than this stuff.)
How to Use
At the end of your day, massage a small amount to dry skin with clean fingertips, taking your time to let the cleanser fully dissolve grime and make-up. Remove with a washcloth or muslin cloth soaked in very warm water. If you have oily or acne-prone skin, follow with a gel-based or foaming cleanser.
Ingredients
- Jojoba is a skin-compatible oil that works to dissolve the hardened oils in your skin that can clog pores
- Carrot is rich in antioxidants and works with other ingredients to soothe skin
- Rosemary decongests for a deeper clean
---
All Ingredients
Jojoba (Simmondsia Chinensis), Shea Butter (Butyrospermum Parkii), Cocoa Butter (Theobroma Cacao), Coconut Oil (Cocos Nucifera), Carrot (Daucus Carrota), Marigold (Calendula Officinalis), St John's Wort (Hypericum Perforatum), Rosemary (Rosamarium Officinale), Sesame Seed Oil (Sesamum Indicum), Vitamin E (Tochopherol), Lavender (Lavandula Officinalis), Chamomile (Anthemis Nobilis), Sunflower Oil (Helianthus Annus), Beeswax (Cera Alba). 95-99% organic.
Jojoba (Simmondsia Chinensis), Shea Butter (Butyrospermum Parkii), Cocoa Butter (Theobroma Cacao)...
See All
"Unlike anything I've used...after using the cleanser and muslin cloth together, my skin felt instantly brighter and much softer."
Amaris