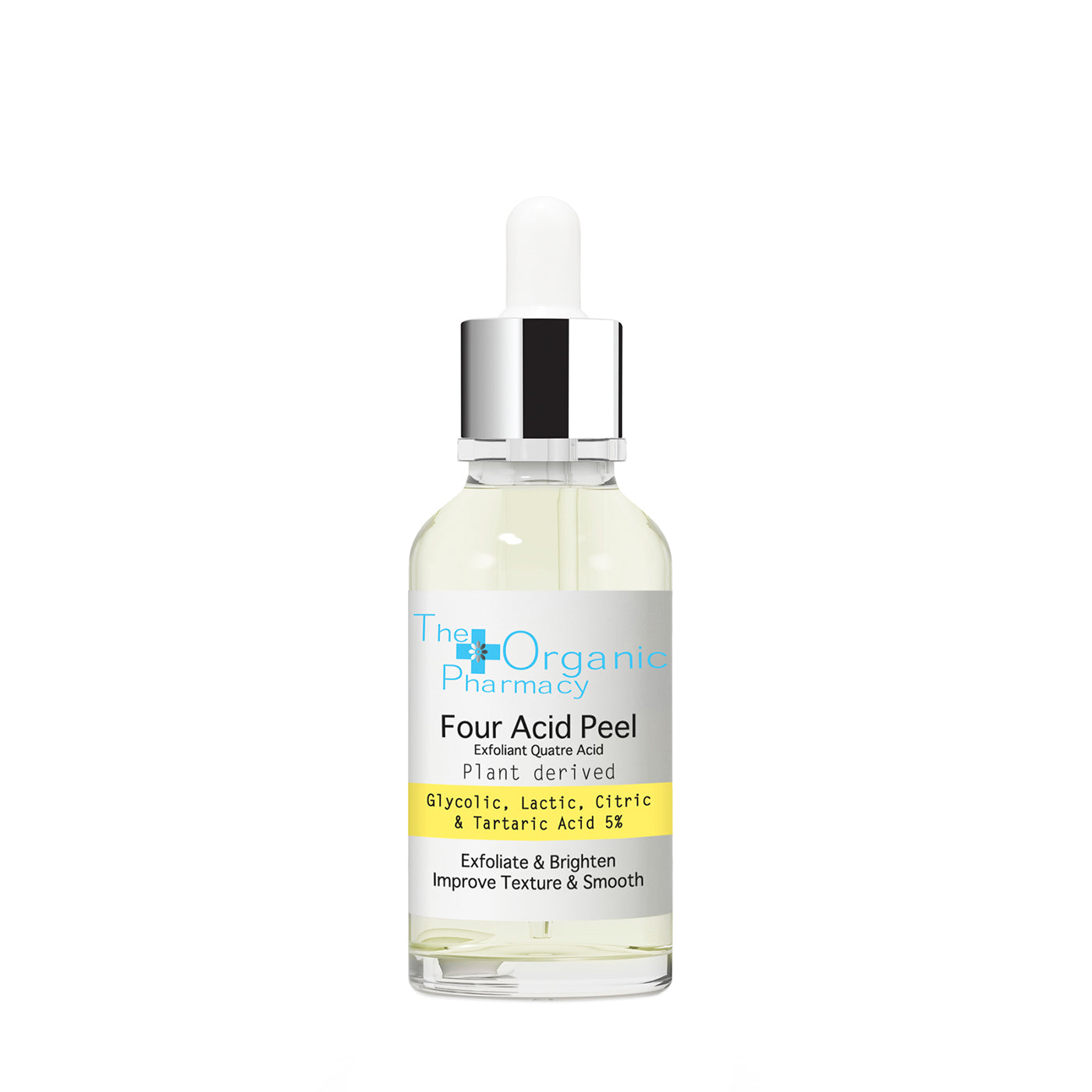 Description
Gentle gel AHA serum for smoother, brighter skin / 1 oz
The Organic Pharmacy Four Acid Peel perfectly and efficiently filled a very specific void on our shelves: we needed a straightforward, effective, yet gentle gel serum that uses alpha hydroxy acids (AHAs) to exfoliate and brighten skin.
Yes, this is very specific, but the reason for this specificity is simple. The right AHAs, in a thoughtful formula, can be a great choice to brighten and smooth even sensitive skin because they'll gently dissolve dead skin cells rather than scrubbing them away or triggering more profound changes. This reveals smoother, brighter skin, quite quickly: an AHA serum, used overnight, will leave you looking fresh-faced the very next morning.  
And here's why we like this particular formula: it combines four different AHAs — glycolic, lactic, malic, and tartaric — at a level of 5% overall for a gentler treatment without compromising on the brightening, smoothing effect, and glycerin and algin keep skin calm and comfortable while the acids go to work.
Anyone can use The Organic Pharmacy's Four Acid Peel, whether you're dry or oily. But it's a special favorite of ours for those in their 20s and 30s looking for a simple, efficacious night treatment, or those of any age looking for a weekly or biweekly treatment to exfoliate and brighten.
PS If you have bumps elsewhere on your body (back of the arms, anyone?), this is often our top pick for those.
How to Use
Apply one full dropper onto damp skin after cleansing and toning. Pat gently over face, neck and décolleté.
Ingredients
- AHA from grape, passionflower, pineapple, and lemon provide a well-balanced, gentle exfoliating effect
- Glycerin and algin help keep skin calm and hydrated
---
All Ingredients
*Hamamelis Virginiana Water, Aqua (Water), *Glycerin, Sodium Lactate, Citrus Medica Limonum Fruit Extract, *Citrus Grandis Peel Oil, Passiflora Quadrangularis Fruit Extract, Alcohol, Passiflora Quadrangularis Fruit Extract, Algin, Ananas Sativus Fruit Extract, Vitis Vinifera Fruit Extract, Dehydroacetic Acid, Benzyl Alcohol, Chondrus Crispus (Carrageenan), Xanthan Gum, Potassium Sorbate, Sodium Bisulfite, Sorbic Acid, **Limonene, **Citral, **Linalool
*Denotes organically produced ingredient
**Natural components of essential oils
90.8% organic
*Hamamelis Virginiana Water, Aqua (Water), *Glycerin, Sodium Lactate, Citrus Medica Limonum Fruit...
See All