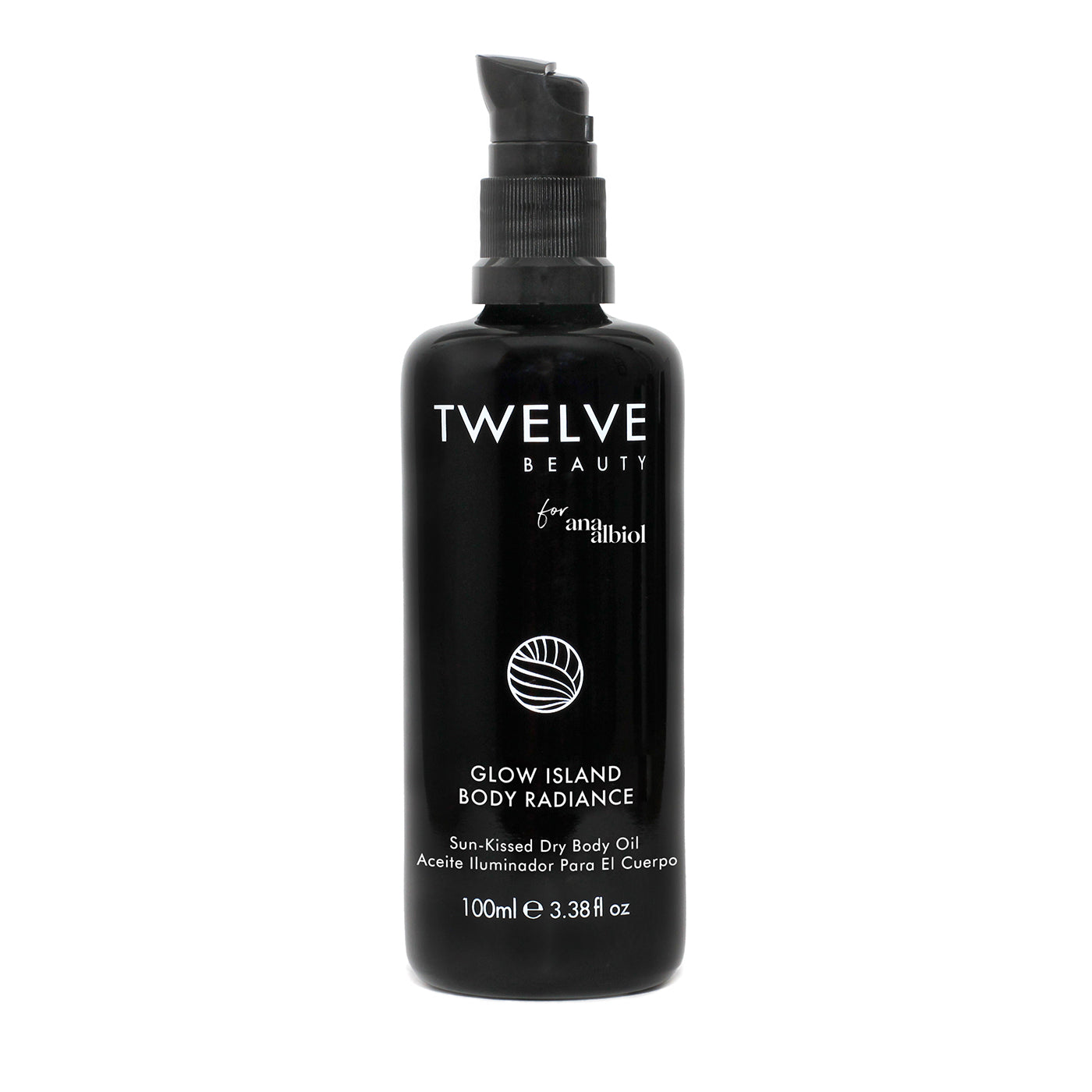 Description
Lightweight body oil for sun-kissed luminosity / 3.4 oz 
TWELVE Beauty Glow Island Body Radiance is a glow-boosting body oil that glides on silky-smooth and absorbs quickly, leaving only glistening, sun-kissed skin in its wake.
In a sea of dry oil cohorts, TWELVE's formula truly stands out for seamlessly blending into skin with nary a trace of residue. Called an "oleogel," the soft, gel-like texture allows for easier absorption, a streak-free application, and a smooth, satiny finish.
Glow Island Body Radiance is not a self-tanner like the original Glow Island for the face, instead going for an immediate, natural, "just got back from vacation at a fabulous eco-luxe resort known only to a select few" glow. Its universally gorgeous golden tint is relatively low-key, designed to enhance skin's natural luminosity rather than adding major color or shimmer. (Fair skins, fear not.)
And creator Pedro Catalá was thoughtful, as always, with his choice of that oleogel texture, which minimizes the risk of staining your clothes; our tester didn't notice any golden glow migrating onto her white sheets, either, much to her delight.
Further delight is delivered by healthy, hydrating nutrients like sunflower seed oil and vitamin E, leaving skin soft, soothed, and nourished. Weight-wise, the formula falls in the light-to-medium range of the body oils on our shelves.
And as a finishing touch, it's fragranced with Orris butter extract, whose green, floral, and woody notes you might recognize from the TWELVE body care range. Pedro says, "In the botanical world, Orris butter represents the triumph of truth over lies," which we find intriguing indeed. Most will find it a subtle, fleeting presence, but one that makes the application process feel extra luxe. 
If you're looking for a summer sheen without the sting, you can't glow wrong with this one. (We know, we know. Had to do it.)
How to Use
Massage a small amount onto your skin where an extra touch of radiance is needed.
Ingredients
- Dicaprylyl ether: Derived from coconut oil, this silky-textured extract is highly moisturizing and has a softening effect on skin. It's the perfect natural alternative to silicone-based ingredients.
- Helianthus Annuus (Sunflower) Seed Oil: A natural triglyceride with a high concentration of both oleic and linoleic acid. Its unique composition means it's very stable, making it a popular skincare ingredient. Provides balanced nutrition thanks to fatty acids and vitamin E.
- Hydrogenated vegetable oil: Derived from vegetables and used as a plant-based gelling agent for oils to increase their absorption rate and sensorial effect.
- Tocopherol: Helps prevent skin damage caused by free radicals and has a highly soothing effect on skin.
- Orris butter extract (parfum): This very sought-after essential oil has a green, floral aroma with mellow woody undertones.
---
All Ingredients
Dicaprylyl Ether, Helianthus Annuus (Sunflower) Seed Oil, Hydrogenated Vegetable Oil, Tocopherol, Mica, Iron Oxides (Ci 77491), Parfum, Titanium Dioxide, Alpha-Isomethyl Ionone.
Dicaprylyl Ether, Helianthus Annuus (Sunflower) Seed Oil, Hydrogenated Vegetable Oil, Tocopherol,...
See All