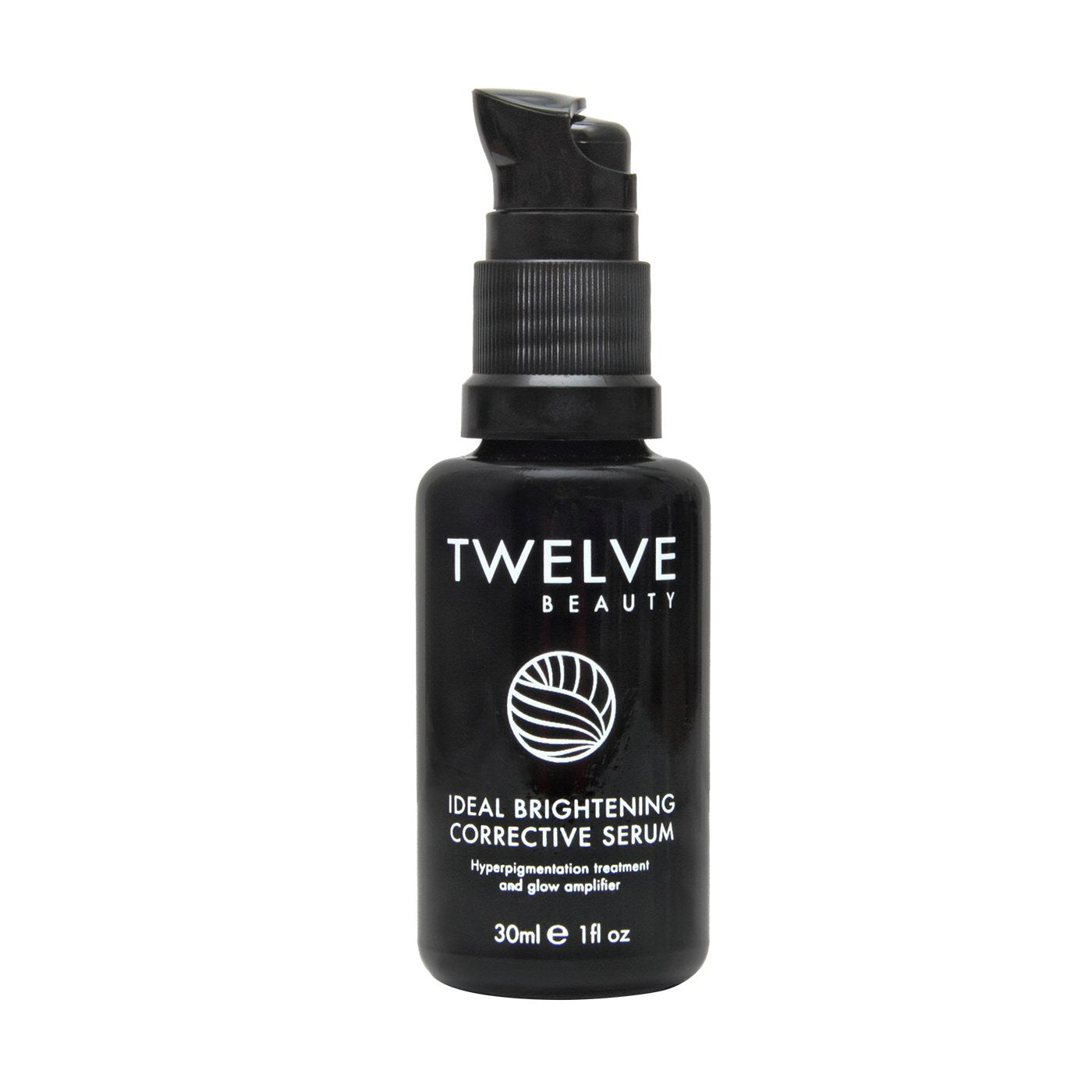 Description
Hydrating, brightening, dark-spot-reducing milky serum / 1 oz
TWELVE Beauty Ideal Brightening Corrective Serum is a must-have product of the brand's creator, Pedro Català — and that's a strong statement, because this guy really knows his stuff. (As beauty editors have mentioned, "What Pedro doesn't know about naturally active skincare isn't worth knowing.")
What makes this such a desert island product for Pedro is the fact that it's the most "complete" formula in the lineup: along with hydrating and moisturizing ingredients, it contains a supermix of botanicals — Mallow, Peppermint, Cowslip, Willowherb, Lady's Mantle, Heath Speedwell, Cucumber, White Genepi, Lemon Balm, Yarrow, Masterwort, Buddleja — chosen for their ability to brighten dull skin.
While we're also partial to the brand's Ideal Moisture Level Serum, we have to agree that this one is just as fabulous, if not even more so – mainly because TWELVE's Ideal Brightening Corrective Serum has been clinically shown to improve brightness and reduce the intensity of dark spots from sun, aging, and acne. The light, milky formula also illuminates, brightens, and evens skin tone – and it's safe for sensitive skin as well as those who are pregnant or nursing (hello, perfect pregnancy-melasma-fighting treatment).
Like the other items in the TWELVE collection, Ideal Brightening Corrective Serum is free from parabens, sulfates, silicones, petrochemicals and glycols. This product is also free of essential oils. Formulated and produced in Spain.
How to Use
It is clinically proven that better prepared skin responds better to a brightening and corrective treatment. After cleansing and toning (Twelve recommends the Purifying Cleansing Beauty Cream to replenish the skin followed by the Ultra Revitalising Elixir to maintain a healthy pH), apply a small amount of the Ideal Brightening Corrective Serum to face and neck. Then moisturize deeply with circular movements using Essential Bio-Technological Moisturiser in the daytime or Nutritive Repair Emulsion in the evening, which also detoxifies and helps to repair the fragile skin structure as you sleep.
Ingredients
- Sodium Hyaluronate creates a permeable film on skin to plump fine lines while, over time, ensuring that it stays elastic and hydrated.
- Yarrow contains compounds that block the key enzyme implied in melanin synthesis, tyrosinase.
- Heath speedwell is packed with iridioids and flavonoids that improve skin's radiance.
- Lady's mantle is high in tannins that help to improve skin's tone.
- Primula brightens the skin in a natural way thanks to its concentration of saponins and flavonoids.
---
All Ingredients
Aqua, Glycerin*, Simmondsia Chinensis Oil*, Cetearyl Alcohol, Glyceryl Laurate, Potassium Cetyl Phosphate, Cucumis Sativus Fruit Extract, Malva Sylvestris Flower Extract*, Sodium Hyaluronate, Mentha Piperita Leaf Extract*, Primula Veris Extract*, Alchemilla Vulgaris Extract*, Veronica Officinalis Leaf Extract*, Melissa Officinalis Leaf Extract*, Achillea Millefolium Extract*, Peucedanum Ostruthium Leaf Extract*, Buddleja Davidii Leaf Extract*, Helianthus Annuus Seed Oil*, Artemisia Umbelliformis Extract*, Tocopherol*, Panthenol , Xanthan Gum, Benzyl Alcohol, Ethanol*, Dehydroacetic Acid. *
Organic ingredients
Aqua, Glycerin*, Simmondsia Chinensis Oil*, Cetearyl Alcohol, Glyceryl Laurate, Potassium Cetyl P...
See All
"It's efficient and effective, more than any other brightening formula, but it's gentle. It's really working overall and on specific spots."
Julie