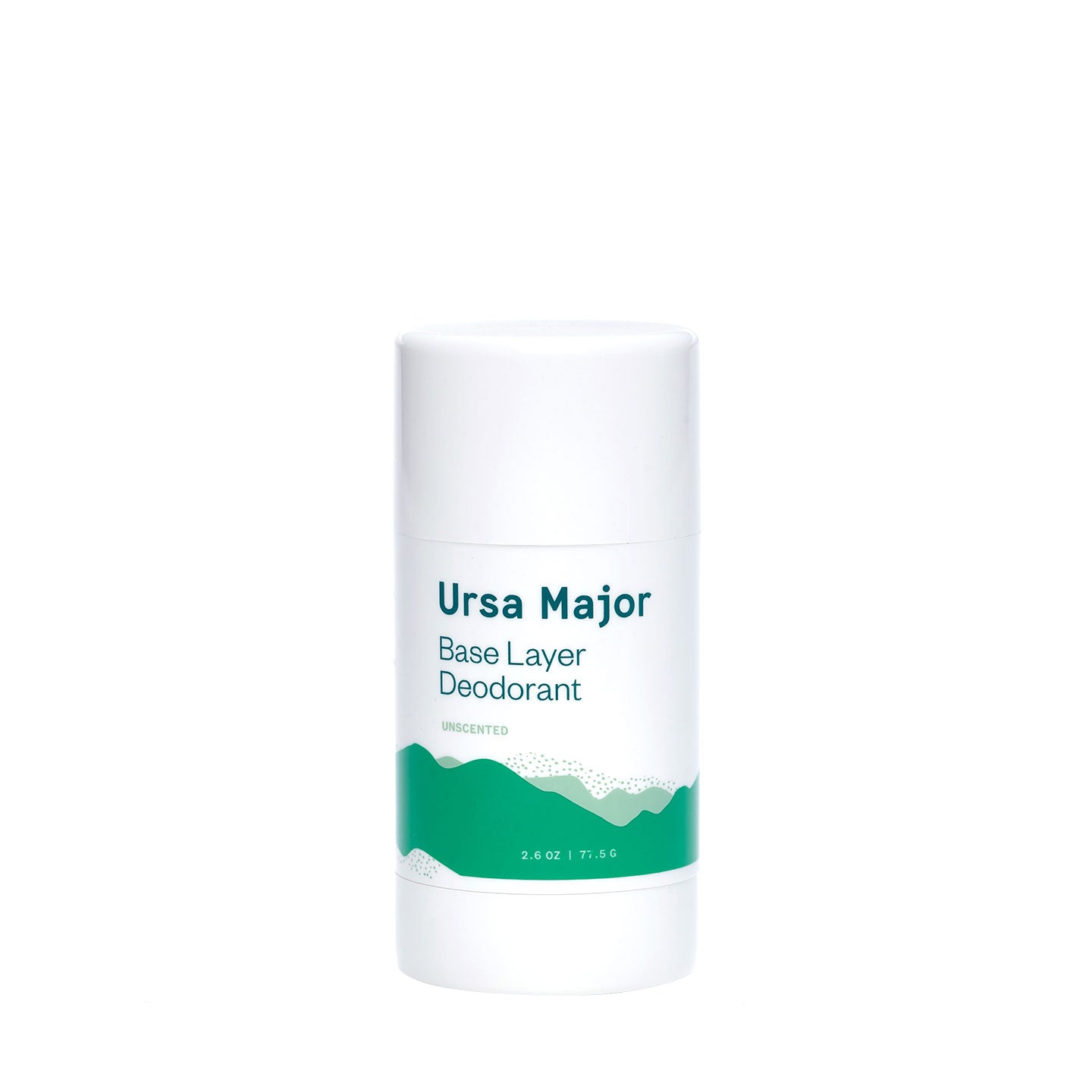 Description
Natural deodorant that delivers — without baking soda or fragrance / 2.6 fl oz 
Ursa Major Base Layer is an unscented, baking soda-free version of the brand's beloved Hoppin' Fresh Deodorant. We've found that those who don't like Hoppin' Fresh are few and far between — but a common thread is that they tend to have particularly sensitive skin that can't tolerate baking soda, peppermint, eucalyptus, or rosemary.
And voilà: Ursa Major tweaked their original formula and created Base Layer, the unscented, baking soda-free version of Hoppin' Fresh. Isn't that nice of them? Those Vermonters are so inclusive. We love it.
We also love their Base Layer creation for its long-lasting odor-eliminating powers (thanks to hops), its ability to absorb excess moisture (thanks to Kaolin clay), and its non-staining formula (thanks to the magical combination of everything). And, of course, the packaging: we know those pots of deodorant paste are becoming more acceptable, but there's something that seems slightly undignified about the process of applying them. Base Layer is the cleanest, most sensitive-skin-friendly formula we've seen in a stick. Thank you, Ursa Major, for preserving the dignity — and freshness — of delicate flowers everywhere. 
If you already love Hoppin' Fresh, give Base Layer a try, but we'll give it to you straight: Hoppin' Fresh will keep you a tiiiiny bit fresher. (Baking soda can be beautiful stuff.)
Ursa Major's clean-as-a-whistle products never contain petrochemicals, sulfates, parabens, synthetic fragrance or color, glycols, silicones or PEGs.  
How to Use
Apply thoroughly to clean, dry skin as often as desired. Enjoy long-lasting protection as you go about your day.
Ingredients
- Hops, which are anti-microbial & anti-bacterial, fight odor
- Kaolin clay absorbs moisture & helps neutralize odors
- Saccharomyces Ferment is an enzyme with odor-absorbing properties
- Aloe soothes sensitive skin
- Matricaria (German chamomile) soothes inflammation
---
All Ingredients
Aloe barbadensis leaf juice*, propanediol, sodium stearate, tapioca starch, saccharomyces ferment, silica, kaolin (clay), glyceryl caprylate, microcrystalline cellulose, glycerin, glyceryl undecylenate, butyrospermum parkii (shea) butter (community trade), tocopheryl acetate, cellulose gum, humulus lupulus (hops) extract, royal jelly extract, citrus medica limonum (lemon) peel extract, calendula officinalis (marigold) flower extract, chamomilla recutita (matricaria) flower extract, panax quinquefolium (ginseng) root extract
* denotes organic
Aloe barbadensis leaf juice*, propanediol, sodium stearate, tapioca starch, saccharomyces ferment...
See All
"I know everyone loves Hoppin' Fresh — but for whatever reason, this is the Ursa Major deodorant that works for me!"
Jasmine