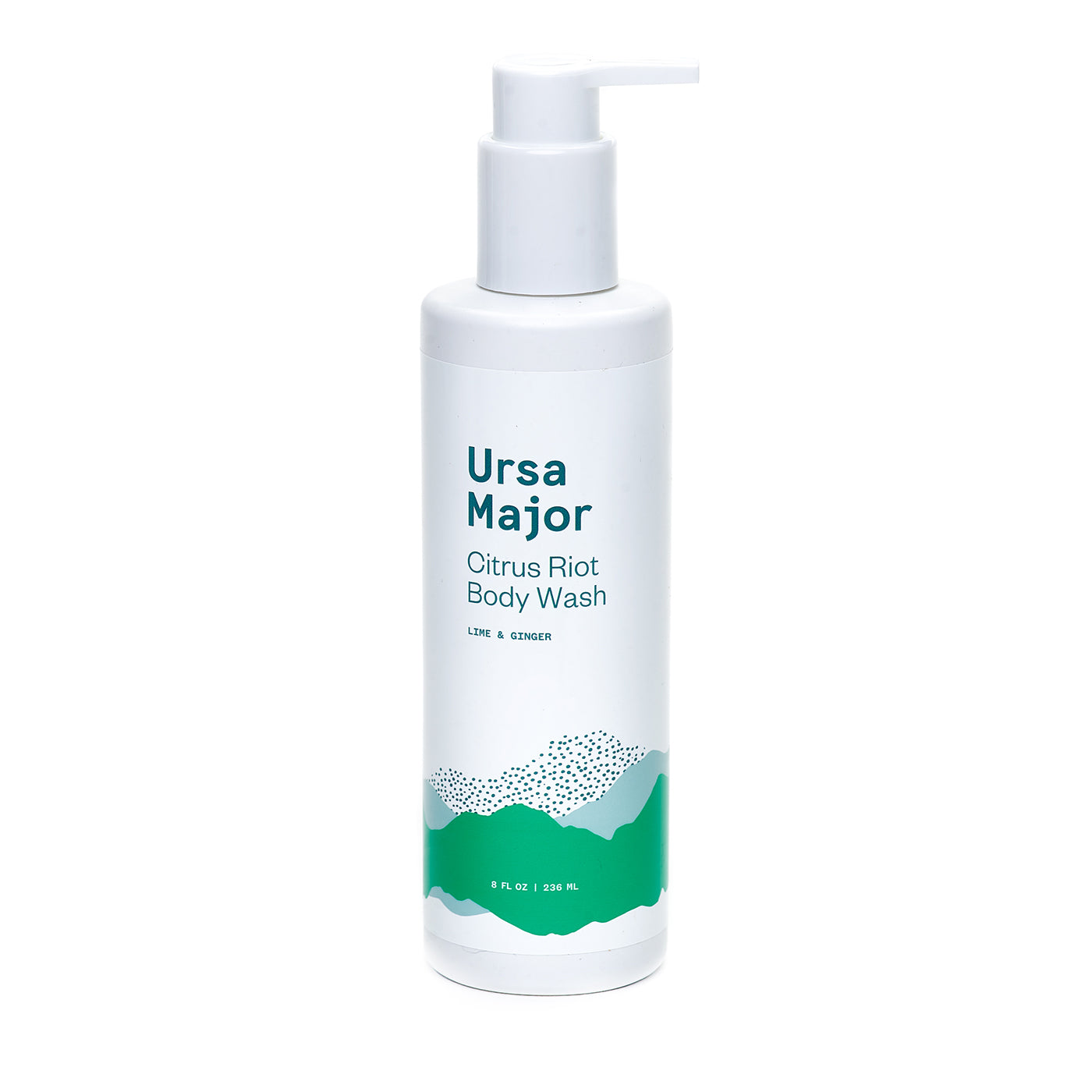 Description
Invigorating, deep-cleansing body wash / 8 oz
When we first saw Ursa Major's citrus Riot Body Wash, we looked at and thought, "Hm, that's nice. But it's a body wash. How interesting could it be?"
All right: If products were people, maybe it wouldn't be The Most Interesting Man In The World. But would certainly be BFF-worthy, because once you start using it, this body wash will become a fixture in your shower. And you'll probably start to panic a little bit once you run low.
As with most Ursa Major products, its humble brilliance comes through in the details. It cleanses thoroughly without drying, which is a difficult combination to find; it also has a wonderfully zingy, bright scent of citrus spiked with ginger and a little woodsy intrigue (cedar and fir). Sort of "zesty-orange-grove-meets-Vermont-cabin-getaway," in the best, most invigorating way.
To get a great lather out of it, rub a nickel-sized amount with some water in your hands.
How to Use
The secret to this product is getting some water in the mix early on to activate the lather; using more product without adding water will actually lessen the amount of lather you get.
1) Pour nickel sized amount (2-3 pumps) into hands and activate with water.
2) Lather up.
3) Zing.
4) Rinse well.
Ingredients
Aloe soothes and hydrates while promoting healthy tissue regeneration

Ginger contains antiseptic and stimulating properties

Grand fir contains anti-inflammatory properties
---
All Ingredients
100% organic: Potassium cocoate, aloe vera leaf juice (aloe barbadensis), glycerin, fir needle oil (pseudotsuga menziesii), lime peel oil (citrus aurantifolia), bergamot peel oil (citrus bergamia), ginger root oil (zingiber offinale), frankincense resin extract (boswellia carterii), vetiver root oil (vetiveria zizaniodes), cedar wood oil (cedrus atlantica).

Highest-grade organic ingredients, sourced wherever possible from family-owned, sustainable growers.
Never any petrochemicals, sulfates, parabens, synthetic fragrance or color, glycols, silicones or PEGs. This product is gluten-free, vegan, and — like all the products on our shelves — cruelty-free.
100% organic: Potassium cocoate, aloe vera leaf juice (aloe barbadensis), glycerin, fir needle oi...
See All
"Bold and citrusy, this lime and ginger-infused body wash is exactly what you need."
GQ