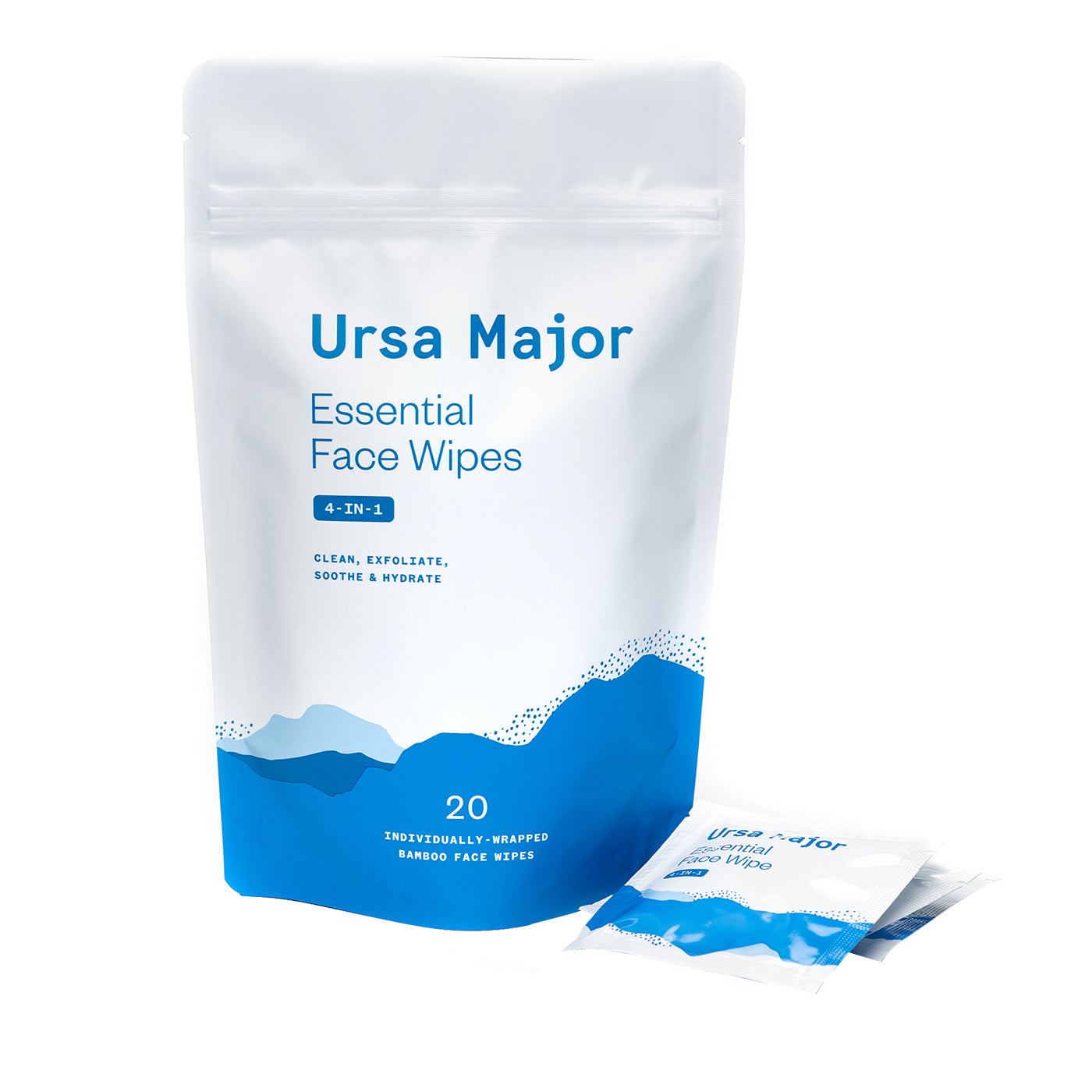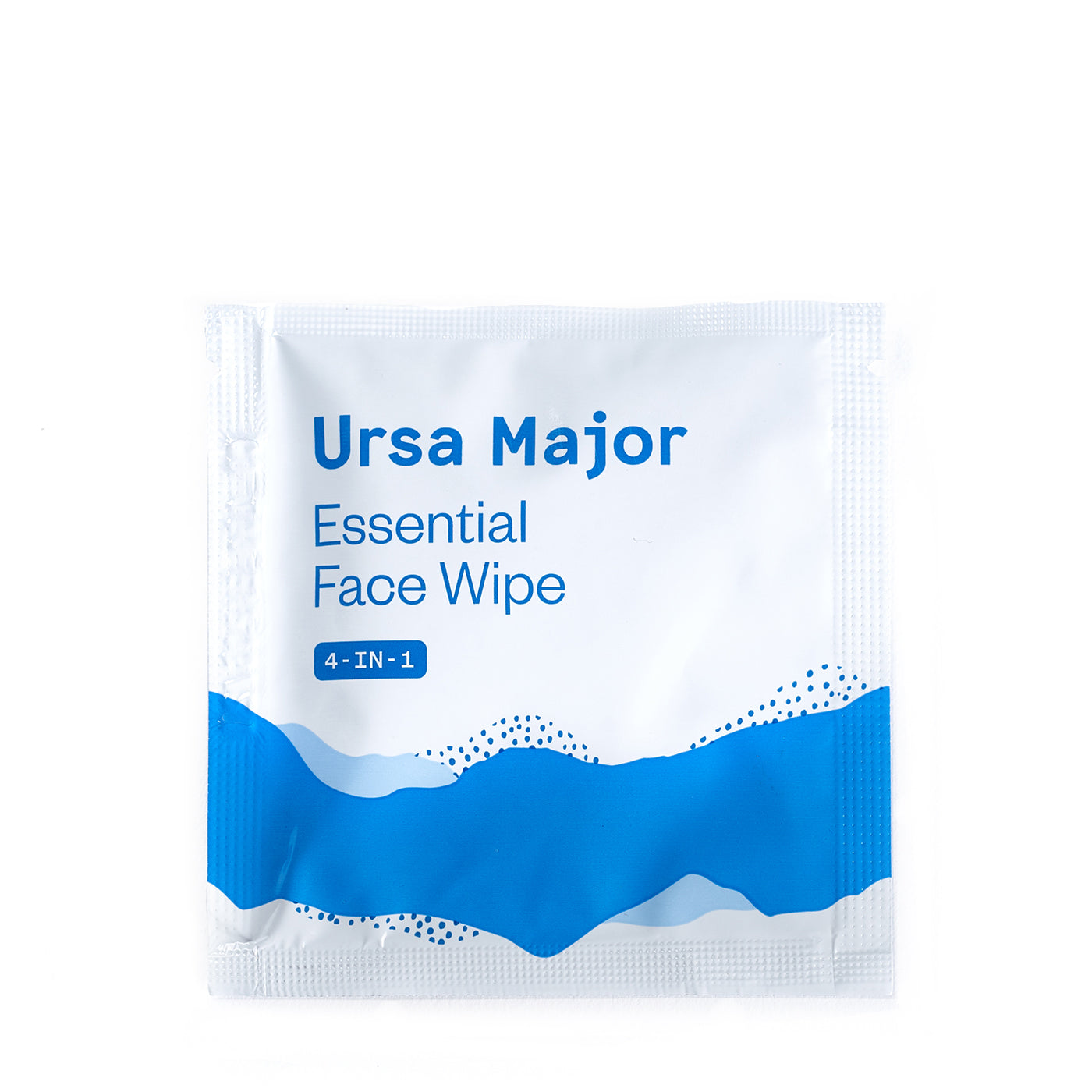 Description
Cleansing, refreshing face wipes / pouch of 20 wipes
These individually-wrapped and substantially-sized bamboo face wipes, infused with a generous dose of Ursa Major's face tonic, are the perfect thing to stash in your handbag, car, gym bag, or carry-on for a quick refresh. They perform four functions: cleansing, exfoliating, soothing, and hydrating. Skin is left feeling fresh, clean, and comfortably invigorated.
"Nice…but how might one actually use these?" we asked ourselves when we first got our samples from the good people at Ursa Major. We know Gwyneth uses them when she's "on the go," but we're not sure exactly what that means since we imagine she's always on the go. Here's what we found after a month of testing:
1. They're the perfect thing to use before exercising if you want to remove light makeup
2. They're also the perfect thing to use after a workout
3. They're a great "reboot" after a long day at the office
4. They're indispensable travel companions (instantly remove plane/train grime so that you look fresh as a daisy upon arrival)
Well, OK then. They're what you use when you're on the go.
Oh: And if you ever feel too lazy to wash your face, they're your answer. (That's a lot of you. We know your secrets. And we love you for them.)
How to Use
Wipe thoroughly across your forehead, face, neck and ear area.
Ingredients
Aloe soothes & hydrates while promoting healthy tissue regeneration

Witch hazel contains anti-inflammatory & astringent properties (tightens/shrinks pores)

Willow bark extract soothes & conditions; natural source of beta hydroxy acid (exfoliator & acne fighter)
---
All Ingredients
Aloe vera leaf juice (Aloe barbadensis)*, Water/aqua/eau, Witch hazel leaf water (hamamelis virginiana), Willow bark extract (salix nigra), Rosemary leaf/flower water (rosmarinus officinalis), Leuconostoc/radish root ferment filtrate, Sodium hyaluronate, Glycerin*, Sugar cane extract (saccharum officinarum), Lemon extract (citrus medica limonum), Orange fruit extract (citrus aurantium dulcis), Apple fruit extract (pyrus malus), Green tea leaf extract (camellia sinensis), Rice seed extract (oryza sativa)*, Birch sap (betula alba), Lactobacillus, Bamboo ferment filtrate (arundinaria gigantea), Caprylyl/capryl wheat bran/straw glycosides, Fusel wheat bran/straw glycosides, Polyglyceryl-5 oleate, Sodium cocoyl glutamate, Glyceryl caprylate, Olive leaf extract (olea europaea), Fir needle oil (pseudotsuga menziesii), Lavender flower oil (lavandula angustifolia)*, Rosemary leaf oil (rosmarinus offinalis), Geranium leaf/flower oil (pelargonium graveolens)*, Frankincense resin extract (boswellia carterii), Alcohol denatured*
*Organic
Highest-grade natural ingredients (99.9% natural, 53% organic), sourced wherever possible from family-owned, sustainable growers.

Wipe substrate: 100% bamboo fiber - biodegradable

Ursa Major's clean-as-a-whistle products never contain petrochemicals, sulfates, parabens, synthetic fragrance or color, glycols, silicones or PEGs.
Aloe vera leaf juice (Aloe barbadensis)*, Water/aqua/eau, Witch hazel leaf water (hamamelis virgi...
See All
"When I'm on the go, I use Ursa Major face wipes."
Gwyneth Paltrow, as told to The New York Times