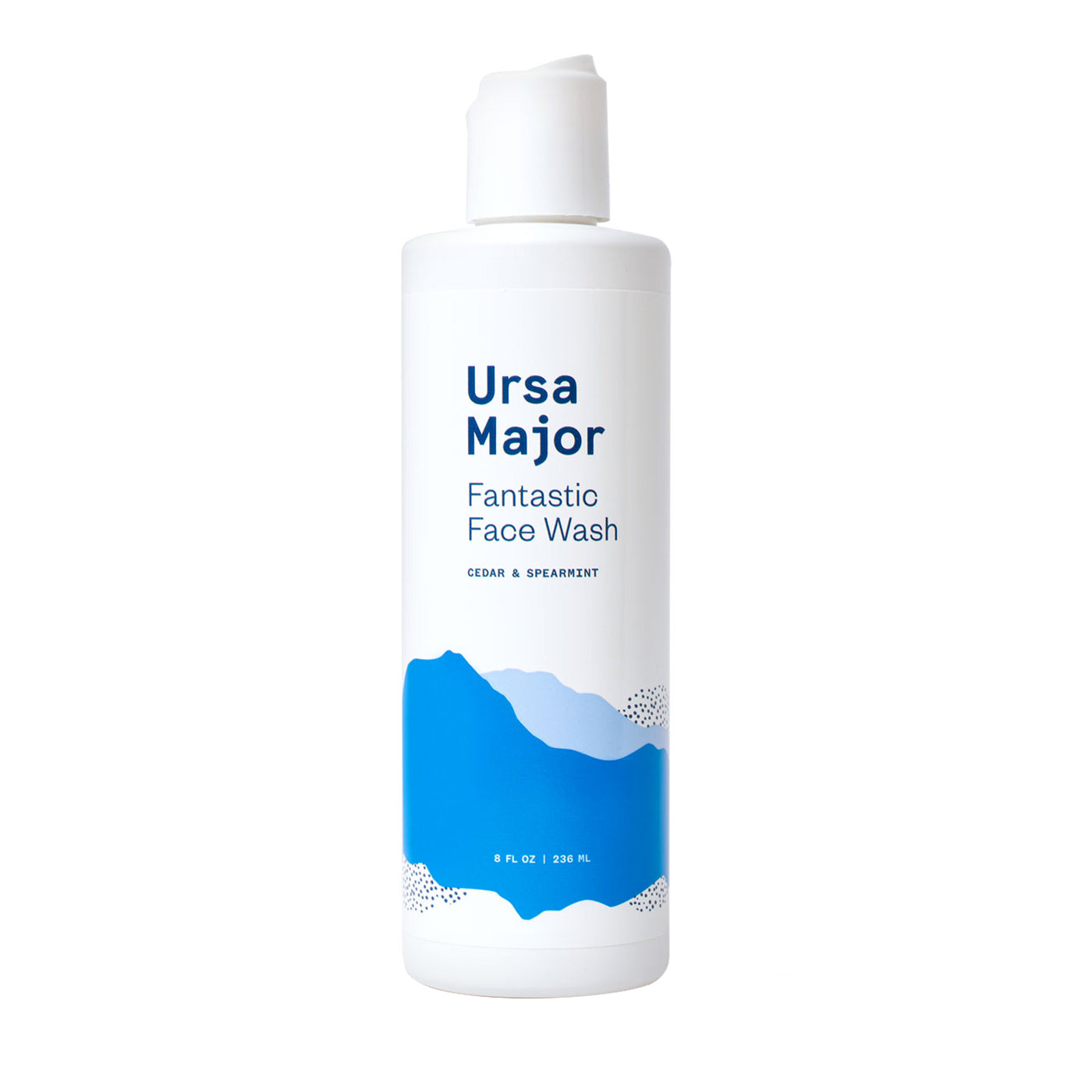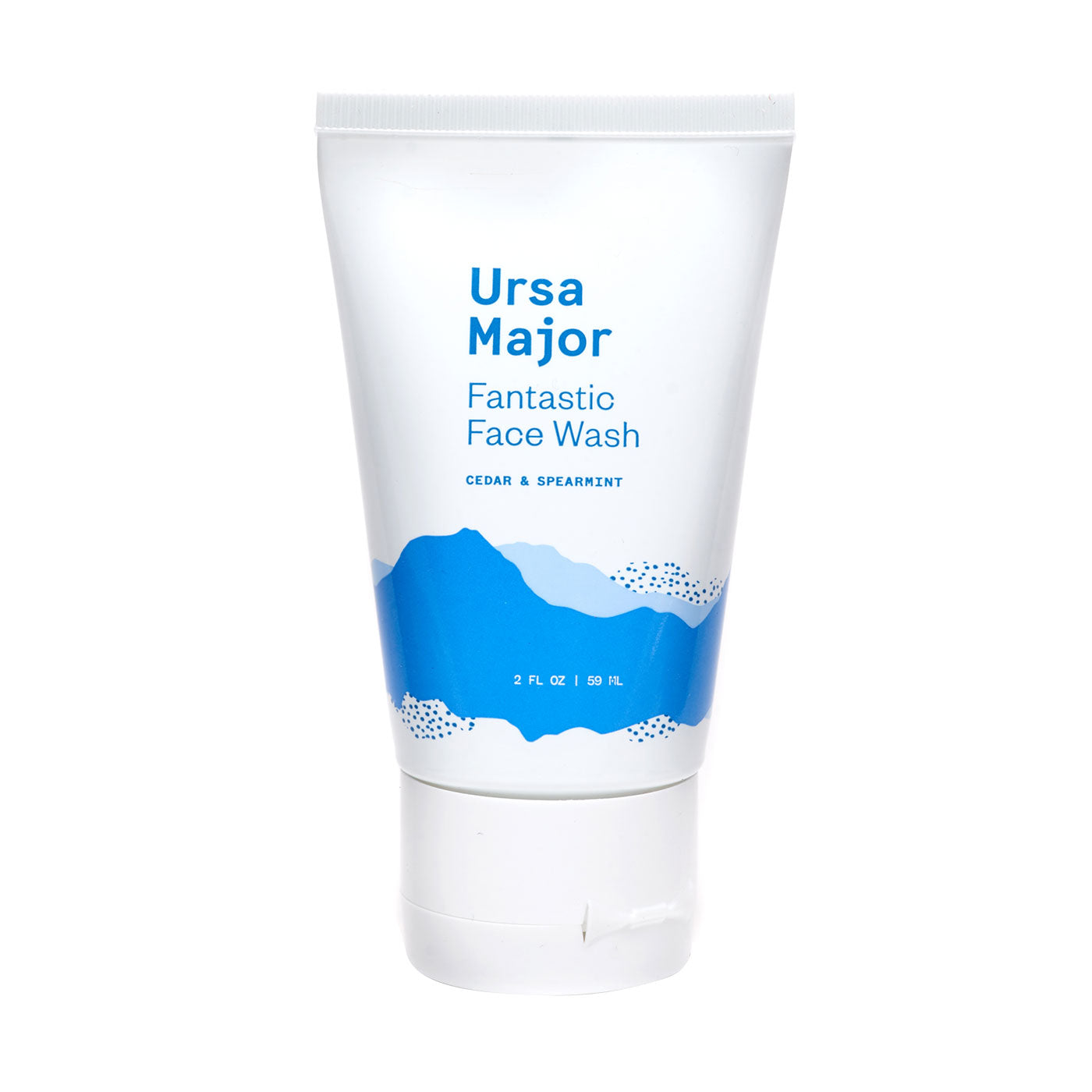 Description
Foaming, deep-cleansing gel / 8 oz full size & 2 oz travel size
Ahh, we love this cleanser. And if you like a deep-cleaning, exuberantly refreshing face-washing experience, you will, too.
It's exactly what one might think of as the perfect post-workout cleanser: a foaming gel that exfoliates, deep cleans, unplugs pores, and washes away dirt and residue without stripping your skin. It leaves you feeling wonderfully clean and fresh. And we love its unisex blend of essential oils that include spearmint, lemon, rosemary, cedar, verbena, and owyhee (we had to look that one up, too — it's similar to Roman Chamomile). Like many of Ursa Major's products, there's something of a Vermont-cabin-getaway aspect to it.
Ideal for Balanced to Oily skin types. And perfect for couples that include at least one male: it's suitable for both men and women, and the 8 oz bottle is gloriously large enough so that you won't have to fight over it or stash it in the back of the medicine cabinet.
How to Use
Wet face and hands with warm water. Pour a quarter-sized dose into palm and use hands to activate formula. Massage thoroughly over face and neck; leave on for 30-60 seconds for extra exfoliation. Rinse well.

Use AM, PM and after exercise for clear, healthy skin.
Ingredients
- Aloe soothes & hydrates while promoting healthy tissue regeneration
- Sugarcane reduces oil & fights acne; it's a natural source of exfoliating alpha hydroxy acids
- Lemon extract boasts astringent properties to tighten/shrink pores
---
All Ingredients
Aloe vera leaf juice (Aloe barbadensis)*, Lauryl glucoside, Coco-glucoside, Sodium cocoyl glutamate, Sodium lauroamphoacetate, Inulin, Glyceryl laurate, Sodium lauroyl glutamate, Xylitylglucoside, Anhydroxlitol, Xylitol, Rice seed extract (oryza sativa)*, Sugar Cane extract (saccharum officinarum), White tea leaf extract (camellia sinensis)*, Lemon extract (citrus medica limonum), Orange fruit extract (citrus aurantium dulcis), Apple fruit extract (pyrus malus), Green tea leaf extract (camellia sinensis), Black spruce needle oil (picea mariana), Fir needle oil (pseudotsuga menziesii), Rosemary leaf/flower water (rosmarinus officinalis), Lavender flower water (lavandula angustifolia), Pink grapefruit peel oil (citrus paradisi), Lime peel oil (citrus aurantifolia), Owyhee leaf oil (artemisia ludoviciana), Cedar wood oil (juniperus virginiana), Blue tansy flower oil (tanacetum anuum)*, Spikenard root (nardostachys chinensis), Vetivert root oil (vetiveria zizanioiedes), Spearmint leaf oil (mentha spicata), Sodium phytate, PCA glyceryl oleate, Citric acid, Gluconolactone, Sodium benzoate
*Organic
Aloe vera leaf juice (Aloe barbadensis)*, Lauryl glucoside, Coco-glucoside, Sodium cocoyl glutama...
See All
"After each wash, my skin felt 'squeaky' clean, literally, but in a great way. And a little went a long way. With a dime size of product, I was able to wash my entire face, neck and behind my ears."
Tim