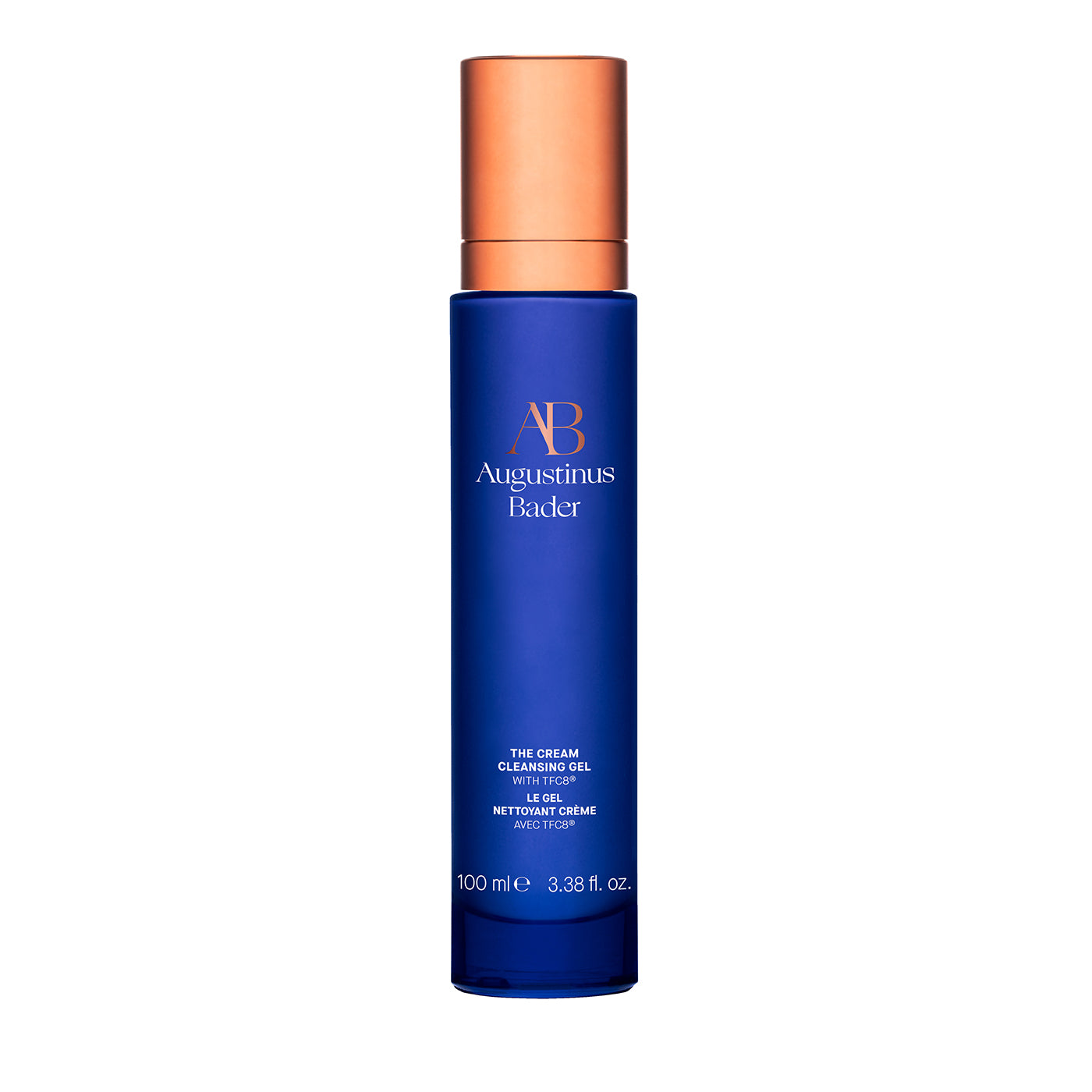 Description
Super-efficient, super-clean cleanser  / 3.38 fl oz

Augustinus Bader The Cream Cleansing Gel is one of those products we brought onto our shelves by popular demand, realizing a bit belatedly what all the fuss was about. ("Fuss" referring to breathless reviews like Who What Wear's "Genuinely the most perfect cleanser" and Vogue's "A really, really brilliant cleanser.")

Here's why that realization was belated: The Cream Cleansing Gel is unlike most of the cleansers on our shelves in that it leaves skin feeling squeaky-clean. This isn't typically what we look for, but we realize that some of you absolutely love that feeling, especially during warmer months or in more humid climates. So, while it wouldn't be our suggestion for those of you with dry skin, it might be just the thing if you a) like a very clean feeling after you wash your face, and/or b) you're looking for an efficient companion for The Cream or The Rich Cream to keep your routine streamlined but still fabulously power-packed.

And what we find wonderful about it is that it removes everything — makeup, waterproof mascara, mineral sunscreen — in one go, with admirable efficiency. Along with Bader's secret TFC8 blend, the formula features rosewater, cucumber extract, and aloe leaf juice to soothe as it cleans. So, while you will get that super-clean feeling after rinse-off, it'll keep your skin feeling comfortable and calm, and it has some impressive user trials to back up that claim (98% of its 55 testers reported that their skin felt calm and soothed after using it).

Like the TFC8 blend, The Cream Cleansing Gel's name is a little bit mysterious until you first use it: it does indeed look like a cream, but it lathers subtly on damp skin, and then rinses off like a gel. So that's one mystery solved — but many mysteries about this brand with a wild cult following remain, and in a world where it seems as though there aren't many mysteries left, we wonder if that might be part of its appeal. (Example: we vaguely recall watching a video clip of Professor Bader saying something like, "Eat a lot of carrots!" when pressed for additional skincare secrets. Could he be more fascinating?) Mystery, especially when it's backed up with solid data, can be incredibly alluring these days.

PS If you're still mulling it over, try our Custom Sample Service.
100% free of parabens, fragrance, SLS, SLES, DEA, heavy metals, talc, and petrolatum/paraffin/mineral oil.
How to Use
Apply over damp skin. Gently massage in circular motions to form a lather. Rinse thoroughly with warm water.
Ingredients
- TFC8®: A complex of natural amino acids, high-grade vitamins and synthesized molecules naturally found in skin, which guides key nutrients and powerful natural ingredients to the skin cells, creating an optimal environment for the body's innate processes of repair and renewal.
- Rose Flower Water: This organic flower water is known primarily for its purifying and astringent properties. It helps tone and refine the skin, while strengthening its natural defenses against free radical damage. Its regenerative properties help to prevent the appearance of wrinkle and smooth the skin for a clearer complexion.
- Cucumber Extract: This skin superfood, high in proteins, lipids, Vitamin C, and a variety of minerals, possesses moisturizing and emollient properties. It also has an astringent effect, and helps to calm stressed skin.
- Aloe Vera Leaf Juice: This powerful humectant is rich in polysaccharides, which give it its hydrating, soothing emollient benefits, while creating a protective barrier on the skin. It is also high in antioxidants to help prevent damage from environmental aggressors.
---
All Ingredients
Aqua (Water), Glycerin, Prunus Amygdalus Dulcis (Sweet Almond) Oil, Rosa Damascena Flower Water, Disodium Cocoyl Glutamate, Coco Glucoside, 1, 2– Hexanediol, Xanthan Gum, Citric Acid, Sodium Chloride, Carrageenan, Coconut Acid, Alcohol,Tocopheryl Acetate, O–cymen–5–ol, Cholesterol, Cucumis Sativus (Cucumber) Fruit Extract, Helianthus Annuus (Sunflower) Seed Oil, Hydrogenated Lecithin, Tocopherol, Alanyl Glutamine, Aloe Barbadensis Leaf Juice Powder, Arginine, Ceramide Ng, Ceramide Np, Glycine, Lysine, Oleic Acid, Palmitic Acid, Phenylalanine, Proline, Scenedesmus Rubescens Extract, Brassica Alba Oil, Disodium Edta, Oligopeptide–177, Phenoxyethanol, Sodium Ascorbate, Sodium Hydroxide
Aqua (Water), Glycerin, Prunus Amygdalus Dulcis (Sweet Almond) Oil, Rosa Damascena Flower Water,...
See All