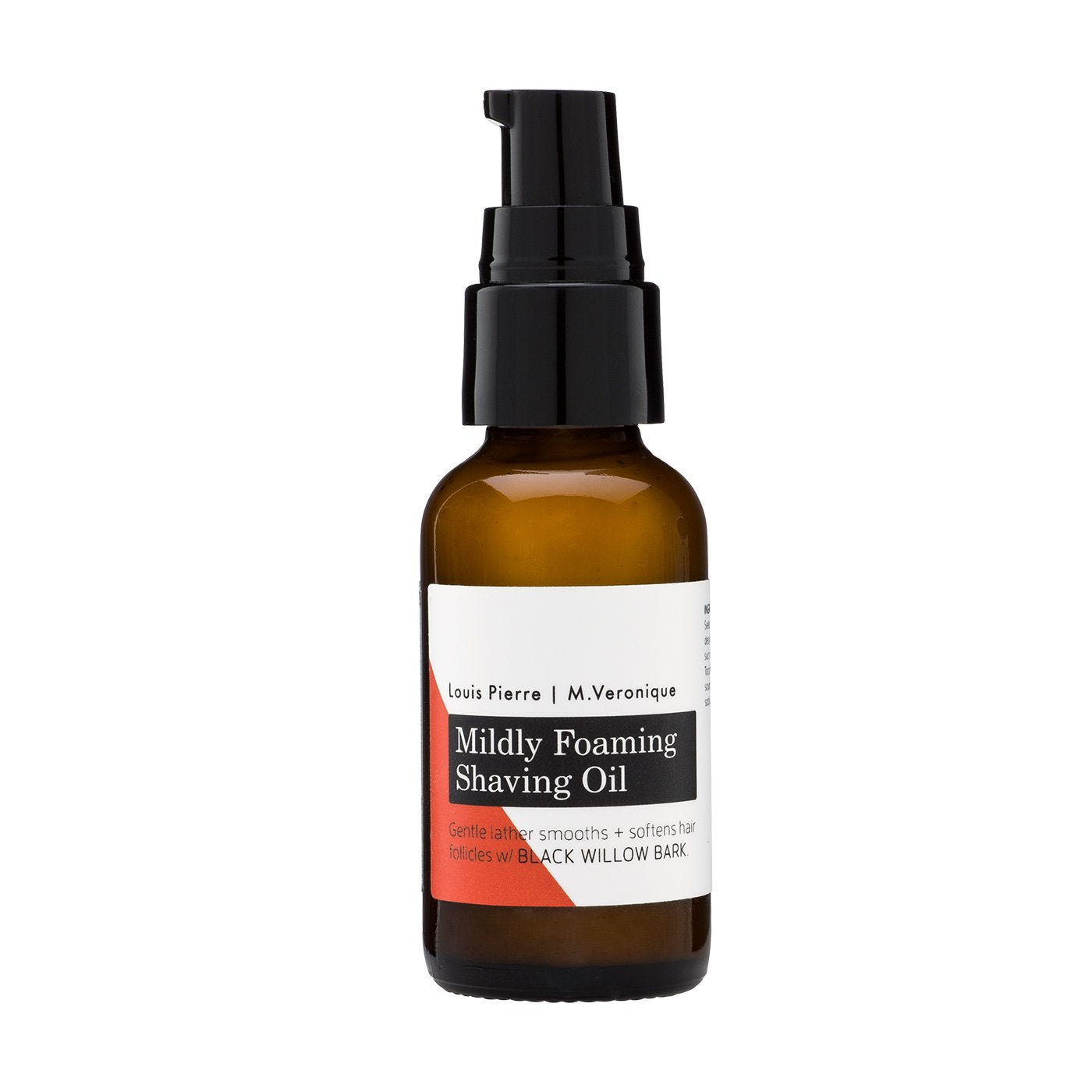 Description
Gently lathering shaving oil for a super-smooth shaving surface / 1 oz 
Marie Veronique's Louis Pierre Mildly Foaming Shaving Oil is the one product we've seen that we think actually could convince people to finally kick those cans of foamy shaving stuff to the curb. As Marie Veronique put it, "We wanted to create a safer foamy shaving experience for men," and this formula is as clean as can be. Those usual shaving foams? Not so much. 
Now, it is different: the name "Shaving Oil" might have tipped you off. But it still provides a nice, light lather (not fluffy white clouds of it, mind you, but enough so that you'll easily figure out where you've shaved and where you haven't), and it creates a smooth shaving surface thanks to hair-softening willow bark extract and sunflower seed oil, which thins skin's natural sebum and ensures a smooth application.
Those who shave with straight edge razors are huge fans since they can see the blade more easily, but we've found that those using traditional razors are equally enthusiastic. One of the things we love most about this product is that, unlike typical shaving foams, it truly helps keep skin hydrated and free of irritation, razor bumps, and razor rash. Our male testers took a day to get used to it and then never looked back.
How to Use
Cleanse to prep skin. Shake well. Dispense 1-2 pumps into palms and spread over area to be shaved. Slowly add water to create lather. Rinse with water to remove.
Keep in a cool, dry place, out of direct light. Use within 6 months of opening.
Ingredients
WILLOW BARK is a beta hydroxy acid that decongests pores by dissolving compacted sebum and other debris in cells.
SUNFLOWER SEED OIL: Crucial to proper barrier function, this polyunsaturated fat is high in omega 6 essential fatty acids which thin sebum and ensure a smooth application to the skin's surface.
DECYL GLUCOSIDE is a gentle non-ionic surfactant that creates suds without sulfates. Non-irritating to even sensitive skin types.
---
All Ingredients
Carthamus Tinctorius (Safflower) Seed Oil, Helianthus Annuus (Sunflower) Seed Oil, Decyl Glucoside, Salix Nigra (Willow) Bark Extract, Sucrose Cocoate, Cocamidopropylamine Oxide, Mixed Tocopherols, Cucumis Sativus (Cucumber) Fruit Extract, Sodium Chloride

Microbiome-friendly

Fragrance + essential oil free
Carthamus Tinctorius (Safflower) Seed Oil, Helianthus Annuus (Sunflower) Seed Oil, Decyl Glucosid...
See All
"I gave it to my dad, who was a Gillette guy, and he says he's getting a better shave — and his hands smell good!"
Heather