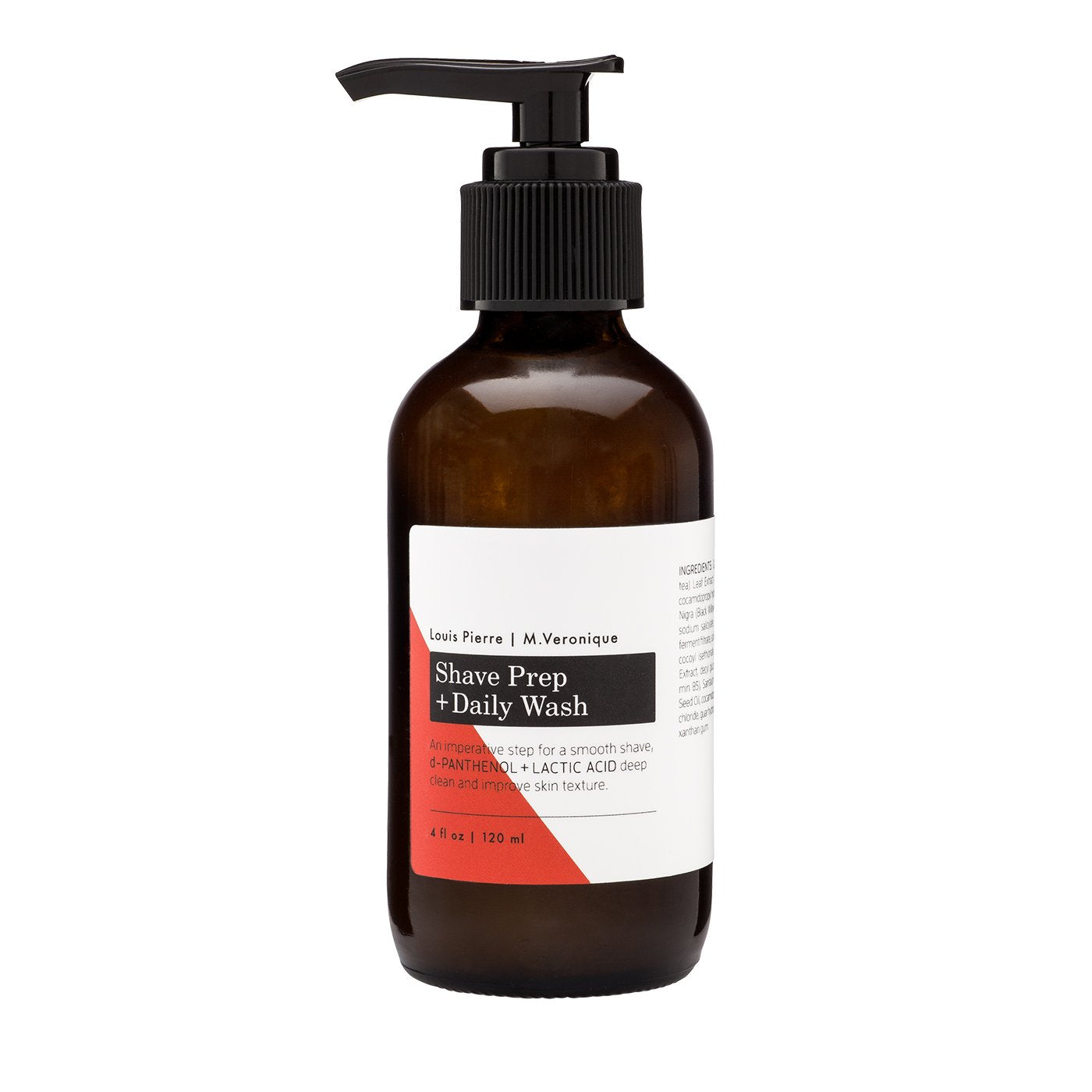 Description
Lightly foaming daily cleanser with lactic acid and willow bark / 4 oz full size
Marie Veronique's Louis Pierre Shave Prep + Daily Wash might be something that you all decide to snap up, male or female.
It's a deliciously foamy, creamy, exfoliating cleanser (by the way, we LOVE creamy exfoliating cleansers) that's designed to provide an effective but gentle daily wash while prepping the skin for a closer and more comfortable shave. The fragrance free formula, which smells delightfully like just plain soap, features lactic acid (AHA) to exfoliate for fresher-looking, less congested skin, while willow bark (BHA) penetrates deeply into pores to soften hair follicles. We were actually a little surprised at its foaminess — "how very unlike Marie Veronique," we thought — but learned that it's been designed specifically for men's oilier, thicker skin, which can use a little foam. At the same time, it won't disturb skin's lipid barrier, so you get the best of both worlds.
And guess, what, ladies? You can use it, too. It's a great cleanser to alternate with a gentler, non-foaming option: use this one when you're feeling particularly grimy or you have a thick layer of sunscreen you're trying to get off. And due to its AHA/BHA combination, it's also lovely to use on areas where you might have blemishes, ingrown hairs, or bumpy skin. (PS You can use it over the whole body. Backne, begone.)
How to Use
Shake well. Dispense one half to one pump into palms and spread over face/neck (and body, if using in shower). Slowly add water to create foam and massage into skin (1-2 min). Rinse thoroughly and pat skin dry.
Hot tip for men with beards: Keep this in the shower so you can get a cleaner rinse. And use your fingertips to massage it in while cleansing!

Keep in a cool, dry place, out of direct light. Use within 6 months of opening.
Ingredients
LACTIC ACID is an alpha-hydroxy acid (AHA) that exfoliates while increasing the production of natural ceramides to hold in moisture.
PRO-VITAMIN B5 promotes wound healing, helps restore damaged epithelium, reduces itching and inflammation, improves skin hydration, reduces transepidermal water loss and improves rough texture.
ALGAE EXTRACT boasts micronutrients and trace minerals that soothe the skin and nourish the root of the hair follicle.
COCAMIDOPROPYL HYDROXYSULTAINE is an amphoteric surfactant that increases viscosity without irritating skin.
---
All Ingredients
Camellia Sinensis (Green Tea) Leaf Infusion, Caprylyl/Capryl Glucoside, Water, Salix Nigra (Willow) Bark Extract, Lactic Acid Extract, Sodium Salicylate, Leuconostoc/Radish Root Ferment Filtrate, Sodium Coco-Sulfate, Sodium Cocoyl Isethionate, Decyl Glucoside, Santalum Spicatum (Sandalwood) Seed Oil, Cocamidopropyl Hydroxysultaine, Panthenol (Provitamin B5), Glycerin, Laminaria Digitata (Algae) Extract, Cocamidopropylamine Oxide, Sodium Chloride, Guar Hydroxypropyltrimonium Chloride, Xanthan Gum

Microbiome-friendly

Fragrance + Essential Oil Free
Camellia Sinensis (Green Tea) Leaf Infusion, Caprylyl/Capryl Glucoside, Water, Salix Nigra (Willo...
See All
"I use this in the shower. It has a nice, earthy, but not overpowering aroma. I tend to have dry skin, and even though it deep cleanses, it doesn't strip and has a great, light foam."
Heather