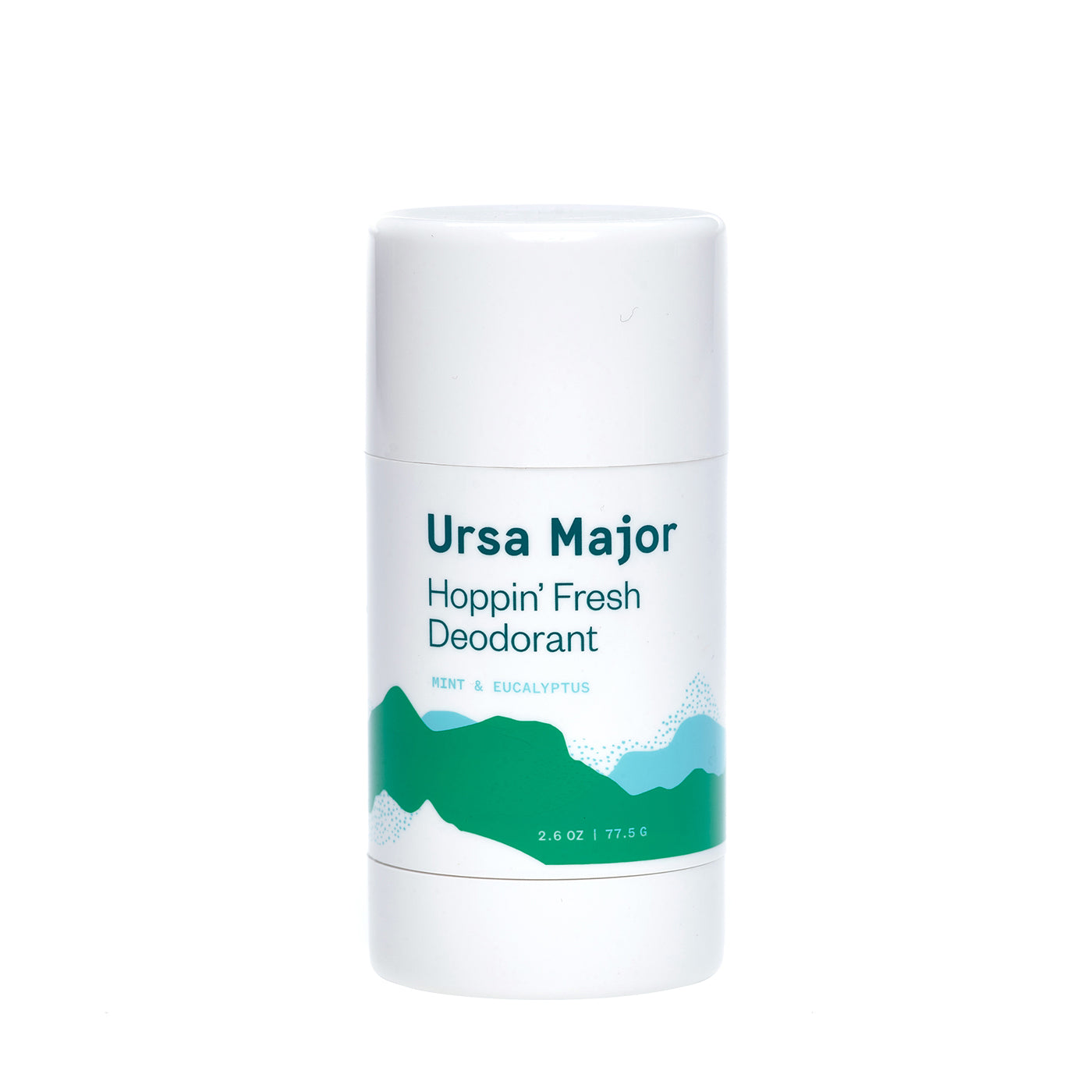 Description
Natural deodorant that truly delivers / 2.6 fl oz 
Ursa Major Hoppin' Fresh Deodorant was the first deodorant we ever added to our shelves, and it's still one of our very favorites.
We stress-test every product we sell, so for this one, we asked a self-described "very smelly person" who has diligently tried most every deodorant on the shelves at Whole Foods and natural beauty stores — to no avail — to use it for a month. Her verdict: a very, very enthusiastic two thumbs up. And it's not just her: this runaway hit has won such accolades as "Hands down, the best. One. Yet" from highly regarded beauty and fitness editors.
While it won't stop sweat in its tracks — nothing that would largely be considered "non-toxic" will — it thoroughly eliminates underarm odor for 24 hours, helps absorb excess moisture, and keeps even sensitive and freshly-shaved skin feeling comfortable and cool. This formula features a subtle, crisp, and unisex scent of eucalyptus, ginger, rosemary, grapefruit, chamomile, and lemon — and it's non-toxic, aluminum-free, and non-staining. 
Ursa Major's clean-as-a-whistle products never contain petrochemicals, sulfates, parabens, synthetic fragrance or color, glycols, silicones or PEGs.  
How to Use
Apply thoroughly to clean, dry skin as often as desired. (A cool, pleasantly tingly sensation may occur.) Enjoy long-lasting protection as you go about your day.
Ingredients
- Hops, which are anti-microbial & anti-bacterial, fight odor
- Kaolin clay absorbs moisture & helps neutralize odors
- Eucalyptus fights odor-causing bacteria
- Aloe soothes sensitive skin
---
All Ingredients
Aloe vera (aloe barbadensis) leaf juice*, propanediol, sodium Stearate, tapioca Starch, silica, microcrystalline cellulose, cellulose gum, shea (butyrosperum parkii) butter (community trade), sodium bicarbonate, kaolin (clay), tocopheryl acetate, glyceryl caprylate, glyceryl undecylenate, glycerin, royal jelly extract, hops (humulus lupulus) extract, lemon (citrus medica limonum) peel extract, ginseng (panax quinquefolium) root extract, calendula officinalis flower extract, matricaria (chamomilla recutita) flower extract, saccharomyces ferment, rosemary (rosmarinus officinalis) leaf oil, peppermint (mentha piperita) oil, grapefruit (citrus grandis) peel oil, eucalyptus (eucalyptus globulus) leaf oil.
* organic
Ursa Major's highest-grade natural ingredients are sourced, wherever possible, from family-owned, sustainable growers.
Aloe vera (aloe barbadensis) leaf juice*, propanediol, sodium Stearate, tapioca Starch, silica, m...
See All
"Two enthusiastic thumbs up. I love how it feels, and it actually works. And I usually really sweat. Like, I smell."
Ayla's anonymous tester