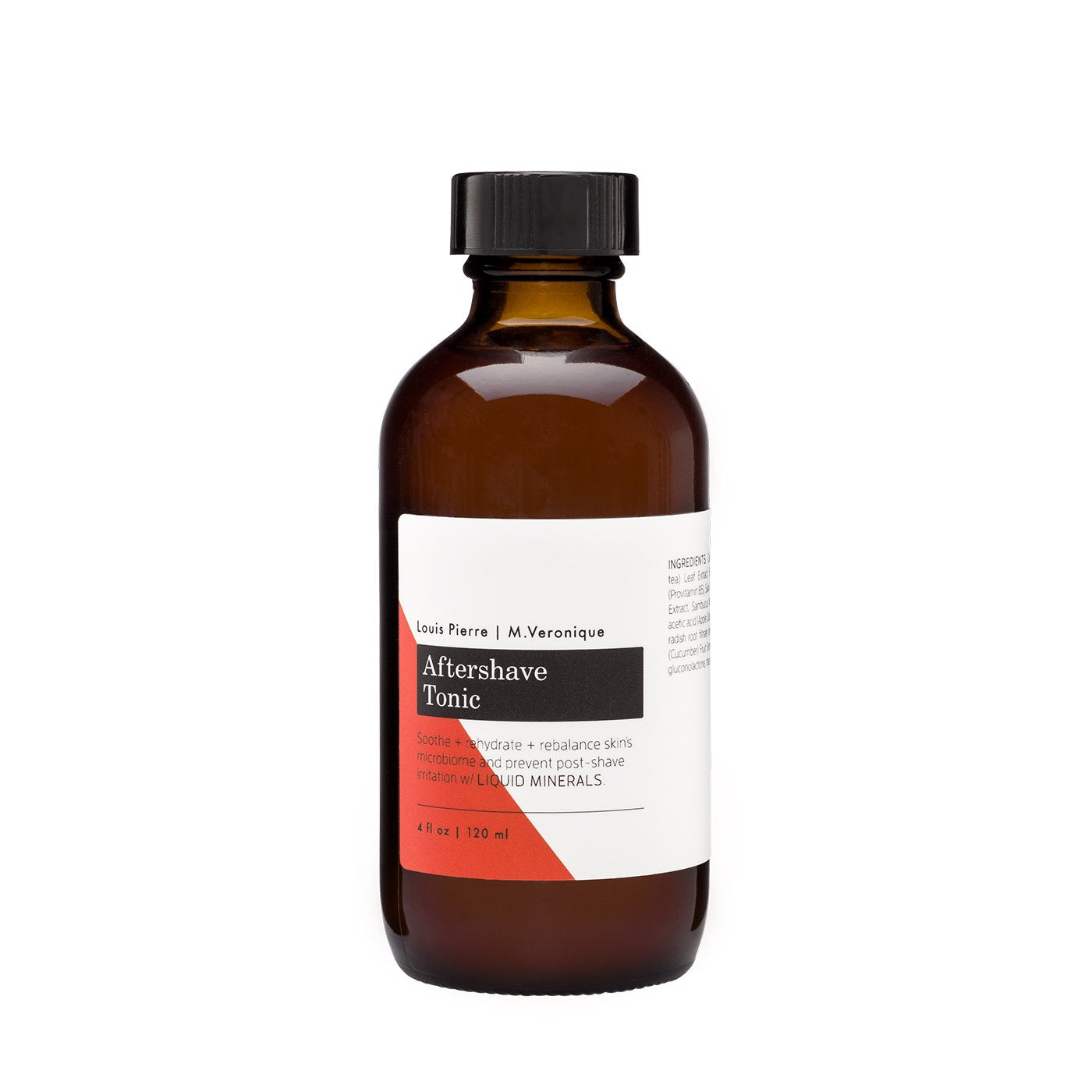 Description
Hydrating and soothing tonic that restores skin's microbial balance after shaving / 4 oz
Marie Veronique's Louis Pierre Aftershave Tonic is designed specifically to soothe and hydrate recently-shaved, sensitive skin. It's similar to our beloved Marie Veronique + Kristina Holey Balancing HypoTonic — one of our favorite products of all time — but streamlined and made appropriate for men's thicker, generally oilier skin and its different microbial environment.
There are a few particular gems in this formula. Apple cider vinegar gives skin a mild tingle and helps bring skin back to its ideal pH levels (which is higher than that of women's skin). Liquid trace minerals help restore skin's microbial balance. Cucumber and elderberry cool and soothe, while tea tree oil fights breakouts. As we did at first with the HypoTonic, men might think, "Is this really necessary?" But after seeing that their skin is magically rehydrated, perfectly balanced, and irritation-free whenever they use it, they'll realize that it is.
The Aftershave Tonic is also great for bearded men when applied to a cotton pad to get around beard edges post-shaving, and for those who shave at night, it can be used in place of a cleanser in the morning.
How to Use
Apply after cleansing/shaving to soothe and hydrate skin. Shake well. Saturate cotton pad and swipe across face/neck or apply to palms and pat into skin. Avoid eye contour area.

Keep in a cool, dry place, out of direct light. Use within 6 months of opening.
Ingredients
TRACE MINERALS contain magnesium, potassium, calcium, manganese, boron, iron, copper, zinc, selenium, chromium and chlorides, which are needed to maintain healthy skin.
CUCUMBER is a natural skin emollient and softener with cooling and tonic properties, its ability to soften and nourish hair makes it ideal post-shave.
TEA TREE OIL has been shown to be as effective as benzyl peroxide in combating P. acnes, the major acne-causing microbe, yet with none of the risks associated with BP (like sun sensitization and increased skin sensitivity).
ELDERBERRY is a botanical extract that has long been used for its anti-inflammatory, soothing, calming and nourishing properties.
---
All Ingredients
Camellia Sinensis (Green Tea) Leaf Infusion, Beta-glucan, panthenol (Provitamin B5), Salix Nigra (Black Willow) Bark Extract, Sambucus Nigra (Elderberry) Extract, acetic acid (Apple Cider Vinegar), leuconostoc/radish root filtrate ferment, Cucumis Sativus (Cucumber) Fruit Extract, sodium hyaluronate, gluconolactone, trace minerals, Melaleuca Alternifolia (Tea Tree) Oil*

*Essential oil
Camellia Sinensis (Green Tea) Leaf Infusion, Beta-glucan, panthenol (Provitamin B5), Salix Nigra ...
See All