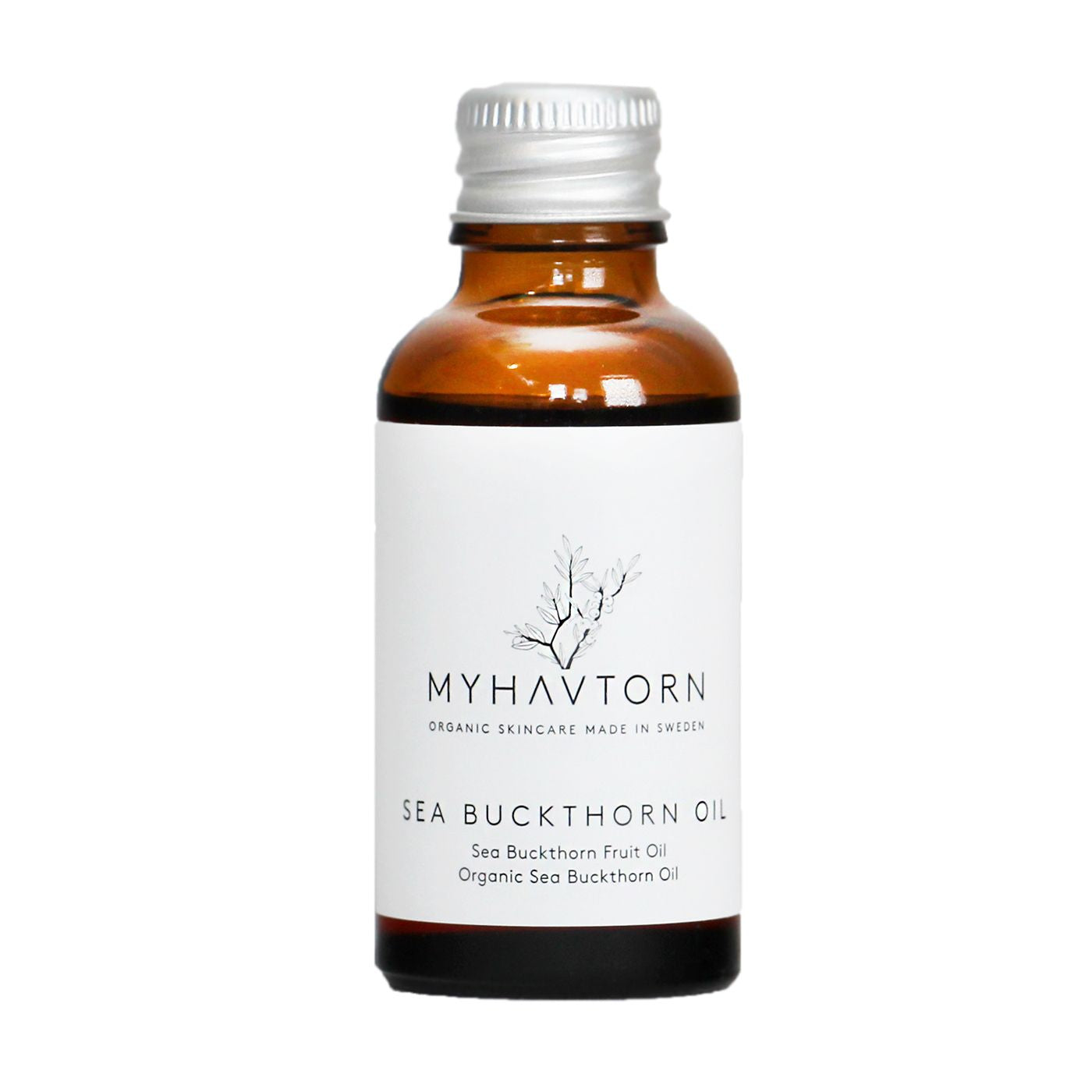 Description
Potent health-boosting oil for internal and topical use / 1 oz 
The vitamin A- and C-rich, elasticity-boosting, full-suite-of-omega-fatty-acids-boasting sea buckthorn berry contains oil in both its fruit and its seed. The seed oil is a bit muskier and golden colored; the fruit oil a bit fruitier and vibrantly, unabashedly orange. Together, they're used in the magical MyHavtorn Facial Oil that's been featured in Glamour for its ability to quell rosacea better than prescription treatments.
Each time we place an order, our friends at MyHavtorn cold-press the two oils separately from berries they've grown in their Swedish farm's mineral-rich soil. Their newest, limited-quantity offering is this ingestible Sea Buckthorn Fruit Oil, which is obtained from the pulp and juice of the berry. In addition to being naturally rich in vitamins A and C as well as Omegas 3, 6, and 9, the fruit oil is uniquely high in Omega 7 essential fatty acids, which nourish and heal dry, sensitive skin.
Taken internally, sea buckthorn oil has a pleasant, fruity flavor and demonstrated ability to calm inflammation, soothe mucosal tissues (it's particularly helpful during menopause), promote skin hydration and elasticity, and relieve dry eyes. As a side benefit, compelling evidence suggests that it may even help with weight loss.
The Fruit Oil can be applied topically, too: its unique texture makes it appropriate for all skin types, including skin that might normally avoid face oils, since it won't congest acneic skin. And, given its super anti-inflammatory properties, it seems to crush eczema, rosacea, and other irritations like some kind of super salve.
Now, we do need to tell you this: when you apply it to your skin, you will be orange for a little while. So if you plan to use this oil topically, we suggest trying it out at night first, especially if your complexion is pale. But if your complexion is in the golden to deep range, you could follow the secret skincare routine our founder does on days when her skin feels oily and fussy: mix a few drops into a hyaluronic acid serum as a bespoke anti-inflammatory moisturizer, and then mix another drop into your heavy duty zinc-based sunscreen to give yourself a natural golden glow.
*Contraindications: Please avoid ingesting this product if you're taking vasodilators or diabetes medications; it may promote blood flow and have blood sugar-lowering properties. If you are not sure if it will interfere with any medications you're currently taking, please consult your doctor. Due to a lack of data, we suggest avoiding ingestion if you're pregnant or nursing.
How to Use
As an ingestible — take ¼ teaspoon daily for 1-2 months and then occasionally as needed. If you prefer, you can use it in a smoothie or salad dressing.

As a topical treatment — After cleansing at night, generously mist on a toner like the MyHavtorn Facial Essence, then apply a small amount of the oil. It can be layered underneath the MyHavtorn Night Balm for more moisture.
Ingredients
Sea Buckthorn Fruit Oil
---
All Ingredients
100% Sea Buckthorn Fruit Oil
100% Sea Buckthorn Fruit Oil