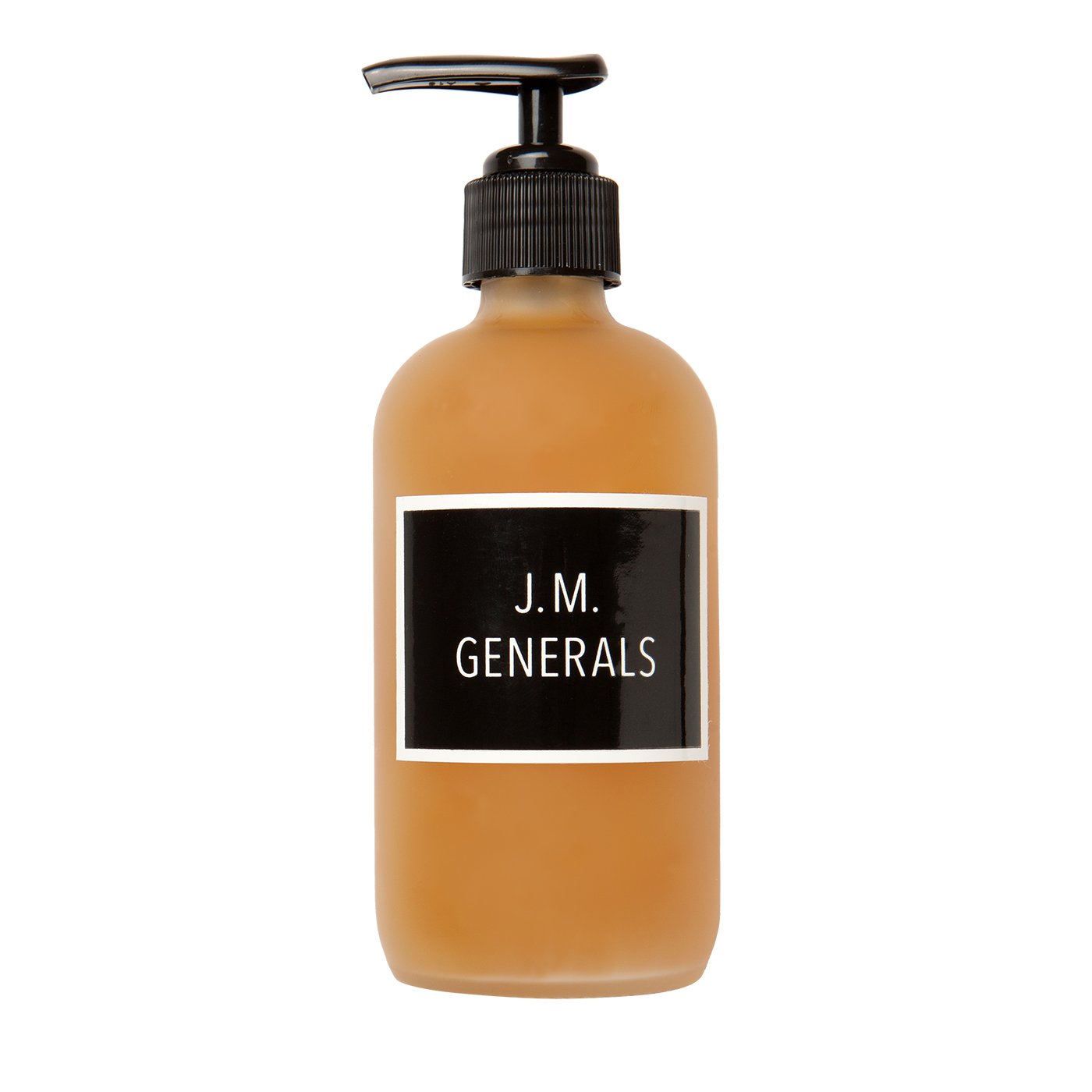 Description
Multi-purpose, moisturizing liquid hand soap & shower gel / 8 oz
Created exclusively for Ayla by J.M. Generals, this soothing and moisturizing Goat's Milk Liquid Soap & Shower Gel works as beautifully in the shower as it does by the sink. It's suitable for all-over body use as well as the hands since it cleanses effectively without drying or stripping. The gentle, sensitive skin-friendly, moisture-rich formula includes soothing goat's milk along with olive oil, castor seed oil, coconut oil, and vegetable glycerin, which keep skin comfortably hydrated while you cleanse. It's then custom blended with the Ayla signature scent of mood-boosting Orange, Cardamom, and Petitgrain, along with Bergamot — prized by aromatherapists for building confidence and alleviating stress.
In developing the scent for us, Jeffrey at J.M. Generals used the best-quality essential oils he could get his hands on. We love the result, which is so light that it won't linger on your skin or interfere with your favorite perfume.
This liquid soap has been thoughtfully sourced and produced entirely in the USA. It's packaged in a recyclable, highly giftable glass bottle (also crafted in the USA) that looks gorgeous on the sink or in the shower.
How to Use
Pump into palms and gently massage over body and hands. Rinse. Follow with our J.M. Generals Body Cream and feel like a new person.
Ingredients
- Goat's milk is rich in moisturizing essential fatty acids and lactic acid, which gently sloughs off dead skin cells to help heal and hydrate
- Castor Oil is known for its powerful cleansing properties
- The Ayla Enlighten aromatherapy blend of orange, cardamom, petitgrain, and bergamot essential oils has uplifting, stress-alleviating, confidence-boosting properties
---
All Ingredients
Goat's Milk, Olea Europaea (Olive Oil), Ricinus Communis (Castor) Seed Oil, Cocos Nucifera (Coconut) Oil, Vegetable Glycerin, Tocopherol (Vitamin E), Sodium Chloride (Salt), Potassium Hydroxide, Distilled Water. Scented with Pure Essential Oils of Orange, Cardamom, Petitgrain, and Bergamot.
Goat's Milk, Olea Europaea (Olive Oil), Ricinus Communis (Castor) Seed Oil, Cocos Nucifera (Cocon...
See All