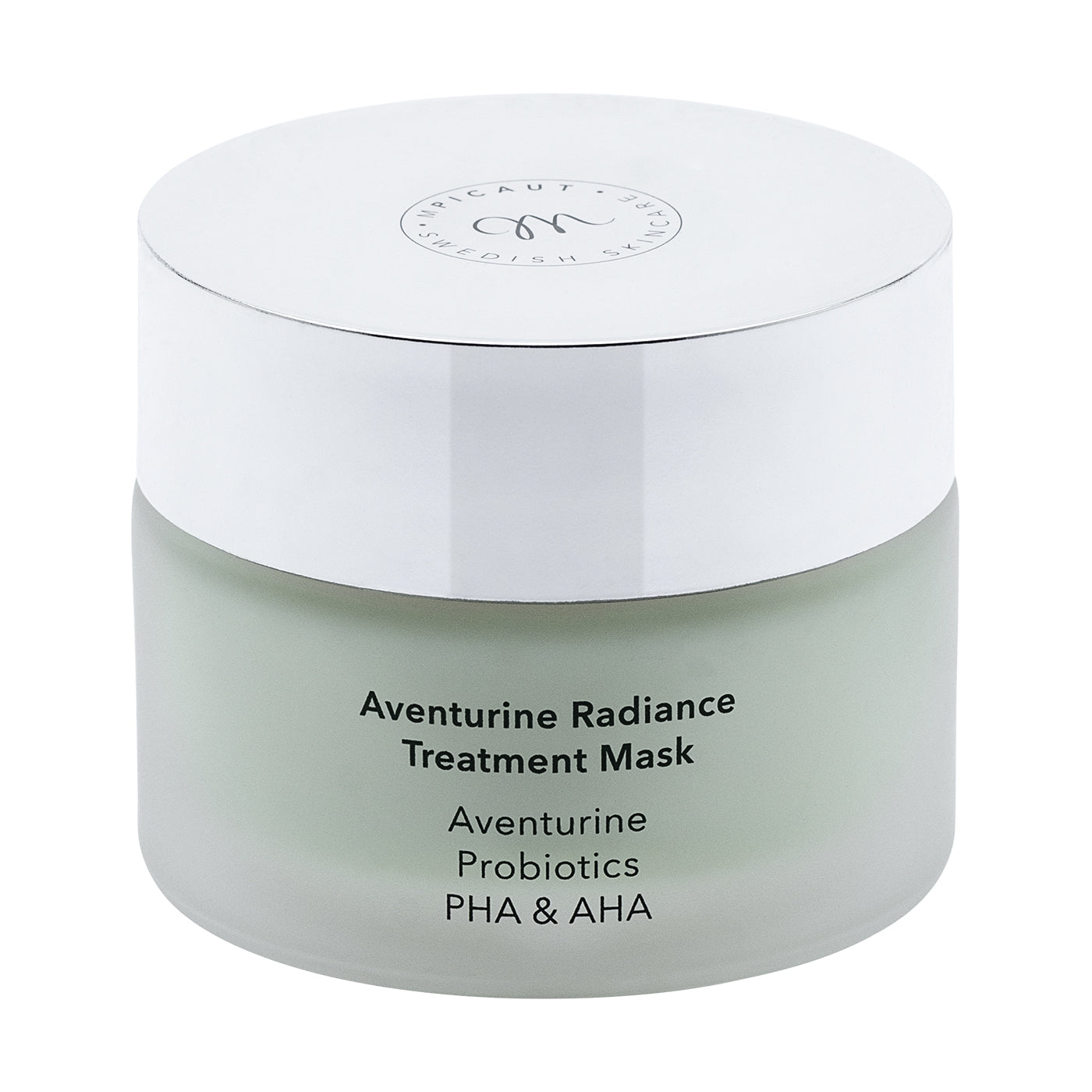 Description
Glow-boosting, purifying mask that leaves skin looking radiant and even-toned / 1.7 oz 
M Picaut's Aventurine Radiance Treatment Mask isn't quite like any other mask on our shelves. It has a purifying clay base, yet it's not drying; it contains both physical and acid-based exfoliants, yet actually leaves prone skin to redness looking more even and vibrant, without a trace of ruddiness. It has such a unique combination of ingredients and benefits that it took us a few weeks to wrap our heads around it.
So here's our take: this could end up being the most versatile mask in your skincare collection. It truly shines when you're having one of those moments when your skin feels kind of dull, kind of fussy, and possibly congested, but you also don't want to dry it out with a typical clay mask or risk redness with a typical exfoliating mask.
The creamy clay base smooths onto skin almost like a putty, encouraging a plump, healthy glow with algae (harvested on Sweden's west coast), heather flower, and aventurine crystal along with a blend of gentle exfoliating acids. If you're looking for even more brightness and smoothness, you can massage it onto your face a bit, activating the Vitamin B5 microbeads that melt with friction. Either way, prebiotics and phragmites karka help calm and balance skin as it dries, ensuring that you're left with nary a red patch — just smooth, bright, even, peaceful-looking skin.
How to Use
Apply an even layer on cleansed skin, avoiding the eye area. Massage gently for an extra exfoliating effect, then leave on for 10 minutes before rinsing well. Use once per week or as needed.
Ingredients
- Mandelic Acid is a gentle exfoliating acid with calming and purifying properties.
- Lactobionic Acid (PHA) is a very gentle exfoliator that also helps skin retain moisture, making it particularly suitable for sensitive skin.
- White Clay (Kaolin) is a gentle, mineral-rich clay with astringent and calming properties that works well with sensitive skin.
- Phragmites Kharka (Organic) is a Chinese grass with calming properties: it's known for soothing red, irritated skin and restoring skin's natural balance.
- Biogommage Beads are gentle, plastic-free micro beads that melt upon activation with friction, releasing Vitamin B5 (panthenyl triacetate).
- Aventurine, a green crystal, is rich in minerals and trace elements. It is said to bring luck as we fulfill our dreams.
---
All Ingredients
Aqua (Aqua Purificata), Kaolin (White Clay), Cellulose, Glycerin (Source Coconut Oil)*, Caprylic/Capric Triglyceride (From Coconut Oil)*, Diatomaceous Earth (Kiselgur), Mandelic Acid (AHA), Cetearyl Alcohol (Source Coconut), Glyceryl Stearate (Source Olive Oil), Butyrospermum Parkii Butter (Sheabutter)*, Lactobionic Acid (PHA), Tocopheryl Acetate (Vit. E), Persea Gratissima Oil (Avocado Oil)*, Hydrogenated Vegetable Oil, Polyglyceryl-6 Palmitate/Succinate (Fatty Acids), Phragmites Karka Extract (From Reed)*, Poria Cocos Extract (Mushroom)*, Inulin(From Chicory Root)*, Calluna Vulgaris Flower Extract (Heather Flower Extract)*, Silica (Algae), Squalene (From Olive Oil), Quartz Powder, Lactic Acid, Sodium Lactate, Allantoin, Xanthan Gum, Panthenyl Triacetate, Fructose, Hydroxypropylcellulose, Glycine Soja Oil, Tocopherol (Vit. E), Beta-Sitosterol (Source Plants), Sodium Benzoate (Natural Preservative), Potassium Sorbate (Natural Preservative), Phenoxyethanol (Preservation), Ethylhexylglycerin (Preservation), Sodium Hydroxide (pH regulator)
*Ingredients from certified organic farms
Aqua (Aqua Purificata), Kaolin (White Clay), Cellulose, Glycerin (Source Coconut Oil)*, Caprylic/...
See All